Summary: My favourite surf photograph from January 2017 is a classic empty wave shot from the beach
I wrote a post last year which featured my favourite surf photo from each month of 2016. This year I'm going to spread it out a bit and write one post for each month.
January wasn't great for surf in my part of the world, but happily I managed to get in the water on new years day for a fun surf.
It was very cold and not that big, but the wind was strong and in a favourable direction for the left handers at Croyde.
There were only a handful of people out, which is very unusual for Croyde. It's one of the most popular beaches in the UK for surfers, being easy to access from most of the country and reliably hollow at low tide.
Whenever I surf there I park in the National Trust car park at Baggy Point. It's at the North end of the beach and usually there's a peak or two at that end worth surfing, but this time I ended up most of the way down the beach on the wedgiest bank.
After I got out I grabbed my Sony a6000 and 55-210mm lens and jogged through the light rain to the nearest place I could see the waves. It was a driveway with a fence which had gaps big enough to poke my lens through.
I took a bunch of photos before a nice set came through at my end of the beach, I'd been keeping an eye on a surfer who was getting ready to paddle out and he'd just made his way into the water when the set arrived.
I always think a lineup photo looks better if there's someone in it, it adds scale and some interest to the image. In this case it also shows how cold it was as he's wearing a hooded wetsuit.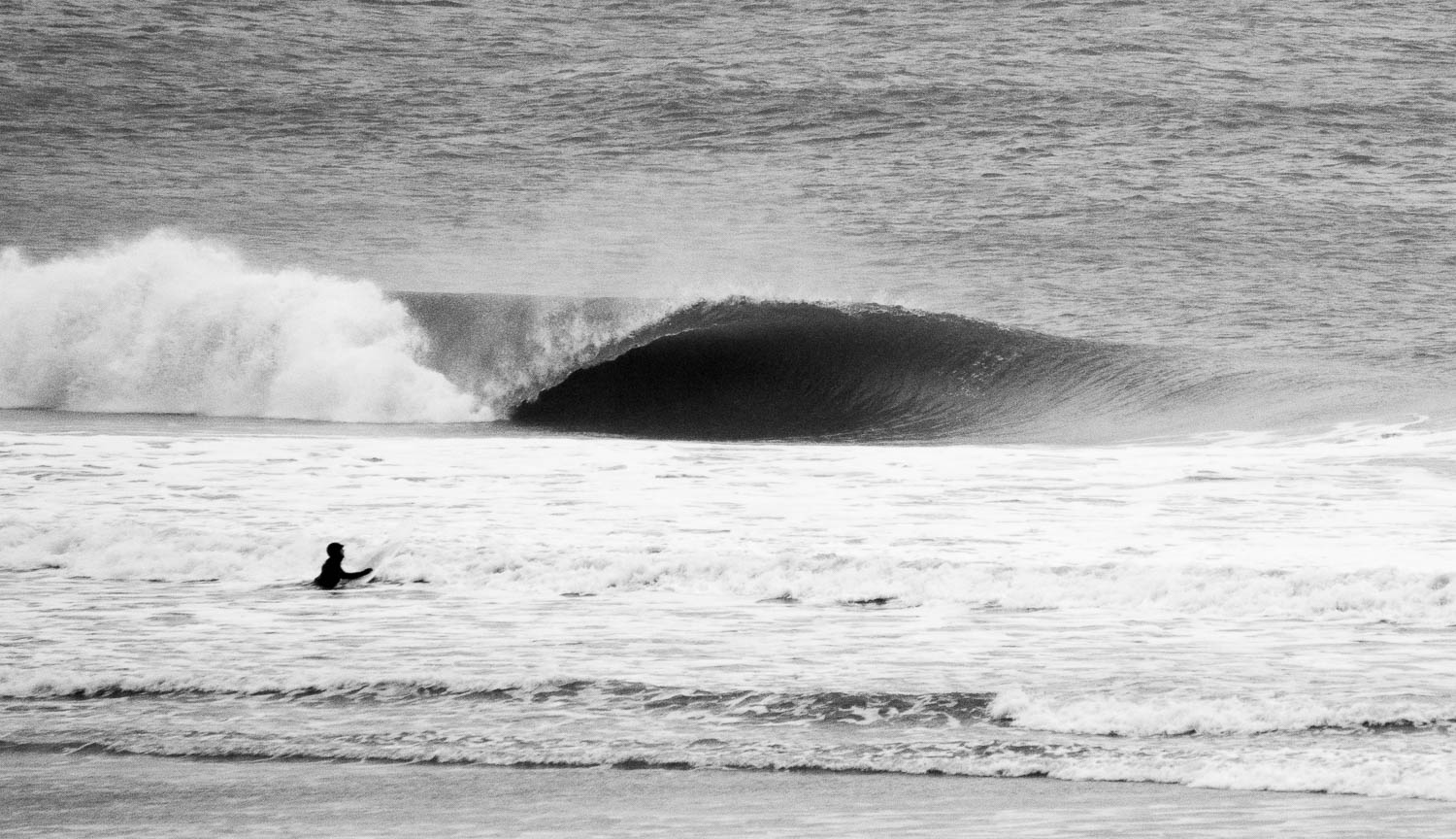 Sony a6000, Sony 55-210mm, ISO: 500, 147mm, f5.6, 1/1000
In hindsight I could have zoomed in a lot more, and held the camera level, but I was in a rush and getting cold hands by this point.
I had a quick look through the photos later on and transferred a couple to my phone to post on Instagram. I don't usually post wave photos the day I take them, but Croyde is very well known, the chart was changing quickly, and it was already getting dark, so I wasn't going to tip any one off who didn't already know it was fun that day.
This is the photo I posted to Instagram:
After I got home a couple of days later, I copied the photos to my Lightroom library. I did a quick scan through and the sequence of this wave stood out.
I converted to black and white, upped the contrast and cropped in much tighter on the surfer paddling out. It wasn't too bad resolution even after the crop as I've got 24MP to play with.
Here's the original image with the crop I made to it: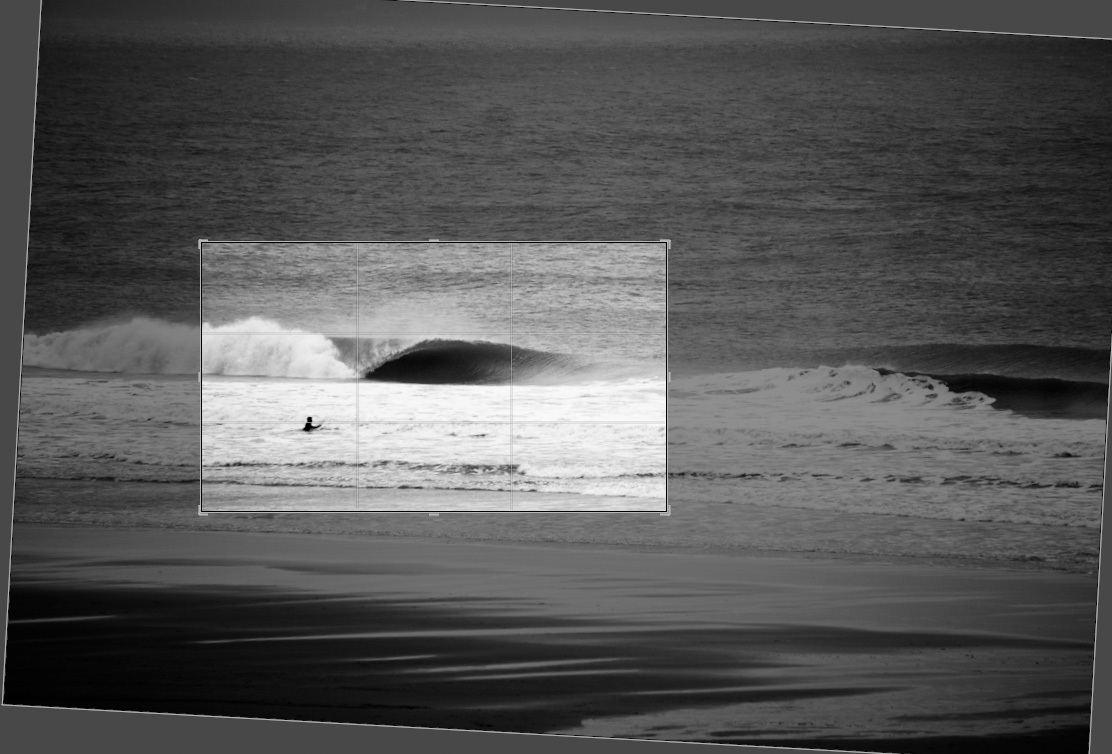 I uploaded the photo to magicseaweed and it was selected as photo of the day.
There are a few elements that I think make the photo more interesting than the others I took in January:
The surfer stands out nicely against the white water on the inside
Because he's pushing his way out through the waves it makes the wave look a bit bigger than it was
He's looking, and pointing his board, towards the breaking wave
The lip was particularly thick so it made a really crisp line between the bottom of the lip and the wave inside the barrel
The swell wrapped into the bank nicely to make a really makeable wave
The line of white water that the surfer's jumping over is a third of the way up, which is pleasing visually
There's a slight shadow of the next swell in the background that adds another horizontal line
It's a very approachable wave, asking to be mind-surfed
There's a story behind it – it was new years day and a usually crowded beach break was empty
Look out for my favourite surf photo from February 2017, it might be from a trip to the Basque country, or it might be from one of the first sessions I had with my Meike 6.5mm circular fisheye…