Summary: Make a surfer stand out by creating a silhouette effect
This is my favourite surf photo from March 2017: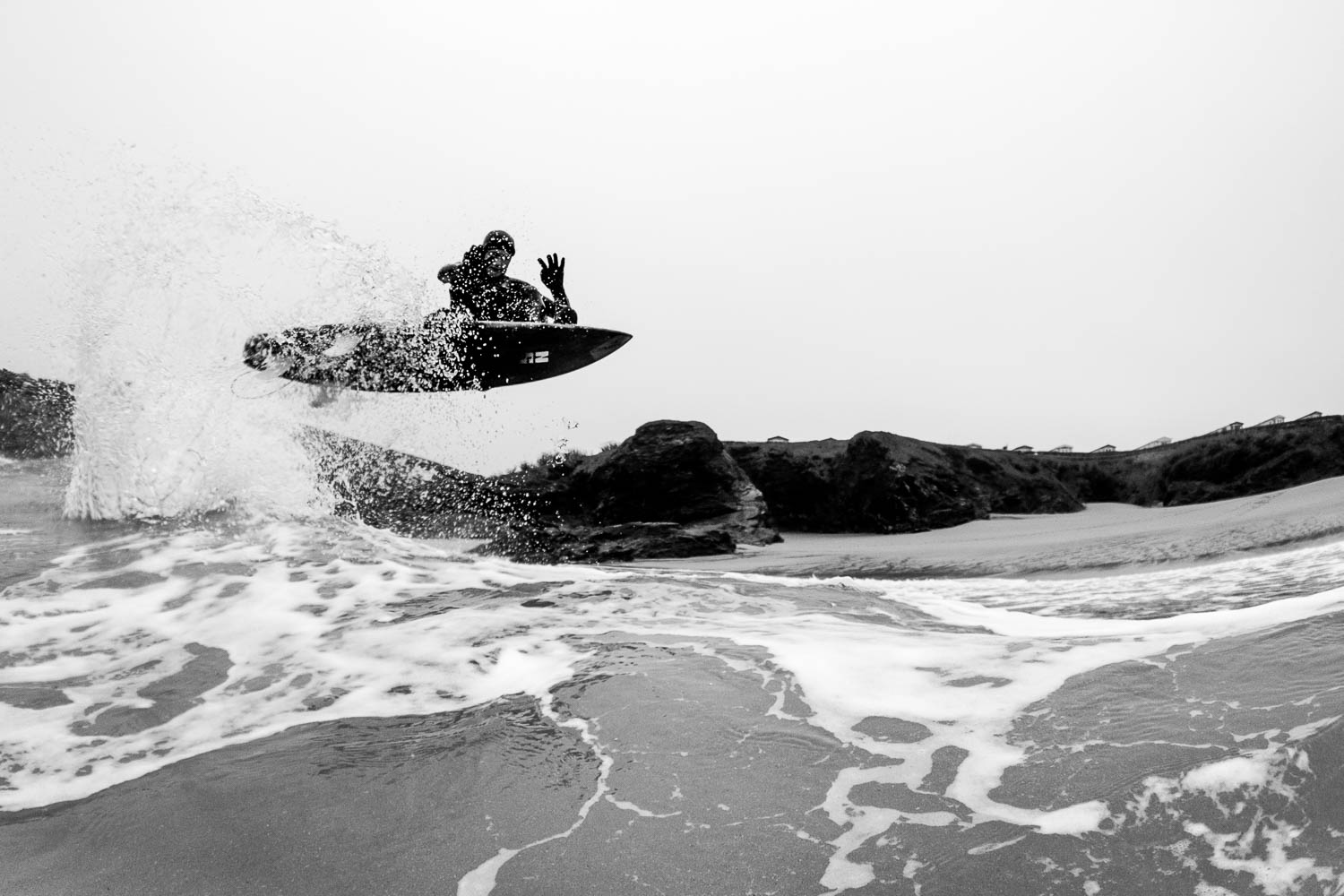 Sony a6000, Mieke 6.5mm circular fisheye, ISO 100, 1/1000, f4, 6.5mm
I'm pretty sure this was the only time I went to North Cornwall for a surf in 2017. It's just over an hours drive from my house in South Devon, and it's a lot more consistent than down here, but I can't stand driving all that way just for a surf anymore.
On this day I was planning on going on the big zip line at the Eden project. Unfortunately the wind was too strong so they weren't running the zip line. Luckily I'd planned ahead and brought surf stuff with me so I drove up to this sheltered bay in Cornwall and had a surf and shot a few photos.
Shooting surfers
The surfer is Jack Buckingham, I hadn't met Jack before, but he was really making the most of the very small and inconsistent waves. I swam over to him and asked if it was OK to try and get a couple of photos of him doing these airs on the closeout shorebreak, he said that was fine so I explained I'd try and get pretty close as I was using a fisheye. He knew what I was talking about straight away and understood that I'd need to be very close to get a decent angle.
We didn't really link up on any good ones, there were a few more waves like this one, but this was my favourite.
Why I like this shot
I like how the silhouette of him and his board are outlined against the sky above the headland, that fact that he was riding a black board helps a lot. My plan was to get much closer and make the air look much bigger by getting between him and the wave, but it was really hard to get in position and we didn't have that many opportunities.
If I was shooting someone who was trying airs on most waves again I'd try harder to get closer.
I like the black and white look when it's overcast like this, but when I sent a few photos to Jack he preferref the colour versions. You can see a couple of other photos from this session on his Instagram:
Processing this surf photo
Even though I was shooting with the Meike 6.5mm circular fisheye I decided not to use Photoshop to correct this one. As I had to crop in anyway I just cropped out the part I liked and did the rest of the editing in Lightroom as I usually do.
This is the original image: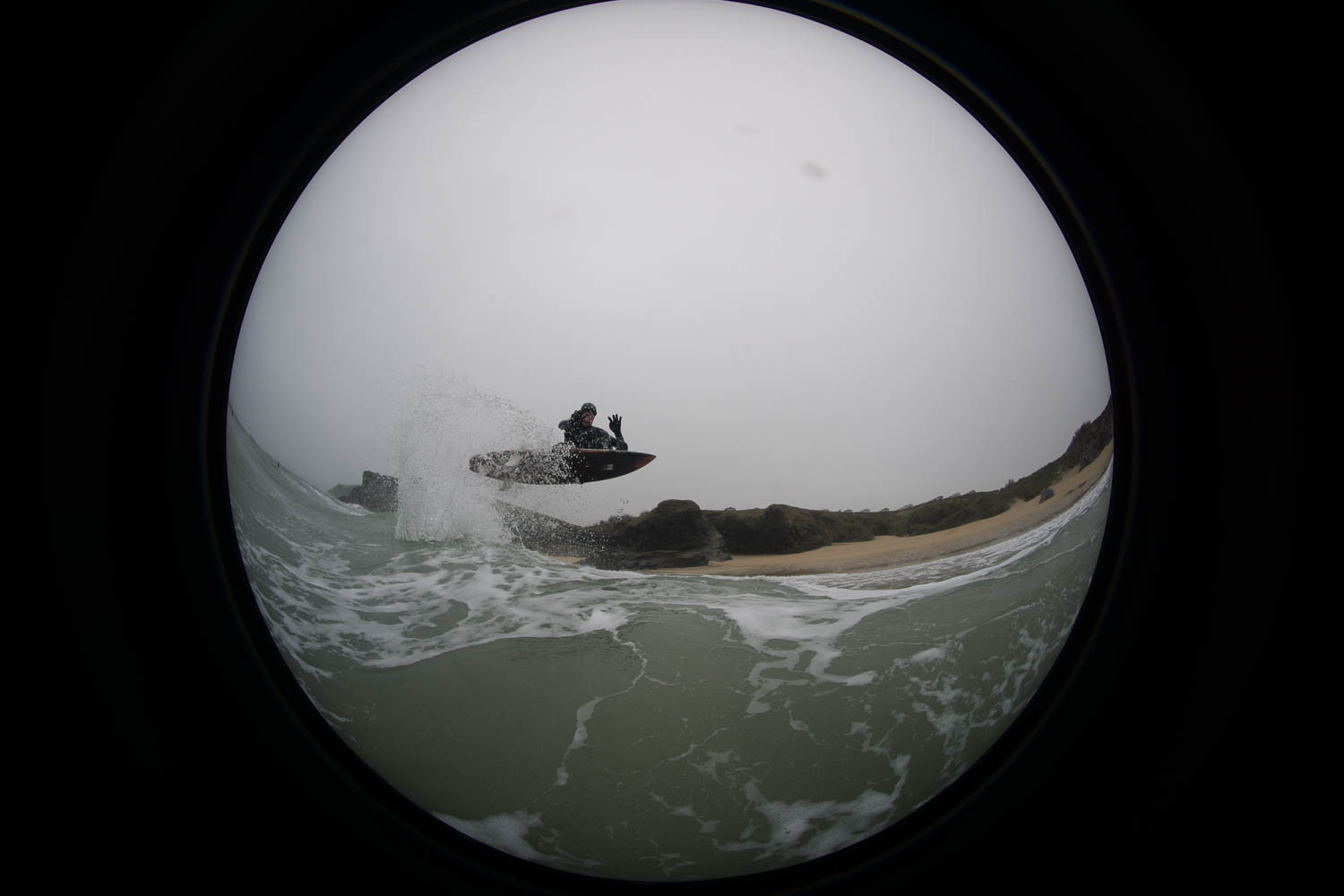 Here's the crop: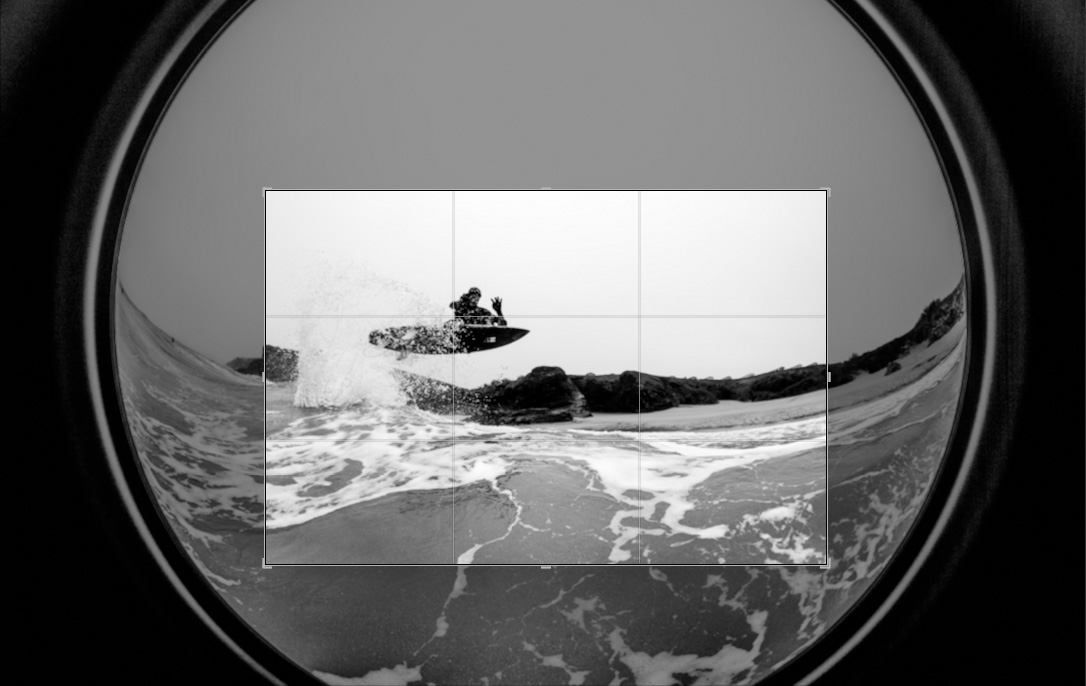 My favourite shot from April was also taken with the Meike 6.5mm fisheye, so I'll go into some detail on how I edit circular fisheye photos in Photoshop in that post.