Summary: Shoot into the sun and get as low as possible for silhouette air shots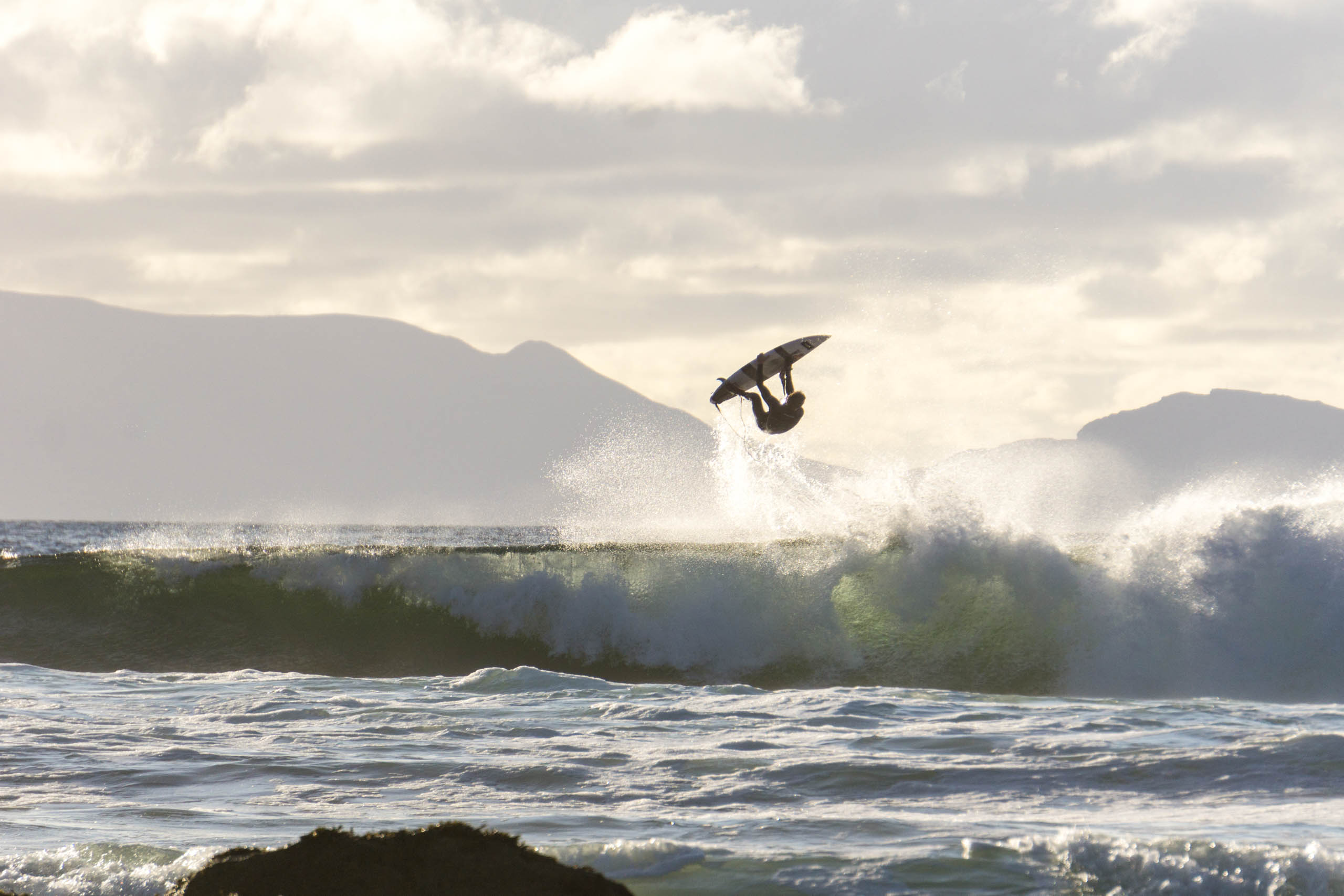 ISO 320, 210mm, f6.3 1/2500
I try and do a review of my favourite surf photo form each month of the previous year, here's 2016's review. I've been lagging on finishing 2017 off so I'm going to try and release a new one every month featuring my favourite surf photo from the same month in the previous year, this one's a catch up to get me up to date, June's will be following shortly.
This is Noah Lane, going for a backflip in Ireland.
I like this photo because I don't get to photograph surfers who try airs very often, and it represents a great week of waves on the West coast of Ireland.
I'd got up early this day to get some photos and have a surf at this right hander.
I was pretty pleased with the photos from the water, I'd used my Sony a6000, the Sony 35mm f1.8 and my Liquid Eye housing.
After surfing for a couple of hours I headed back to the house we were staying in to hang out with the family for the day, before popping back down to the beach for an evening session and photo shoot.
This shot was from the last part of the photo session, I'd already got a few angles, but this was the one I was going for.
I'd seen plenty of airs being launched on this section of the wave, so I positioned myself low enough that the surfer would be silhouetted against the sky, and in the right spot that they would be in between the two hills on the headland in the background.
Then I just had to wait for a while until someone popped an air in the right spot. This one was a fly-away back flip off the back, but it had the height and the interesting shape that I wanted, so I was happy with it.
Things I learned from this shoot:
Get different angles – I was moving around quite a lot trying to get a different angle throughout this session, you risk missing some shots, but it pays off when you get a good one
1/2500 is very fast, there was plenty of light, so I could have gone for a slightly slower shutter speed and stopped down my lens a bit to a narrower aperture to improve the sharpness
Don't over-do the post processing – it's tempting to brighten up the shadows in this type of photo, but I much prefer a more natural look, like this. You can tell fairly easily when the shadows have been boosted a lot. Check out the deck of the board and the wetsuit, they aren't totally dark, but neither are they unnaturally light.
Ireland's a great place for a surf trip, this was my fourth of fifth visit and the first one I'd taken with the family. The light's always changing, and it's often really good, it's a no-brainer for any surf photographers based in the UK or Europe.