UPDATE: I've added some info on video start/stop controls that I missed in the original post, basically you can start stop video on the a6300 with the C2 button.
The Aquatech ATB A6000 and ATB A6300 are the latest water housings for the Sony a6000 and a6300 cameras. There could be a few reasons to go for these options that you wont find in other water housings.
Exciting news from Aquatech, long time surf housing manufacturer.
They've finally made their Sony a6000 and Sony a6300 water housings available for purchase.
Here's what you need to know: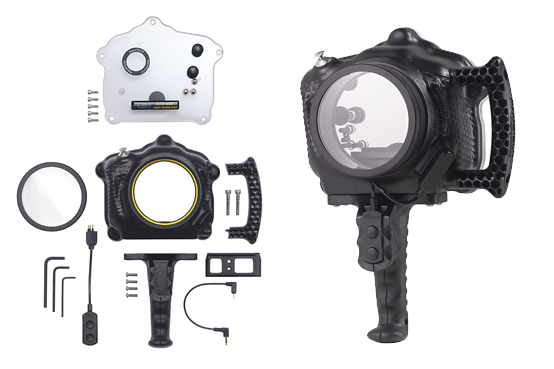 Aquatech ATB A6000 and ATB A6300 specs
The two housings are identical apart from the tray used to secure the camera body into the housing. This is great news for people like me who will be wanting to upgrade at some point to the new Sony a6300.
So these specs are the same for each housing:
$1,295 US (~$1,720 AUS, ~€1170)
Controls – Top dial, ISO, DISP, C2, Playback, Set & Manual Shutter Control
Uses the old LP port system
Comes with a flat port and two stage pistol grip as standard
You can buy an adapter tray for $125 to use the a6300 in the a6000 housing
Why does the Aquatech ATB A6000 and ATB A6300 use the old LP port system?
If you've got an older Aquatech housing like my CR-60 you will be familiar with the LP port system. There are loads of ports for lots of different lenses available, but they're mostly discontinued.
You can still buy a small selection of ports and extenders direct from Aquatech, but you might struggle to find the more exotic ports like my two telephoto zoom ports.
One reason they went for this older system is because it's a bit smaller than the newer P ports and the other is to make sure that they could support a wide range of third party lenses.
There's a lot of a6000 and a6300 users who are using Canon and Nikon lenses on their Sony cameras via an adapter, and Aquatech specifically mention this as the reason they're using the LP port system.
I had a dodgy experience with my Canon 70-200mm f4 lens when I first bought my a6000 but I've been looking into adapters and different lens choices since then and I hope to pick up a long lens for land photography at some point in the future.
You get an LP-5 port with the ATB A6000 and ATB A6300 kits, so let's see which lenses Aquatech list as compatible with the LP-5 port:
Sony 16-50mm Alpha E-Mount (note – there's no zoom control on this port)
Sony 35mm f/1.8 Alpha E-Mount
Sony 50mm f/1.8 Alpha E-Mount
Sony 35mm f/2.8 ZA FE
Sony 50mm f/1.8 FE
Zeiss 32mm f/1.8 Touit
Sigma 19mm f/2.8 DN
Sigma 30mm f/1.4 DC DN
Sigma 30mm f/2.8 DN
Sigma 60mm f/2.8 DN
Canon 50mm f/1.4 & f/1.8 + Metabones adapter
There are certainly other lenses which will fit inside there too I imagine, but that gives you an idea of the range of lenses you have available with just the basic kit.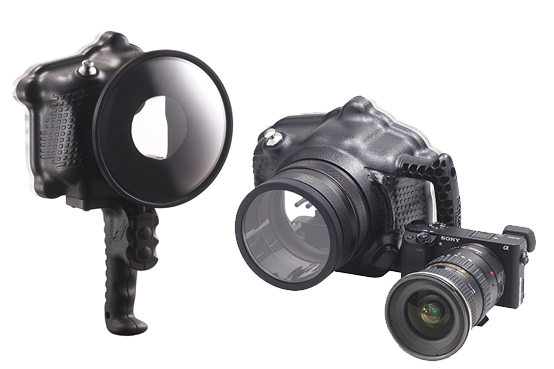 What's missing from the ATB A6000 and ATB A6300?
The ATB range fit in between the budget friendly BASE system that Aquatech announced recently and their higher end models.
They offer a pretty good range of controls which should be sufficient for most surf photographers.
But there are a few things that they lack which are worth noting:
Flash support – there's no way to add an external flash to the unit, the base system does have this option
Latches – it uses 5 bolts to fasten the housing instead of the latches you find on the other Aquatech housings
Video record control – this is a bit disappointing, especially for a6300 users who want to use the 4K video
UPDATE: you can start and stop video on the a6300 using the C2 button, read more on Aquatech's camera setup tips sheet that comes with the housing.
Here's the relevant part:
Video Record: By assigning the C2 control on your
camera to the start / stop record control you can have
easy access to the video control of the A6300 camera. To
set this up follow these simple steps:

Enter the menu and proceed to the 2nd tab
Move to tab seven (7), position two (2) called Custom
Key (shoot)
Once inside the menu, move to option two (2) Custom
Button 2
Allocate this to the option titled "MOVIE'
This will now Start / Stop the record function via the
C2 control on the rear of the A6300
I'd guess the lack of video record button is because the one backplate is designed to work with both cameras, and Sony moved the record button a bit too much between the two.
I'd have really liked to see a work around for this though, I've been suggesting a sort of "smart grip" for a while now, which uses the extra controls that are available through Sony's MULTI port connector like zoom for power zoom lenses and video record/pause.
I don't think that video can be controlled through the C2 button on the a6000, but I'll check and report back. This is great news for a6300 owners and makes the housing a lot more useful for anyone wanting to shoot 4K video in the water.
The other two issues are not deal breakers, no-one else offers a housing with flash support yet, and there might even be ways to get around this limitation. Latches would have been more user-friendly, but I've gotten on fine with my 5 bolts so far, so I can deal with that omission too.
So it looks like a good option for people who use third party lenses and already have a collection of LP lens ports to use.