Aquatech have released a budget friendly water housing range which could tick all the boxes for someone learning surf photography, introducing the Aquatech Base water housing kit.
Here's a quick list of features, keep reading to hear my thoughts on this system and how it compares to the other options out there:
$995 US ($1,389.98 AUS, £712 GBP)
Flat port included
Two button pistol grip
No physical controls included
Back loading, 4 latch closure
Flash bulkhead
Here are some images Aquatech provided of the Aquatech Base housing system:
Aquatech Base price
The starter kit of housing, two button pistol grip and P-65 flat port is $995 US ($1,389.98 AUS, £712 GBP), that's pretty good value considering what you get, and if you've got a lens or two that fits inside the P-65 port you can get shooting straight away.
Which cameras are compatible with the Aquatech Base system?
You can order the Aquatech Base system for any of the following cameras:
Canon Rebel T6i (750D)
Canon Rebel T6s (760D)
Canon 70D
Canon 80D
Canon 7D
Canon 7DmkII
Canon 5DmkII
Canon 5DmkIII
Nikon D5500
Nikon D7200
Nikon D600
Nikon D610
Nikon D750
Nikon D800
Nikon D810
Sony A7II
Sony A7SII
Sony A7RII
You'll get the same housing, pistol grip, P-65 port and back plate with a different camera plate and shutter release cable appropriate for your camera.
What lenses fit inside the Aquatech P-65 port?
Many, many prime lenses will fit, it's 65mm in length, so if your lens isn't on the list below you can measure it to find out if it's likely to fit or not.
Here's the list of compatible lenses from Aquatech's website:
Canon 24mm f/2.8
Canon 24mm f2.8 IS
Canon 28mm f/1.8
Canon 35mm f/2.8
Canon 35mm f/2 IS
Canon 50mm f/1.8
Canon 50mm f/1.4
Nikon 20mm f/2.8
Nikon 24mm f/2.8
Nikon 28mm f/2.8
Nikon 35mm f/2
Nikon 50mm f/1.4
Nikon 50mm f/1.8
Sigma 30mm f/1.4 EX
If you're a Sony A7II, A7SII or A7RII shooter you'll have to check to see which of your lenses are under 65mm, if you're using the lenses on this list with an adapter there's a chance they might not fit in the housing, so I'd confirm with Aquatech if you're not sure.
I don't have the P-65 port myself, but I do have the LP-5 port, which is the equivalent port to the P-65 for Aquatech's old L port system, it's actually a few mm shorter than the P-65 but I've used plenty of Canon and Sony lenses inside it with no issues.
I'd say the popular Canon EF-S 24mm and 40mm pancake lenses should work fine based on my experience, maybe some vignetting with the 24mm but I doubt it.
Realistically the people interested in this housing will probably have a 50mm and possibly a 24mm, and they're both great options for surf photography.
Why does the Aquatech Base have two buttons on the pistol grip?
This is a great idea, and one I've written about before. The first company I saw with this two button design was Essex, they have a pistol grip that has a finger trigger for the shutter release and a button on the side which you operate with your thumb for focus control.
The advantage is you can separate focusing from releasing the shutter, this is useful for sports photography and many photographers choose to use this kind of set up on land when not using a housing, it's called back button focus.
There's a button on the back of your camera, near your thumb, that can be customised to perform the same focus function as a half press on the shutter button, so you only get the camera to focus when you need it to, otherwise you just fire away with the focus locked as it was.
For shooting fisheye it's especially useful as you'd usually lock your focus a couple of metres in front of you for above water shots, then move it to a few inches in front of you for underwater (because of strange properties of domes underwater). This two button approach is a clever way to allow you to do that without having access to the back of the camera – which is necessary with the Base system because there are no controls on the back plate at all.
How does the Aquatech Base pistol grip attach to the camera?
Aquatech now use a short adapter cable for the camera end of their pistol grip connector, this is a good move because it allows you to easily swap between different camera bodies without getting the housing completely rewired.
If you've got a backup Canon 80D and a Canon 5D mk III as your main camera for instance you'll be able to use the same housing, port and pistol grip and just swap the plate and shutter cable.
As far as I can tell Aquatech don't list just the plates and cables separately on the site but they're always very helpful when contacted over email so I'd get in touch with them if you have a request like that.
What controls does the Aquatech base system have?
You get your Pistol grip and zoom/focus knob and that's it.
There are no camera controls on the housing body as standard, and the back plate is similarly bare of controls, so if you're the type who makes a lot of manual tweaks to your settings then this housing isn't for you (you've probably already got an Elite housing though…), although there is this little line in the product description:
If you are looking to purchase additional controls for your AquaTech Base Water Housing, please email the team directly on contact@aquatech.net for more additional information and pricing.
You can read about the controls I use on my water housings here.
It reminds me a lot of the Aquatech CR-60 housing that I have, originally bought for my Canon 60D. I've used my CR-60 with a Canon 550D, 50D, 60D, 70D, 7D and Sony a6000. I made some slight internal modifications but basically the CR-60 has housed all those cameras easily and effectively, so I've no doubt the Base could do the same.
The lack of a top dial control is a bit annoying, but understandable when you see the list of cameras that can be accommodated by the Base.
Can I shoot with a fisheye in the Aquatech Base system?
Yes – but you need to buy an extra port.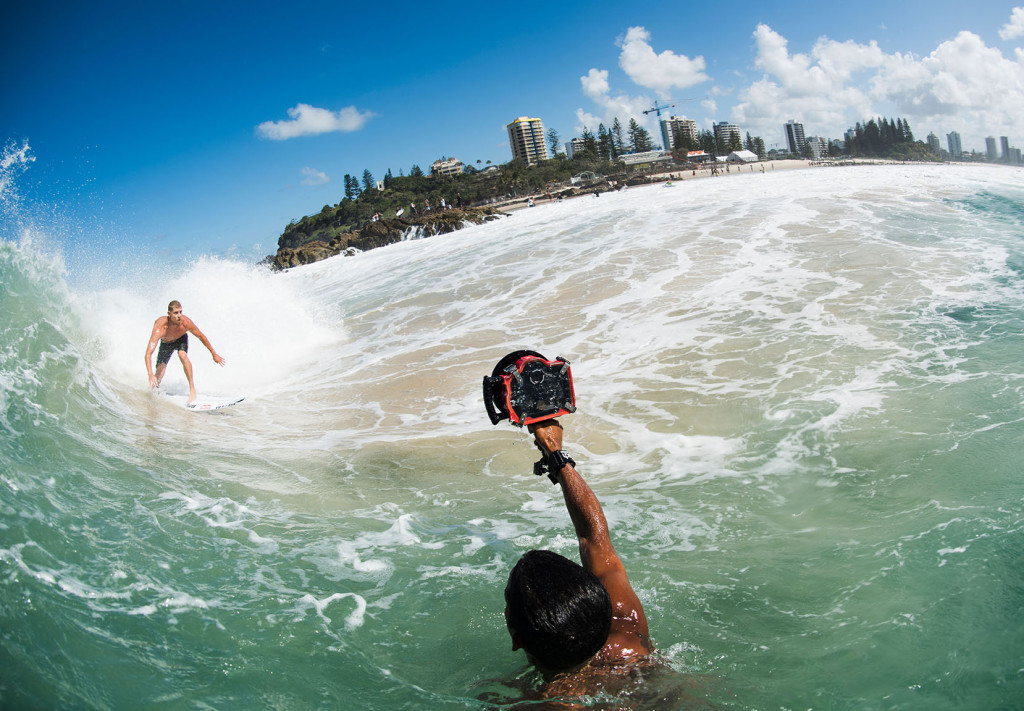 The only thing you need to shoot fisheye of Mick Fanning at the superbank, is a new port (and experience, patience, skill and… lots of other stuff).
You'll need to get a dome port that's suitable for your fisheye lens, luckily the Base system uses the same ports as all the current range of Aquatech housings, so you can pick one up from the Aquatech site at the same time as your housing, they start at $395 US.
Should you buy an Aquatech Base water housing system?
If you've got a couple of prime lenses, a camera body that's on the list, and you're happy shooting in shutter or aperture priority then yes.
It's a system you can upgrade and in my experience it'll outlast your current camera body.
It's one of the best value ways to get shooting with top level equipment. If you need more controls or you only want to shoot fisheye then there may be better options for you at a similar price, and there are certainly better alternatives in Aquatech's range for considerably more money if you need these features.
I love my Aquatech CR-60 and if the Base system was available for the Sony a6000 then I'd be tempted to pick one up, but it looks like I'll have to hang on a bit longer before I get a true surf water housing for my Sony a6000.
You can place your order for the Aquatech Base housing through Aquatech here.