Summary: AxisGO is the best water housing for iPhone surf photography.
AxisGO is a water housing system for your iPhone. it's the first smart phone water housing designed specifically for surface water sports like surfing.
Here's my video unboxing of the AxisGO water housing.
Download the manual here.
Place an order through Amazon.com here.
AxisGO housing and accessory prices:
AxisGO iPhone 7 with standard port: $249 US
AxisGO Pistol Grip: $99.95 US
AxisGO Ultra Wide Lens Port: $99.95
AxisGO Ultra Wide 6″ Dome port: $199.00
AxisGO 6″ Dome port: $199.00
AxisGO Standard Lens Port: $79.95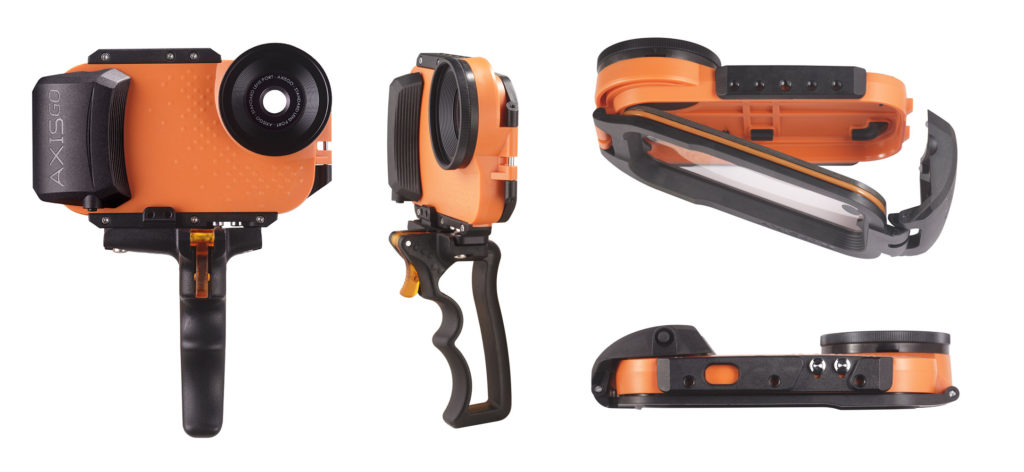 What's in the AxisGO box:
AxisGO housing
Standard lens port
Soft case
Wrist lanyard
O-ring grease
O-ring removal tool
AxisGO key specifications:
Waterproof to 10m (33 feet)
Designed for iPhone 7 (the housing and standard port works with iPhone 6 and 6S)
Waterproof, shockproof, snowproof, dustproof
Controls

Full access to the touchscreen
Volume up
Volume down

Front & rear cameras are available
Interchangeable ports
Seal:
One large locking latch for the phone compartment
Screw on lens ports
AxisGO recommended camera apps:
AxisGO – First thoughts
At less than $250 US, if you already have an iPhone 7 (or an iPhone 6 or 6S and you're thinking of upgrading) then that's a bargain for a great piece of kit that will allow you to take amazing surf photos.
If you don't have an iPhone 7 then it's a big investment to make, and there might be better options for you. Leave a comment below if it's something you're considering, I'd love to hear more about what people want to use this for.
It's bigger than I expected. The extra bulk is there for a reason though, and it feels very solid. I'd be confident taking it out in any kind of waves.
The touch screen controls are going to take a little bit of getting used to, they need a firm touch, but once you make contact with the screen it works fine.
I did read in the manual that screen protectors shouldn't be used, but I've got one on and I can operate the screen OK. If I have any issues in the water with the touch screen I'll remove the screen protector and see what difference it makes.
I'm really looking forward to trying it out in some waves, or even just out on and under the water.
If there's anything you'd like me to try out or check for you let me know in the comments below or via email at ben@learningsurfphotography.com and I'll do my best to help.