Many of the readers of this site will be looking for an affordable water housing for their camera, you can read about how to buy a second hand housing and who supplies new housings already on the site but I've just seen a new option from South African manufacturers Brother Housings which looks really interesting.
Brother Housings from Brother Housings on Vimeo.
The new housing is called the Aluminate2, it looks very similar in shape to my Aquatech CR-60 and shares some design features which I really like too, although it's made from Aluminium rather than polycarbonate.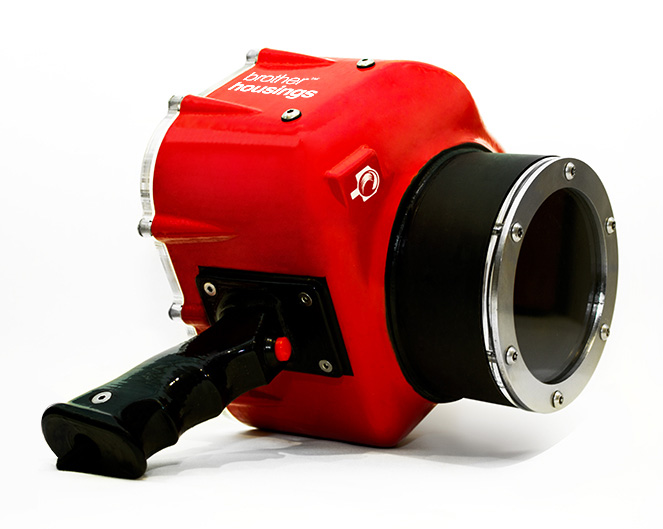 I'm hoping to find out more soon and when I do I'll write up an updated version of the housing manufacturer post as there have been a few changes in line-up for all the brands since I wrote the original.
Here are the features that could mean it's one of the better options for someone learning surf photography:
Price – it's very competitively priced, and they provide the price in South African rand (8000) and give you a rough idea of what that would be in several other currencies (£450, US$750, € 560, AUS$800), it's so refreshing for a company to be up front about the price and go out of their way to make it easy to find out what currency they're using, the bigger brands could learn from this.
It fits more than one camera body – Like Liquid Eye they offer one housing which will fit the majority of cameras you could want to use, so if you're currently using a Canon Rebel but hope to upgrade bodies to a 7D mk II you won't have to upgrade the whole set-up.
Pistol Grip and a standard port are included – SPL do this with their standard packages too, but often you'll have to purchase a pistol grip and at least one port with your housing which can soon add up.
The ingenious video module – for Canon cameras they sell a reasonably priced add-on which allows you to use the existing pistol grip to trigger an IR remote in order to control the video start/stop function, that's a very clever and relatively simple way to get video control without having to introduce physical buttons to the housing.
Interchangeable ports – it's not clear how this system works, but it is stated on the website as a feature, it looks like you might have to unbolt the 6 bolts on the ring around the front element then re-place the front element rather than the whole port, I think this could work for the right kind of lens but I really want to see a dome port on there in real life.
There are also a few things which concern me a little bit, there are no physical controls on the housing, so you're reliant on the shutter release through the pistol grip, and you can't change the settings on the camera once it's installed, also it has 10 bolts to close it whereas my Aquatech only has 5.
I believe you should be able to use a wifi enabled device, like an old phone, to control the settings of a compatible camera (Canon 70D, Sony a6000 for example) though, in fact it would work in a very similar way to the type of housing I imagined before getting my Canon 70D, so I'd be very interested in getting a similar but smaller model for my a6000.
Find out more about the housing here:
www.brotherhousings.co.za/web/aluminate2/
If you do get in touch with them let them know you heard about it here, and if there are any other housing manufacturers out there that you know of let me know in the comments or via e-mail at ben@learningsurfphotography.com