This short video from Hurley's Youtube channel features Clark Little shooting images in the shorebreak, talking about his photo's and Instagram:
What I find most interesting is the little snippet where he's editing the photo's at home after the shoot, he's using a Mac and we see him looking at an underwater shot in Adobe Camera Raw, then later on it looks like he's adjusting the white balance maybe on the same shot in Adobe Photoshop.
I use Adobe Lightroom when I'm editing my own photo's at home but I have used Camera Raw at work and it does a similar job of tweaking the Raw files straight from your camera, Photoshop is obviously a lot more powerful than Lightroom and whilst I use it a bit I really don't know much beyond the basics.
There's also a sequence which shows him holding up his gear, in case you're wondering what all that stuff is, you'll see a Nikon D3, flash housing, GoPro Hero 3 Black Edition, Nikon 16mm Fisheye, Nikon D300, Nikon SB 600 flash, a Water Housings Hawaii housing with dome port and GoPro mount on top, and finally, his book Shorebreak: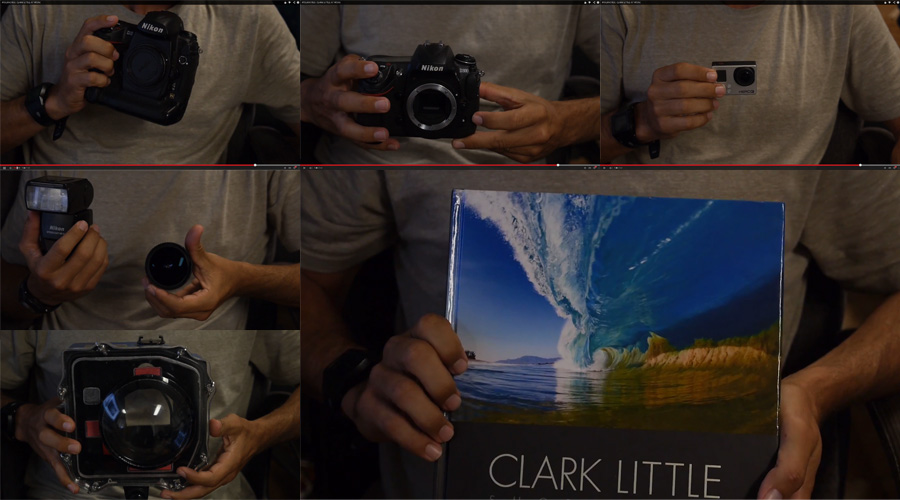 have a watch of it and get inspired for next time there's a nice shorebreak, if you want to take flash photo's keep checking back because there will be a post going up soon on my new, very simple, on housing flash set-up.
You can find his Instagram account here: http://instagram.com/clarklittle#