Essex water housings have launched a new website, you can find out about the Slant-X housing system, including configuring and pricing up the set-up you'll need for your camera, and also learn a lot of the basics of using and maintaining a water housing in the Knowledge Base section.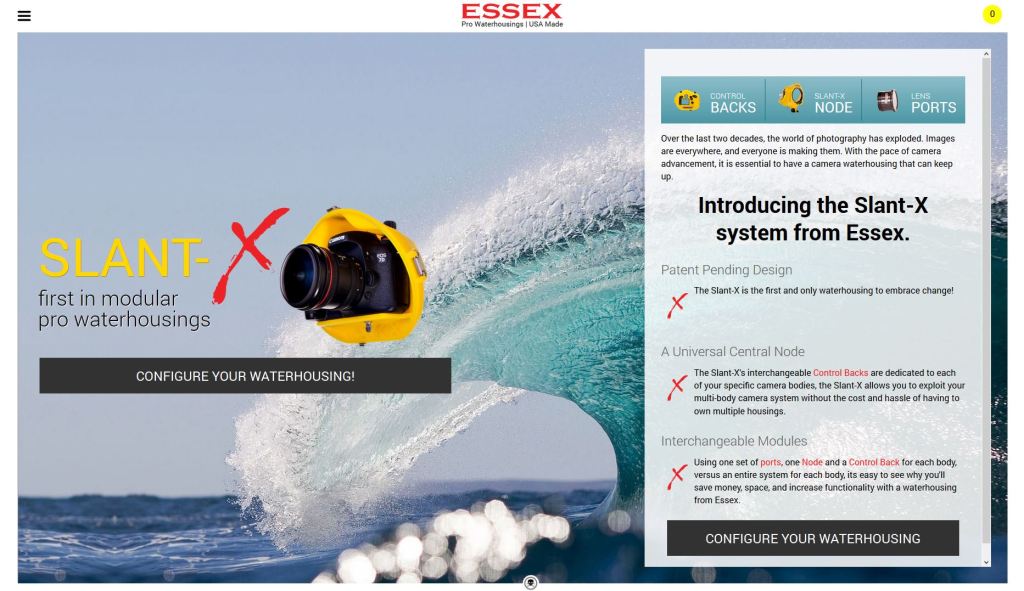 I'd recommend everyone interested in Essex water housings, and users of any kind of housing, to check out the knowledge base section, I picked up these tips via Mike Waggoner's posts on the surf photographers united forum and use them myself every time I shoot photo's with a housing so to have them all in one place is a great resource for anyone learning surf photography:
http://waterhousings.com/knowledge-base/
The housing system itself is something I've posted about before, I especially like the back focus pistol grip design, so much so I built one myself for one of my older housings and I plan to build another one soon for my Sony a6000 housing conversion.
If you've got a Canon 7D, 7D mark II, 5D mark II or 5D mark III you can place your order for the whole kit through the site, it'll come to just over $2000 for a basic set-up, but as it's all modular you can easily add ports or different control backs for different camera bodies in the future once you have the basic node and grip.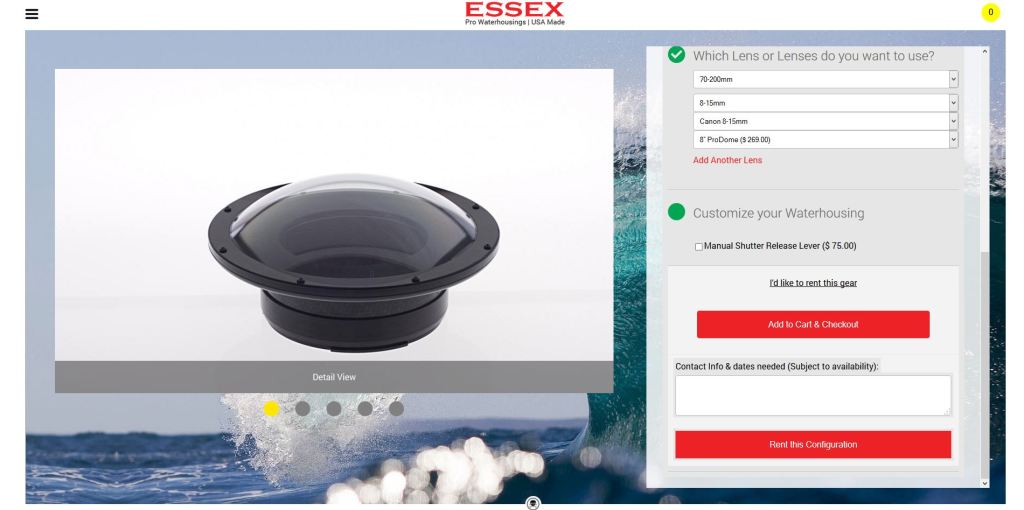 Interestingly there's an option at the end of the useful configuration tool for renting the equipment, there's no prices listed but there's a form to fill in for more information.
I always thought renting a housing would be a good way to check out the features before investing, the way the housing handles and the way the controls work is just as important as how the camera feels out of the water.
I've used Canon, Nikon, Panasonic and Sony cameras and SPL, Aquatech, Ikelite, HCW and Canon water housings and the way things are laid out on each one is different enough that you could easily have a personal preference, so by offering this option Essex are allowing professionals to try out an alternative without having to make the huge change in investment from their current gear.
Why Change To An Essex Water housing?
I'm in the process of deciding whether to switch from my Canon DSLR gear to a Sony mirrorless e-mount system, I'm hoping to use my current Aquatech housing for the new camera and lenses, but it might not be possible.
Any professional surf photographer will already own a water housing and usually a range of ports too, so dropping one manufacturer for another is a big decision whether you're talking about cameras and lenses or water housings.
The Essex system uses one type of node and one style of ports and offers a different control back for each camera body you wish to use, making it simple to upgrade to a new control back when you get a new camera body, whilst retaining all your ports, pistol grips and front node.
The only real downside I can see would be the lack of a flash bulkhead (something that is offered on the high end Aquatech housings), so there's no way to use a flash with the housing currently, but thanks to the modular design I expect it will be possible to add a control back with flash port, or even a built in flash in the future.