What Surfing Magazine calls "the most prestigious award in surf photography", the Follow The Light Photo challenge, was awarded last night at a ceremony, held during the 2014 Vans Open of Surfing in California.
I'm pretty sure Ryan "Chachi" Craig won this year, that's based on this photo that's tagged with #followthelight on Kelsey Rudolphs instagram account, that's the only place I can find anything about the winner, maybe everyone's still partying, or maybe it's not as big a deal as something like, say, the Red Bull Illume competition, which gets a ton of coverage each year.
It's a bit of a shame that the official website hasn't been updated with information, it's looking a bit dated and the links for information on the awards all head off to other sites rather than having the content and results there for some reason.
Weirdly the Peoples Choice award has a very slick website from sponsors Swell.com which announces Dane Grady as the peoples choice winner and has some information on the other entrants too (although Rambo Estrada's photo's seem to be missing for me?) and a full-page vertically-scrolling slide show.
Those three and the other finalists Woody Gooch and Seth de Roulet all have a few photo's in a slideshow on Surfing magazine's post announcing the finalists.
What I love about Surfing magazine is that they leave the EXIF data in the photo's most of the time, so I know that:
Woody Gooch is a Nikon shooter who's keen on using a 24-70mm f2.8 lens
I'm simultaneously reassured and inspired by winner Ryan Craigs Canon 7D set-up which is fairly similar to my own (he's got a bit more L glass than me but if I was as talented as him I could get very similar shots with my equipment)
Rambo Estrada prefers a longer shutter speed of 1/10 to my favourite 1/80 when doing arty in water blurred barrel shots and uses the kit 18-55mm lens on a 60D to stunning effect
Seth de Roulet shoots huge waves from the water with one of the biggest, heaviest set-up's around and still manages to be in the right place at the right time to get the shot, he must swim like a dolphin
Dane Grady must love the fantastic value Canon 70-200mm f4L USM lens as much as I do because all three of his shots used it
Check out the full slide show here and maybe have a think about whether you could put together a 5 minute slide show of your favourite images which would compare to the one's you see from these finalists.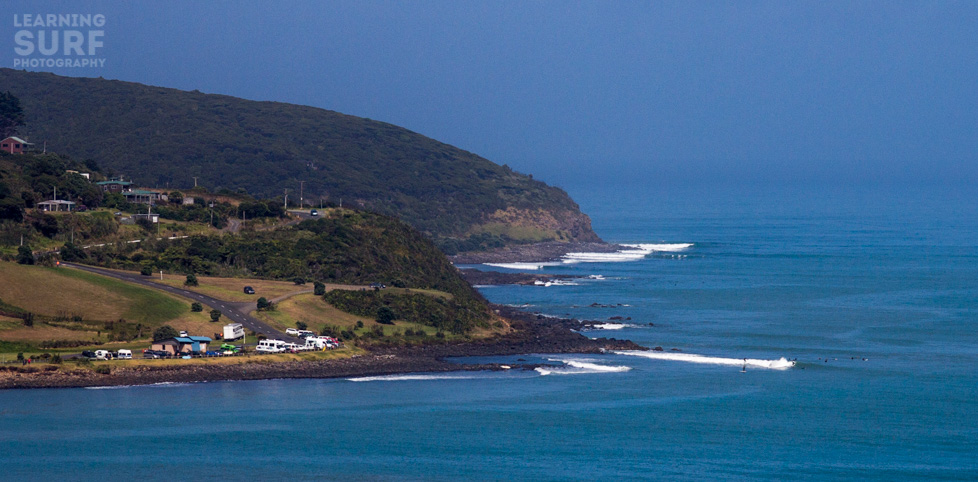 As usual here's a shot of mine that I was reminded of when writing this post, this one was shot with a 60D and a kit lens – although it was a 17-85mm not the 18-55, and it's a pulled back line-up, a bit like one of Rambo Estrada's (far superior) shots, this one features Raglan on the West coast of New Zealand's North Island on a nice sunny day.
The waves were very average by Raglan standards but that still makes them a cut above nearly any break in the UK, and I got the farthest point out that you can see in this shot all to myself for about an hour too, so I can't complain really.
P.S. (this part is my cynical opinion, it will probably not help you take better photo's) I usually have a look through the rules of competitions when I post about them to see what the entrants have to do, so I had a look at the 4 separate documents (!) you need to download to see all the rules. this one has some of the strangest I've seen, the 5 minute slide show especially has some very strict regulations:
slide shows MUST be rendered in QUICKTIME FORMAT (.MOV) saved in a medium size (640×480)
…..
2. No words, titles, symbols or graphics can be added. (This includes title and end slides)
3. Using music or audio to accompany the show is mandatory. Candidates must include a soundtrack within their photo presentation.
4. No more than one image may appear on screen at the same time, however dissolves and fades are allowed.
5. No morphs (multiple images in a sequence projected within the same frame) are allowed.
…..
8. Zooming and panning of images during the presentation is strictly prohibited.
…..
Please also keep in mind that the entire slideshow must be the sole work of the creator of the images.
OK, so I know this is designed to show off photography in it's purest form – one static image, but if you're going to insist on a slide show anyway what difference does it make if you pan the photo? what if the photographer was shooting with an on-line slide show in mind and composed so as to better compliment the panning transition? that is after all part of what the modern pro surf photographer needs to do to survive, and as long as it's a level playing field why introduce these strict limitations?
Rules like this say – "We will award your creativity up until the moment the shutter closes, after that don't even think about exercising your creativity. Unless you ignore all the post processing tools and techniques you use every other day of your photographic life don't bother to enter." – I think if they put these same restrictions on how the grant was spent no-one would want the money anyway, here's $5000 to spend on the worlds most boring slide show… gee thanks.
And if "music or audio" is mandatory and "the entire slideshow must be the sole work of the creator of the images", doesn't that mean that the music or audio must be created by the photographer too? if you're going to be so specific that you have rules about the resolution and file format of the submitted slide show in bold CAPITALS then why are these other rules so ambiguous?
Also the need for the winner to be present at the ceremony could (I'm just guessing) put off quite a lot of international photographers, on a hunch I checked the nationalities of the 8 winners since 2006, as far as I can tell 6 are from the USA (with 4 from California) and 2 hail from Australia.
Now I know I'm being cynical here, but the whole point of this award is to honour the memory of Larry "Flame" Moore and the same set of documents that tells you that you'll be disqualified if your slide show isn't sent in QUICKTIME FORMAT says this:
Larry Moore was always welcoming and would give encouragement, motivation and constructive criticism: he took the time to point one in the right direction.
Does that sound like someone who would kick you out of a competition you just made a $25 donation to enter because you added a word to one of your slides?
I also wonder whether Larry would approve of the six separate links in the footer of every page of the followthelightfoundation.org website to cheap pharmaceuticals that treat herpes, baldness and no doubt other life threatening embarrassing maladies (be warned – curiosity got the better of me but my malware blocker stopped the browser before I could see the suspicious websites for the other drugs that are advertised).

If anyone from the Follow The Light Foundation reads this – I love surf photography and respect everyone who enters the Follow The Light Foundation competition as a photographer, I am the exact person you are aiming to inspire with this, so seriously, how long does it take to update the website, remove the spam links, and maybe re-think the rules a bit to make it a more inclusive, modern competition?
I am very much open to hearing other points of view on this so leave me a comment or e-mail ben@learningsurfphotography.com to get in touch.