Summary: Two of my photos appear in the 2018 Global Surf calendar. Find out how they were taken and what gear I used
The Global Surf Calendar is produced in California and features waves from around the world. Proceeds from the calendar go to the Save The Waves Coalition who are a non profit organisation that work to protect coastal resources.
Each month features a different surf related cause, and sponsor.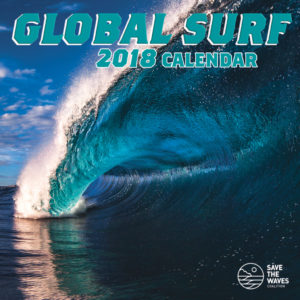 It features images from the following surf photographers: Plinio Bordin, John S Callahan, Evan Conway, Ryan "Chachi" Craig, Michael Krew, Jeff Johnson, Dan Manoi, Ben Pascoe (me), Seth Stafford and Philip Thurston.
The large image for May is a photo I took, here it is: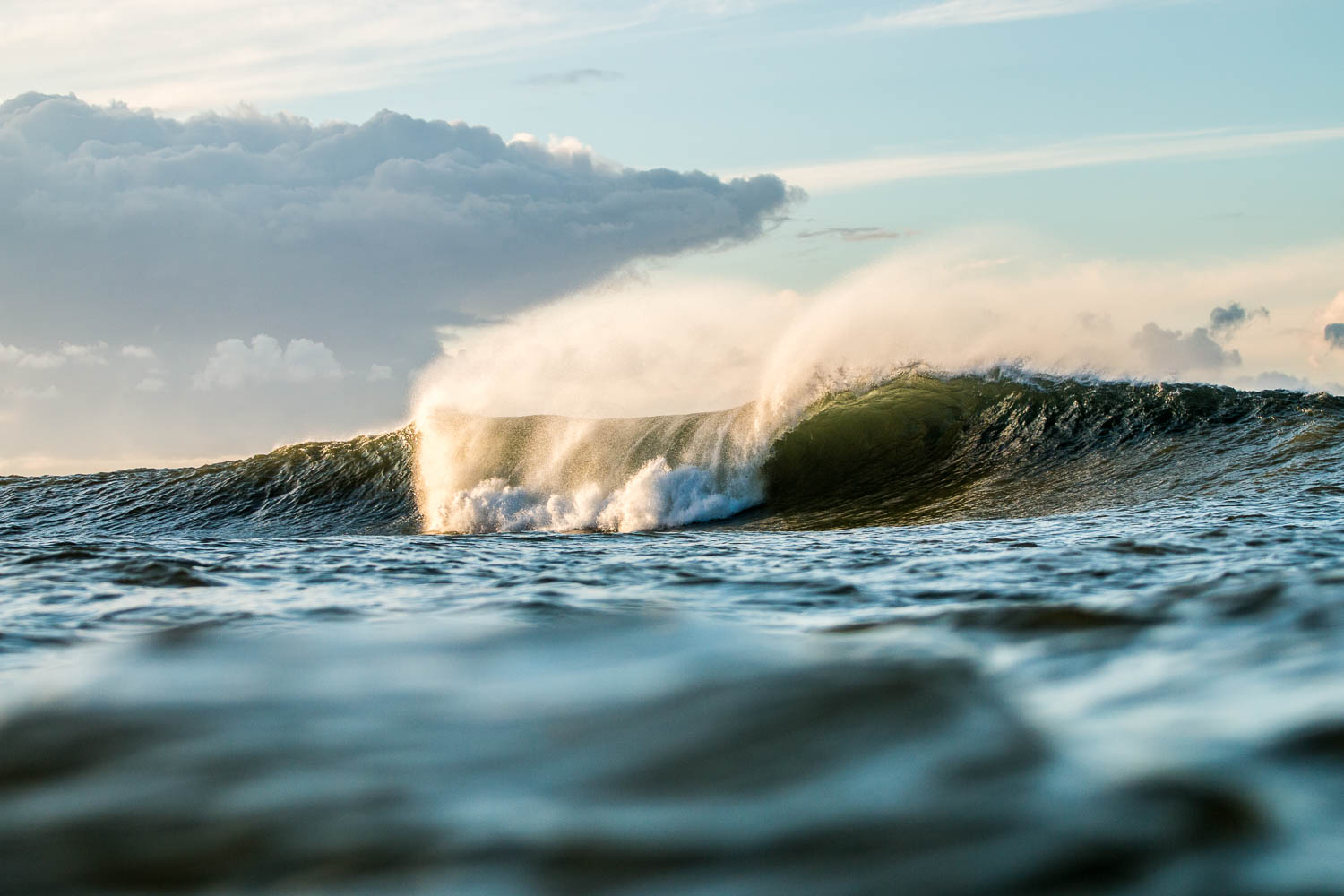 Gear:
Settings:
Shutter priority mode
ISO 125
focal length: 73mm (110mm equivalent)
Aperture: f4
Shutter speed: 1/1000
Auto focus: Continuous
Processing:
No crop
Colour, contrast and vibrance in Lightroom
Spot and lighting
The spot is very fickle and needs just the right tide, swell and wind to work properly, there were probably 6 people surfing it this morning and about an hour earlier than this photo I took one of my favourite surf photos ever. Dawn light is really good for the South facing coast this was taken on, but you have to be lucky to get he break in the clouds just above the horizon to get the interesting cloudy sky with the low sunlight illuminating the wave.
My favourite photos from the session were all shot looking towards the rising sun, this one has good lighting, and shows off the wave, but when you're shooting into the sun you can get really rich colours and a lot of contrast that I really love.
Any time there are strong offshore winds you get good texture on the wave and a nice plume of spray off the back as it breaks, combine that with a nice sunrise and it makes it much easier to get nice surf photos. I've seen this wave break bigger and better than on this day, but the light is very rarely as good as it was that day.
I went down on my own and surfed for 15-20 minutes before the sun came up, then paddled in to get my stuff as a couple of the first surfers arrived. When conditions are like this you have to make the most of it, so I had a second session later on at a different spot.
I didn't even take my camera out of the housing between sessions, I just grabbed it and took a bunch more photos at the second spot with the same lens. This shows the importance of  making sure you've got a fully charged battery and an empty memory card in your camera before heading out to shoot, you never know when you might want to keep shooting.
Getting the shot
It's shot 8 of a 9 shot sequence of this wave. I shot it whilst sitting on my bodyboard as I paddled in from taking photos for about an hour at dawn. The sun had risen above the headland but was still pretty low. The swell in the forground could have obscured the wave if I hadn;t been sitting on my bodyboard. I like to take a big breath in before starting to shoot and hold it until I stop, that way you float higher in the water and remain more stable whilst shooting and avoid being behind the swell in front.
Shooting with the 70-200mm f4 lens in a big DSLR housing takes some practice to get right. The range you get with that setup is great for this type of pulled back water shot though, and the lens produces great images.
I took 540 photos during the session, the majority were between 70 and 90mm, with the rest from 130-150mm by the looks of it. I don't have my Canon DSLR kit anymore, so if I was to re-create this type of photo again now I'd be using my Sony a6000 and my Sigma 60mm f2.8 lens. Obviously the 60mm doesn't zoom like the 70-200mm, which was really useful for a few shots, but I think the trade off of better performance and a much smaller and lighter setup is worth it.
I could have certainly shot this same photo with the Sigma 60mm and my Sony a6000.
Bonus image
There's also a smaller image printed in the bottom right of the calendar section, here it is:
I always liked this photo, it's a bit of a hoax as the wave isn't really that surfable, it's small and it's going to pinch closed very soon after this photo. Luckily it looked pretty enough to make a good shot.
Gear:
Settings:
Shutter priority mode
ISO 100
focal length: 30mm (45mm equivalent)
Aperture: f8
Shutter speed: 1/1000
Auto focus: Continuous
Processing:
Slight crop
Colour, contrast and vibrance in Lightroom
Here's the crop I applied: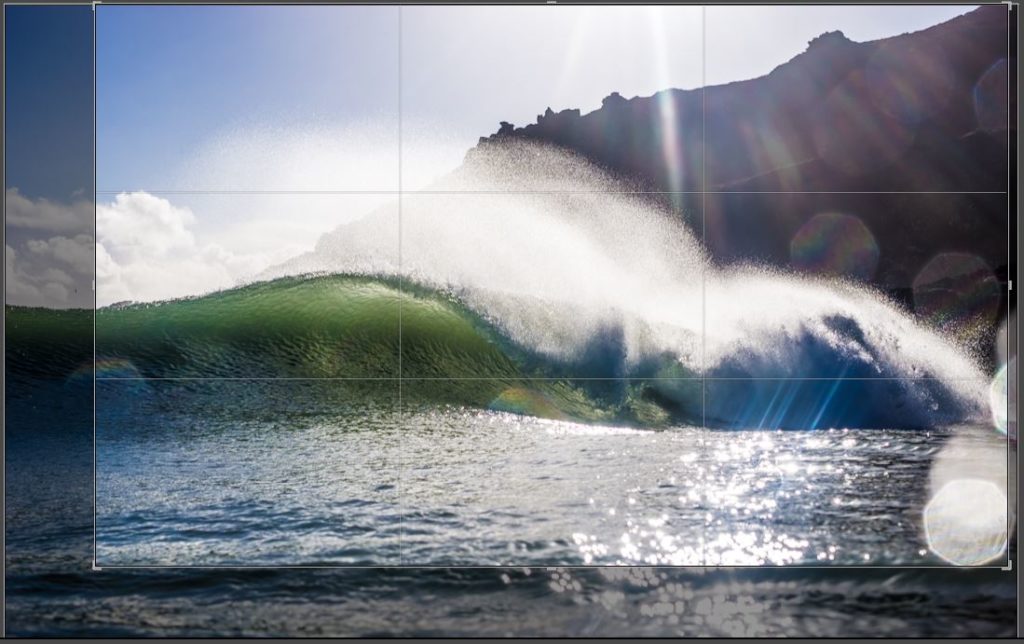 Spot and lighting
This spot is also very fickle, I tend to take my camera gear along with me whenever I surf there and if the sun comes out I'll take some photos, otherwise I'll just surf. It's a closeout onto sand with a few rocks around too, so there's often strange wedgey closeouts like this one that look great but aren't that good to surf.
Just like the main photo the strong offshore (rare on the South coast of England) has given the wave a great texture and thrown up some fine spray as the lip pitches. The cliffs in the background are in harsh shade from the high sun and that really sets off the spray.
The Sigma 30mm f2.8 is a really sharp lens, especially for the price. As it was sunny the aperture of f8 and 1/1000 of a second shutter speed make for great details which I've enhanced with the clarity slider in Lightroom.
The high sun has lit the top of the tube really nicely and shows off the green water really well. The lens flares are common when shooting towards the sun but I don't mind them at all. They can be a bit overwhelming if you've got drops of water on the lens port but in this case I was able to keep it pretty clear and minimise the distracting effect whilst adding a bit of character at the same time.
Getting the shot
I was kneeling in waist deep water to take this one, trying to get low enough to be looking up through the lip whilst high enough to see the spray against the cliff rather than the sky.
This was shot 20 in a 24 shot sequence. That sounds like a lot, but the Sony a6000 shoots at 11 frames per second, so the shots were taken in less than 2.2 seconds. Compared to the Canon 70D I used for the other shot which shoots at 6.7 frames per second, the Sony can give you a lot more options.
I'd been trying to get in position for a shot like this for a while based on the other photos from the session. I took 430 photos in the session and that was the last wave I shot, the majority of the photos were looking the other way, away from the sun, and there aren't any real stand outs.
What I really like about surf photography is the opportunity to get a shot that you didn't aim for to begin with. I was just trying to get a photo with my new camera gear to see how it worked out, and I ended up getting a really nice shot right at the end of a session that otherwise would have been pretty average. Just by turning the other way and shooting the worst end of a closeout beach led to a photo that eventually got published for thousands of people to see around the world.
Get the Global Surf Calendar 2018, support the Save The Waves Coalition
If you want to see the photos in print you can buy a copy of the Global Surf Calendar from Amazon for $13, they ship worldwide.
I've got plans to do more analysis of photos like these, with an emphasis on how to recreate the style of photo with your gear, in the future. If there are any types of photo or techniques you'd like to read more about let me know in the comments, or via email at ben@learningsurfphotography.com.