GoPro have officially announced the new GoPro Hero 5, there's still a little wait before it becomes available to buy, but we can now stop speculating about the specs and decide if it's worth the upgrade from your current action camera. Will GoPro Hero 5 surf photography be the new standard?
They have simplified their range so it now includes only the Hero 5, Hero 5 session and the original session. Everything else is out of date, but is one of the new cameras the best option for surf photography?
GoPro Hero 5 surf photography specs comparison
It's not straightforward to get the Hero 4 specs alongside the Hero 5 on the GoPro site. This might be because there's actually not that much to choose between them. I expect the prices will drop pretty quickly on the older models now the new Hero 5's have been announced, so I'd keep my eye out if you want to pick up a great value action camera that still works with all the accessories you love.
The table below compares the new GoPro Hero 5 range with the last generation and a couple of new competitors.
| | Hero 5 | Hero 5 session | Hero 4 Black | Hero 4 silver | Session | Garmin Vibe Ultra 30 | Nikon Keymission 360 |
| --- | --- | --- | --- | --- | --- | --- | --- |
| Price | $399 US | $299 US | $449 US | $399 US | $199 US | $399 US | $499 US |
| Max video res @30fps | 4K | 4K | 4K | 2.7k | 1440p | 4K | 4K |
| Max video res @ 60fps | 2.7K | 1440p | 1440p | 1080p | 1080p | 2.7K | ? |
| Extra sensors? | GPS | No | No | No | No | GPS, accelerometer, gyroscope, altimeter, compass | No |
| Still resolution | 12MP | 10MP | 12MP | 12MP | 8MP | 12MP | 24MP |
| Stills per second | 30 | 30 | 30 | 30 | 10 | 60 | ? |
| Raw capture | Yes | No | No | No | No | No | ? |
| KNEKT KSD6 compatible? | No | No | Yes | Yes | No | No | No |
| Water proof rating | 10m | 10m | 40m (in case) | 40m (in case) | 10m | 40m (in case) | 30m |
| LCD screen | Yes | No | No | Yes | No | Yes | No |
| 360 video? | No | No | No | No | No | No | Yes |
For surf photography I believe these are the important features.
The extra sensors is a bit of an unknown quantity right now, but I do believe GoPro will be able to make good use of the data to overlay stats on your video automatically. We're yet to see the fruits of their purchase of the DashWare software, but I'm sure it's coming at some point.
I've included the Nikon Keymission 360 camera as an alternative just so you know that there are some other unique action cameras around that don't just clone the GoPro. It's going to be the easiest way to shoot 360 video of surfing as soon as it's released in October and it might just make you think twice about getting a GoPro Hero 5 if that's something you're interested in.
Read more about 360 video for surfing in my post: 360 degree video: the best camera for surf
The KNEKT KSD6 compatibility will also go for popular clones of the design which fits snugly around the lens port of the Hero 4 style housing.
It's not entirely clear whether the new cameras with their built in housings, will be compatible with the KNEKT KSD6 and it's clones like the Telesin dome yet, but the KNEKT Instagram page has already announced new products in the works, so if it's bad news and it's not the same size lens port you can be sure they'll be quick to release something that does work.
Is a 10m waterproof rating enough for GoPro Hero 5 surf photography?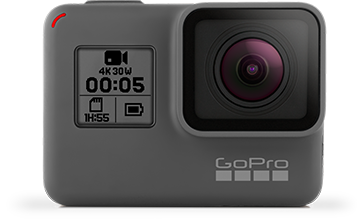 I plan to do a whole post on this subject. Basically you should be fine with the Hero 5 range for most situations when shooting surf photography from what I've read about the Hero session performance.
What I know for sure is that case manufacturers, if not Gopro themselves, will offer a dive housing for the Hero 5 cameras with a deeper rating very soon. If you're using it in extreme situations like heavy shorebreak waves or slabbing reefs then it's probably best to pick up an extra case for it to be safe.
All new GoPro hero 5 features
There are some other headline grabbing specs on the new cameras, but I haven't included them in the table, here's why:
Voice control
I can't see it being very useful for surf photography. It might be good for surf video, or at least make it easier to start recording if the Gopro is mounted a long way from you, perhaps on the end of a pole mount?
But basically this isn't going to give you the control of a simple trigger like the KNEKT GPLT that surf photographers want.
Electronic image stabilisation
Not a big deal in my opinion, it would be useful if you're going to be publishing the video really fast, or streaming live from an event.
For my use, and the majority of surf photographers, you'd be better off getting the video in the highest resolution and frame rate you can then doing the stabilisation in software after shooting it.
You get more flexibility that way.
One button mode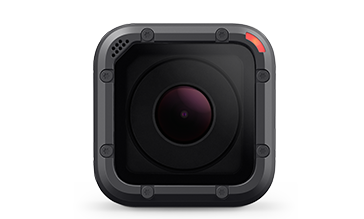 This is a standard feature of all Gopro cameras since the Hero 2 I think, it's useful for video if you want to record a long session, but it's no good for stills.
Wind noise reduction
I don't tend to use the audio from my surf video that much. If I do I bring the levels right down on the audio so you can hear the water whooshing past but it doesn't distract from the music.
Also – not an issue when shooting stills obviously.
Gopro + upload
GoPro has their own cloud platform for video, or they will do soon. It costs around $5 US a month and if the whole service is competitive with Google or Amazon then it might be worth doing.
Personally I have so many different cloud storage accounts that a new one would have to have very compelling features for me to jump on board.
WiFi/Bluetooth
They've all got it.
Which GoPro should I buy for surf photography?
I'd go for the Hero 5 session if you're all about video, and you don't want to use a dome port. I'm tempted to pick one up myself, maybe if there's a price drop for around Christmas.
If you want to get decent split shots with a dome like the KSD6 then right now I'd recommend the GoPro Hero 4 Silver as the best all rounder. But I'd probably hold off for a little while until the price comes down and/or KNEKT release a Hero 5 compatible version.