UPDATE: you can now watch my review video where I compare the SPL Dome Port and housing system with the KNEKT GPLT trigger system.
There's a bit of a movement happening with GoPro surf photographers wanting to shoot over/under style photo's,you can read all about how to take this kind of photo, and why the dome port is needed to get a good shot in my post Over Under Shots With Chris McLennan.
Since I posted about the first dome port I saw, the SPL 5″ and 8″ options have become available and I finally got my hands on one today: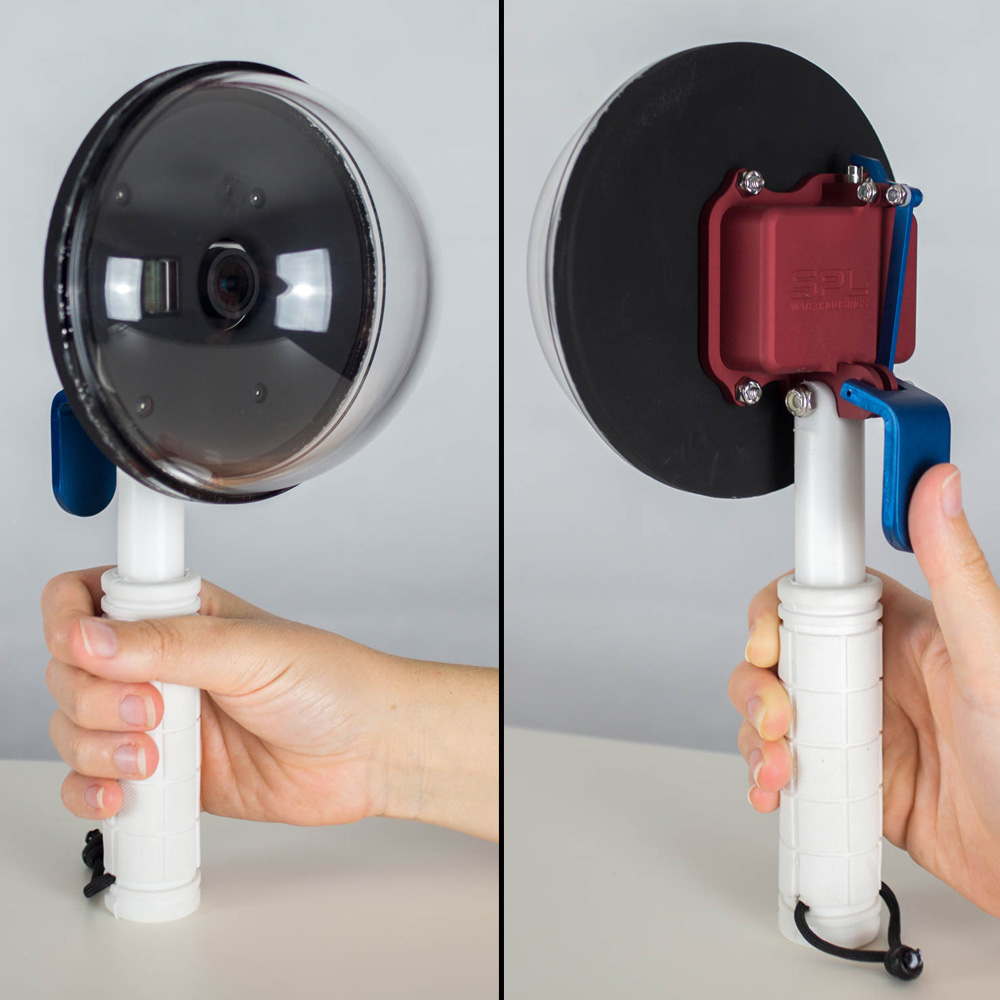 I will be shooting video with the housing for an in depth review and comparison to be released soon, but I wanted to give you a heads up about the different options available now, or coming soon, for creating the over/under split style shots with your GoPro that these domes are designed to achieve.
SPL GoPro Housing with Dome Port
This is the only one that is actually on the market and currently available, it's sold only directly through SPL, so to purchase you'll need to go to their website and contact them.
The price is reportedly $200 US for the standard GoPro Housing, then an extra $250 US for the 5″ Dome (this is the one I have to test) or an extra $650 US for the 8″ dome, these are not official prices, just what I've gathered from SPL's Instagram account, so please do contact them using the form on their site to enquire about prices (don't forget to mention that you heard about the dome port on learningsurfphotography.com).
Here's a photo of the 8″ model from their Instagram account;

KNEKT Dome Port
It's only in the testing stages right now, but makers of the very well designed GPLT trigger system KNEKT have been teasing a dome port add-on on their Instagram account for a little while now, I've contacted them about it and the sample images from it look great but there's no firm date for release or word on pricing just yet.
As soon as I hear anything about a release date or price I'll put a post up.
DSD Double Standard Housings GoPro Dome Port Pistol Grip
This one's a bit rough around the edges but the images certainly work just as well form what I've seen, Colin Warren is making this lightweight, custom fibreglass housing with an 8″ dome for a GoPro (his Instagram account shows a 14″ dome but even Colin admits it's unwieldy and won't ever be put into standard production).
It's also in the testing stage currently and as such pricing is not confirmed, but one Instagram post suggests it's going to be $180 US for the 8″ dome version with a pistol grip and top button for the shutter. The top button makes this a bit less appealing than the trigger-style alternatives from KNEKT and SPL as it requires two handed use, but I've found with my own split under/over style photo's that having a firm grip of the camera helps with getting the shot so two handed operation is not the end of the world.
Which Is Best?
That's all I can find so far, it's a bit early to say which is best just yet, but for now it has to be SPL as it's the only one you can actually buy at the moment.
There's lots more to come on the SPL Dome once I've put it through it's paces, I will be using my GoPro inside my Aquatech DSLR housing and 8″ dome port to simulate the 8″ version too so you can see some comparison images from the two sizes.
As always, if you have any questions for me or requests for a style of shot or information on the housings featured let me know in the comments or by e-mailing ben@learningsurfphotograohy.com and I'll get back to you as quickly as I can.