More leaks about the GoPro Hero 5 camera have come out today.
There's some great news, and some potentially bad news for surf photographers, so let's dig in.
GoPro Hero 5 surf photography specs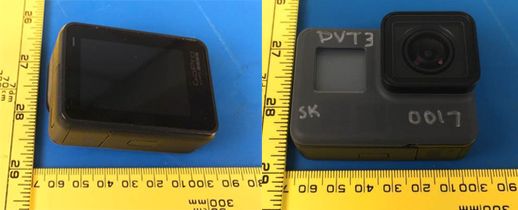 I'll cover the most important new specs first:
RAW photo files!
Shutter speed selection
GPS built in
Raw files are great for surf photographers, you can bring out more of the highlights and shadows in post production than with jpeg files. They're using the dng format, which is a standard created by Adobe, so it's well supported by photo editing software.
Apparently you can select the shutter speed in Protune mode – it's not clear if this is only for video or for stills as well. If it works in stills mode then combined with RAW files this could be huge.
The aperture and focal length are fixed on the GoPro, so the shutter speed and ISO are the only things that can be changed. This meant that the shutter speed dropped pretty low when the sun went in on the Hero 4 cameras, making fast moving subjects like waves a bit blurry.
Selecting a faster shutter speed and relying on ISO to get a good exposure, with the added flexibility of a RAW file to allow for a bit more aggressive brightening and noise reduction could mean lots more great GoPro photos.
GoPro Hero 5 has built in GPS
I'm so glad to see GPS on the list of features, I hope it's not a false rumour. I've written enough about why GPS is a great feature for surf photographers, and I'm sure with more GPS enabled action cameras coming out there's going to be a lot more support for using the data in editing.
I'm curious about whether you could track GPS while the camera isn't recording too. That would mean you wouldn't need something like the Glassy Zone wrist band, Rip Curl GPS watch or the Trace to track the basics of your surf session.
I still think there's scope for a surf log site that handles all the tracking and surf forecast stuff for you, I'm tempted to build something for myself that does that, but surely someone can do a much better job and make something a lot of people could use.
Other GoPro Hero 5 features
There are quite a few other potential specs that have come out after the manual and a couple of photos were leaked. These aren't as interesting for us surf photographers though.
It's too early to tell if it's exactly the same size as the Hero 4, I really hope it is so it'll work with all the Hero 4 accessories that use that size of lens port. That includes the KNEKT KSD6 dome and the KPT18 pole.
There's a downside though, if the lens port is the same it'll fit the old accessories but it's likely to only be water proof to 10m. That could be an issue for heavy waves or freedivers who go down further than 10m depth.
The only thing I could think of was other surfers turning your camera off and on for you as a prank. I don't think I'd use this feature at all, but maybe if it proved reliable I'd get used to it.
image stabilisation – kind of
But – not in 4k resolution of frame rates of 60fps or above, which is a bit of a bummer. I understand why, it must use some of the extra resolution to move the frame around a bit, but it's not that useful for surf videos which are usually shot at high frame rates.
de-fisheye your shots automatically in medium field of view. Not that useful for surf photography, but pretty good for other stuff, if you haven't got another camera to shoot on.
It's about time they ditched the micro USB, it's now the only bit of kit I need that cable for. I've only got one other USB c device so far (an LG 360 camera) but I'm sure my next phone will have it, and plenty more in the future.
So that's the roundup so far, I expect there's an official announcement coming fairly soon and we'll learn the real details. I'm pretty happy about how it looks so far, the price is going to be one of the most interesting things to find out.
I'm still on the shelf about upgrading or not. It'll depend on the depth rating, accessories compatibility and price for me.