Summary: Aquatech built a special underarm style housing for Leroy Bellet to shoot "follow camera double tow" surf photos at Teahupoo
I follow Leroy Bellet and Aquatech on Instagram, so this interesting housing popped up a few times today in my stories and feed. If you follow more than a hundred people, or don't check Instagram as often as I do, you might have missed it.
Here's the photo:
You should check out Leroy Bellet's Instagram Story, if you're quick you'll see a couple more photos of the housing.
And here's the more traditional style of housing, with a pistol grip, in action:
Notice how the housing gets forced downwards when he hits a bit of chop on the wave.
And here's what I think they've built: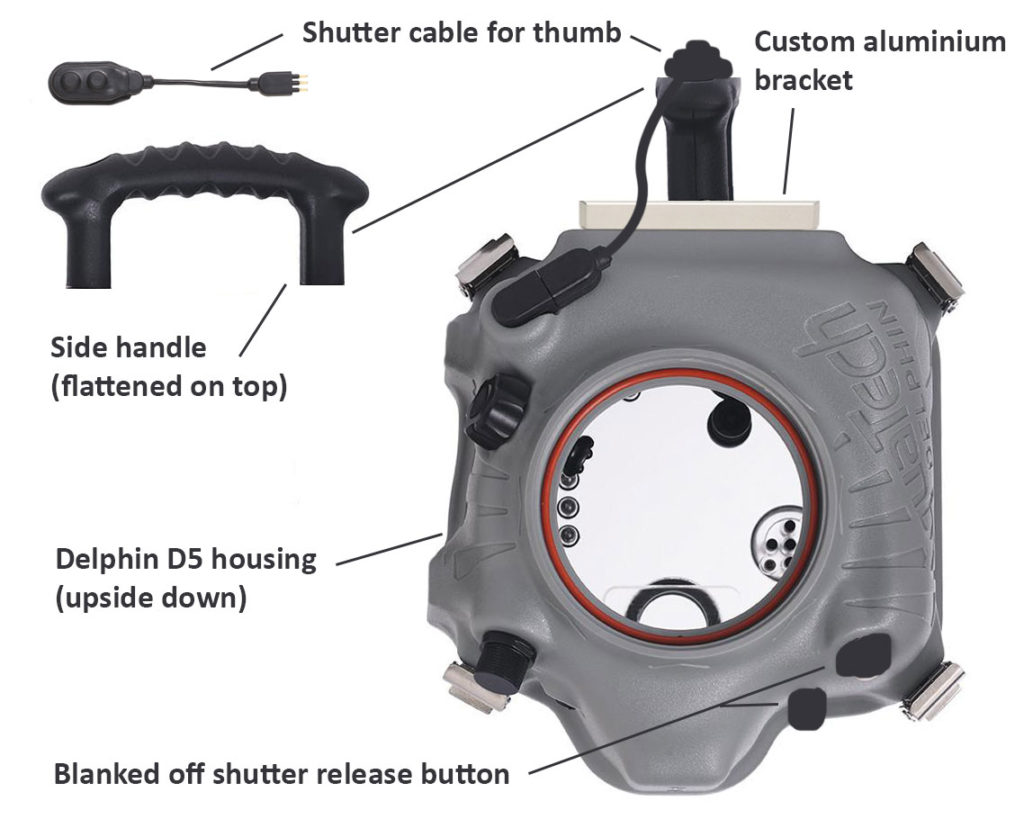 My guess is, Leroy's got this D5 housing in his right hand, holding it underarm, just like you'd carry a brief case. The camera is upside down, but that's no problem, it'll take a few seconds to flip all the shots when they're imported to his laptop.
Where the pistol grip is usually secured using 4 bolts there's a custom aluminium bracket that allows a side handle to be attached at right angles to the camera's front/back axis.
The top of the handle is ground down flat and on the front end there's a shutter release button, positioned so that the thumb naturally rests on it when holding the setup.
Holding the housing upside down and releasing the shutter with your thumb will avoid having to hold it level with your shoulder to get the shot, which looks like one of the more awkward parts of the double tow process.
It looks like a good idea and reminded me a bit of this camera mounted flash housing designed by Jeff Flindt and Dale Kobetich with a pistol grip that sits behind the housing and is operated using the thumb, offering a more comfortable position when holding the heavy rig.
There's no sign of a flash in the photos on Instagram, but Leroy is a fan of using one, so I wouldn't be surprised to see a flash make an appearance on this customised setup in the future.
I don't think any photos from Teahupoo have been released yet, but I look forward to seeing them when they are.