I've been using the Liquid Eye C6000 water housing for a few weeks now.
I've tried it out with a few different lenses and in a variety of conditions. Here's my video review of the housing.
Overall I really like the Liquid Eye C6000 and I'm happy to use it as my main housing. There are a couple of reasons that a different housing might be better for you, so check out the next post which is all about the Salty Surf Housing BASIC model, the C6000 and the other options you might have.
There are a few details that I bring up in the video that are worth sharing here too:
Liquid Eye C6000 & C6300 packages
There are a few different packages you can purchase from Liquid Eye if you want the C6000 or C6300. You need to contact them directly through their website to place an order. Everyone I've dealt with at Liquid Eye has been professional and knowledgeable about surf photography and their products, if you have a request or question don't hesitate to get in touch with them.
$600 US: C6000S/6300S plus one flat port
The basic package comes in at a very competitive $600 US (£450 GBP or $790 AUD) and includes the housing itself and a flat port (see below for more information on ports). You don't get the pistol grip but the housing has full controls on the body so if you're shooting video or you don't feel like you need a pistol grip then it's a good budget option.
$750 US: C6000SP/6300SP plus one flat port and 2 stage pistol grip
The first step up adds a two stage pistol grip trigger. If you want to take still surf photographs then I'd recommend this option, a pistol grip allows you to operate the housing one handed, so you can swim with the other hand and still get the shot.
$950 US: C6000SP/6300SP plus one flat port, one dome port and a 2 stage pistol grip
This is what I went for, it gives you the ability to shoot with a fisheye and a selection of small prime and zoom lenses. I also ordered an extra flat port which is a bit longer so I can use my Sigma 60mm f2.8 lens in the housing too.
Whichever option you go for I'd check out the duties and taxes that might be applicable when you're importing anything into your country. The housings are made in Indonesia, I had mine shipped to the UK and it arrived in 2 working days, but I'm pretty sure I got lucky and that's much faster than expected.
Liquid Eye C6000 Lens ports and compatible lenses
Liquid Eye are really flexible on the ports that you can get with your housing package, you can take any of the three flat ports listed below as your included port, and if you want to swap out the flat port for a dome port it costs an extra $50.
Here are the ports that are available from Liquid Eye, there is likely to be more in the future too, this list was provided by Liquid Eye, I have only tested the Sigma prime lenses, kit lens and Samyang fisheye V1 myself.
S-LP/55 ($150 US)
S-LP/35 ($150 US)
S-LP/70 ($150 US)
S-LD/4840 ($200)
There is a dome port being produced for the Samyang/Rokinon Fisheye f2.8 V2, so if you already have the V2 I'd recommend contacting Liquid Eye to enquire about that port.
Things to watch out for when using the Liquid Eye C6000
Check that the trigger of the pistol grip is all the way out, not halfway in, especially if you're using the dome port cover
Make sure you have the camera on and the on/off switch in the right position on the housing before putting the camera in the housing
Put the pop up flash back down before trying to remove the camera from the housing
Double check your lens before putting it in the housing if you're using the Samyang 8mm or other manual lens
Make sure the back is tightened enough to engage the video button
I'll be covering the best settings for using your Sony a6000 in a water housing in a separate post as they apply to any water housing.
Using a flash with the Liquid Eye C6000
I've been experimenting with using a small slave flash with the Sony a6000 and C6000 housing for night time surf photography.
I wanted a smaller, more powerful flash than my DIY set-up that I've written about before. After some research I settled on an underwater Nano flash, it's known by a few different names but if you find one that looks very similar to this, then it's probably the same hardware with a different badge on it. mine has a Fuji label on it, but the Fantasea version seems to be more readily available.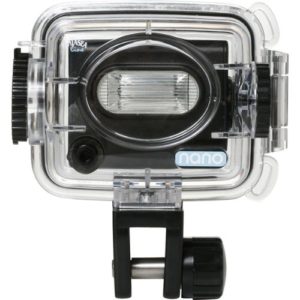 The flash comes with a connector that many dive style water housings use but I wanted to connect it to a Gopro mount on the top of the housing. Luckily the dive style bracket just unscrews to reveal a standard tripod mount underneath it.
I used a cheap Tripod to GoPro adapter to add a simple GoPro mount to my flash.
Once you've got the flash sorted you just stick it in the relevant slave mode and set your power. I tested it on low power when it was pretty dark (you'll need higher power if it's lighter) and found it had plenty of flash, I'll be taking the supplied diffuser next time to reduce the amount of light a bit more.
The C6000 itself has a little recessed section for the pop up flash, so you can just press the button to pop it up once it's inside the housing. Then take your shot and the flash on top is triggered by the pop up flash.
I need to do some more tests to see if I can reduce the amount of reflections from the dome port in the future, I'm confident I can get a nice clean image based on my experience using similar set-ups in the past.
If you want to use the pop up flash with the C6000 you should let Liquid Eye know and they'll open up the flash window – mine isn't open but it still lets enough light through to trigger a slave flash, so it's all good for my set-up.
Your questions about the Liquid Eye C6000
I've had a few questions about the Liquid Eye C6000 through comments on this site, emails and Instagram messages, I tried to cover them in the video, here's one that a couple of people sent in.
I was wondering how that zoom control works with the kit lens and if you've tried it out? Thanks
I've used the kit lens in the housing now, the zoom control engages with the rocker switch on the lens and it works really well.
If you're careful you can control the speed of the zoom just like you can with the switch on the lens. I think it would require a bit of practice to get a nice smooth zoom when shooting video, but I'm sure you'd get used to it pretty quickly if you used it a lot.
The review video above has some footage of me testing out the zoom control.
If there's anything you'd like me to test or any questions you have about the Liquid Eye C6000 let me know in the comments below or send me an email at ben@learningsurfphotography.com.