I received my Liquid Eye C6000 water housing earlier this week and I've now had a chance to do a proper unboxing so you know what to expect if you're thinking of ordering one yourself.
You can order the C6000 through the Liquid Eye website, just go to the contact page and fill in the form.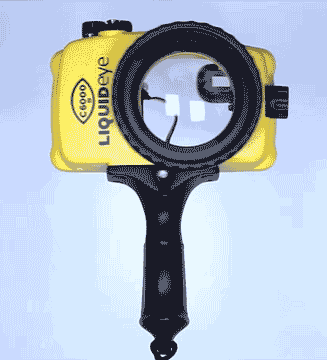 What do you get with the Liquid Eye C6000 water housing?
I ordered a couple of extras, but Liquid eye realise that you might want to order a similar package so they offer the full kit that I show you in the video for $950 US.
Here's what you get:
Liquid Eye C6000 water housing body
Removable two stage pistol grip
Small dome port (designed for the Samyang 8mm f2.8 fisheye V1)
Small flat port (designed for the Sony 16-50mm kit zoom lens)
Wrist lanyard
Port covers
pdf instruction manual
What controls does the Liquid Eye C6000 have?
There are quite a lot of controls on the C6000, here's the full list:
On/off
Physical shutter button
C1
Mode dial
Top dial
Zoom (designed for the Sony 16-50mm kit zoom lens)
Menu
AEL
Video start/stop
Fn
Top, right, bottom, left and centre of rear dial
Playback
C2
Two stage pistol grip
I've never had a surf housing with this many controls on it before, I'm really interested to see if I end up using them much once I'm in the water with it.
Can you take flash photos with the Liquid Eye C6000?
Eagle eyed viewers might have spotted a little slot cut into the housing around where the pop up flash would be, well I'd noticed that too and was interested to see what it was about.
There's a cavity built into the housing that gives you space to pop up the flash whilst the camera is inside. The slot in the housing is left without a hole or window as standard, but you can get it opened up if you make a special request to Liquid Eye when you order. This would allow you to use the pop up flash through a window that was inserted I'd guess.
Luckily even without the window it looks like there's enough light getting through the housing body to trigger a slave flash so I should be able to use it in a similar way to my other housings to do some budget flash photography.
Do Liquid Eye make a housing for the Sony a6300?
Yes they do, it's called the C6300 and it uses the same ports and pistol grip and features the same controls as the C6000.
I haven't upgraded to the a6300 myself, you can read my reasoning here, but I might do in the future and if I do there's a chance I'd see if I could get just the housing section of the C6300 and use my existing pistol grip and ports.
What do you want to know about the Liquid Eye C6000?
If there's anything that I haven't covered that you want to know about the C6000 housing let me know by leaving a comment below this post, or by emailing ben@learningsurfphotography.com and I'll do my best to cover your question in my review video.