Surf photographers want to get close to the action, but it's often a long way away. The answer is a long telephoto lens. One of the most valid criticisms of the Sony e-mount system is the lack of long lenses for things like surf photography.
There has been a trend over the last decade or so moving away from the tightly cropped close up action shot. Currently more pulled back line-up style photos seem to be more popular which has meant I have never bothered buying anything longer than 300mm.
I have shot with longer lenses a few times. I used a Canon 600mm on a surf photography workshop and I've adapted cheaper old lenses with 2x tele converters with some success, although manual focusing and narrow apertures severely limit the usability of a system like that.
Now the Sony a6300 has been around for a while and the a6500 is available to order and I don't feel the need to upgrade my camera body. So a few weeks ago I started to think about getting hold of a longer lens with the money I've been putting aside for a new body.
I try to only buy a new piece of kit if it gives me the ability to take a photo that I couldn't have done before. Neither of the new camera bodies does that, but a long telephoto lens would.
I'm looking at getting a focal length of over 300mm, that's what I consider "long telephoto". Because I haven't had a long lens before I basically thoguht, the longer the better, so I can see if and when I'd use a really long focal length.
Long telephoto options for the Sony e-mount system
So, what are the alternatives for shooting long lens photography with a Sony e-mount camera like the a6000, a6300 or a6500 or A7 series?
I've read every forum post, watched every YouTube video and checked out the top surf photographers suggestions and come up with this list:
Nikon lens with third party adaptor
Old manual focus lens with third party adaptor
Mirror lenses
Buy a superzoom camera
Buy a different camera body and lens
Canon EF mount lens with third party adaptor
Sony a-mount lens with Sony adaptor
Sigma lens with Sigma adaptor
Native e-mount lens and crop
Sony 55-210mm lens with a 1.7x tele extender
Sony 70-200mm f2.8 with 2x teleconverter
I'll give you a run down of the different options with an example of the type of kit I'm talking about and some brief notes. I'll start with the options I dismissed from the list and the reasons why. At the end you'll find the options I've tried myself and finally the one that I'm using myself (until there's a semi-affordable native e-mount telephoto lens available).
Nikon lens with adapter
There are very few decent converters for Nikon lenses which retain auto focus, Commlite offer one for $369 that was mixed reviews, and there's a new one from Fotodiox too with some limitations. I've never owned any Nikon gear so I didn't really pursue this option. I can get a much cheaper lens if I don't want auto focus, so this idea was out.
Old manual focus lens with an adapter
It can be cheap, and it can work OK, but I don't think it's worth it. I've tried it out a couple of times and manual focus is such a pain when you're used to having auto focus.
No-one should do it out of choice in my opinion, spend your time practising other photographic skills, manually focusing long lenses is a waste of time. If you're a pro, buy an expensive modern lens, if you're an amateur buy a cheap modern lens.
Mirror lenses
In my search for a long telephoto lens I encountered something a little unusual. I'd seen mirror lenses before, they basically look like mini telescopes and they use a strange design involving a couple of mirrors to bounce the image into your camera.
I can't explain how they work but I've researched enough to tell you the limitations:
Constant aperture
Manual focus (with some rare, expensive exceptions)
Ring shaped bokeh (out of focus areas)
So whilst you can get an affordable Sigma 300mm mirror lens (~$400 US) for the e-mount system, the draw backs mean I'm not even considering it as an option for surf photography, and that goes for the 500mm options that you need adapters for aswell.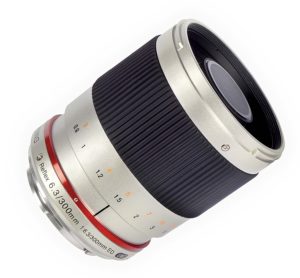 Buy a superzoom camera
Buying something like the Sony HX400 camera is definitely a sensible option. I was really tempted to pick one up and see how it performed for this really long focal length. I still might get one to be honest as I think it could do a great job for surf photography.
I wanted to rule out using my beloved a6000 and a big lens before having to add another camera to my bag. Now I've kind of worked out that I don't shoot from the land enough to warrant the mega zoom lens I think this option is back on the table for sure.
The HX400 is a solid choice because it shoots decent video, has an awesome zoom range and has a fast burst rate for stills: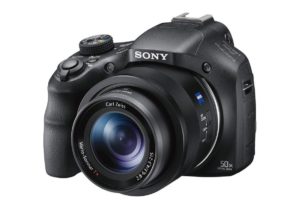 Buy a different interchangeable lens camera body and a telephoto lens to go with it
I considered this for a long time and looked into most options on the second hand market.
Here's a quick run down of the alternatives:
Fuji – too expensive, longest native lens (Fujinon XF 100-400mm) is 600mm equivalent but costs over $1,500 on its own.
Samsung – NX range maximum equivalent focal length is 300mm and might have been discontinued.
Canon mirrorless – the m series doesn't have a long enough focal length in the native mount and if I'm using an adapter I might as well use one for the Sony I've got.
Canon DSLR – An option, but pretty big and bulky, and to get a DSLR that gets anywhere near the performance of the a6000 I'd need to spend loads of money.
Nikon mirrorless – sensor is quite a lot smaller than aps-c, the 70-300mm lens gets really good reviews, comes in a bit over budget but could be an option with the j5 body.
Panasonic have some decent options with good video, but they're more expensive than the a6000 and don't quite match up for stills.
I ended up focusing on a Panasonic micro four thirds camera body, something like the Lumix GX85 is available for a really good price and offers still photo spec's that almost rival my a6000. They have some features which beat the a6000 too and there are a few long lenses available for the micro four thirds lens mount.
There are a few long lenses for micro four thirds cameras but I liked the look of the Olympus 70-300mm f4-5.6 lens. The Panasonic GX85 has built in stabilisation so you don't need it in the lens.
In the end I found a second hand a6000 body for an awesome price as I was browsing for alternatives and I couldn't resist buying it as a backup to my current body. Having two separate lens systems on the go is a pain, and this way I could use the same housings, lenses and all other accessories with either camera.
I'd definitely consider going for a micro four thirds camera system if there were some decent surf water housings for them. Currently the only really popular camera body has been the Panasonic GH4, which still sells for twice the price of the a6000 and is bigger and the stills specs aren't much better (stills is my focus, not video).
Sony 55-210mm lens with a 1.7x tele extender
This suggestion should be credited to a reader of the site who told me about it years ago, I've looked for the email or Instagram message but I can't find it so sorry about that.
There's some confusing names for this type of thing. Basically it's an extra lens that you screw on to the front of your existing lens which magnifies the zoom by 1.7x. You can get 2x extenders too but apparently they have a much bigger impact on the image quality.
Initially I was sceptical, I thought anything attached to the front of my lens was going to cause serious problems with the image quality and possibly affect the features of the lens like autofocus and the aperture.
The main advantage for me is not to have to carry around a huge lens, it would work with my current Sony 55-210mm telephoto zoom, which is a nice small lens compared to any zoom made for a full frame camera.
After doing some more research I decided it was worth a punt.
Canon EF lens with a third party adaptor
When I first got my a6000 body I wasn't sure I'd be using it for surf photography. I bought a Sigma 30mm lens for it and an inexpensive Canon EF adaptor.
I should have bought an expensive adaptor, but they cost about the same as the Sony 55-210mm and two more Sigma lenses, so I figured a budget option should work well enough to see if it was worth doing long term.
Unfortunately my adaptor was flaky to say the least, I got a few photos with the 70-200mm in place but I returned it in the end because it wasn't performing well enough. Having used an expensive adapter I'd say you definitely get what you pay for, so don't skimp on the adapter if that's the route you're going to take.
Basically you can get smart adaptors and dumb adaptors. For a really good smart adaptor you're looking at a few hundred dollars. You can get pretty good smart adaptors for less or you can get dumb adaptors for next to nothing.
For telephoto lenses you need a smart adaptor because you want autofocus and image stabilisation.
The current favourite amongst Sony shooters is the Metabones Smart Adaptor IV, it has a lot of features and seems to do a fairly good job of offering autofocus and image stabilisation for Canon EF lenses on the e-mount system.
You'll still need a decent lens to go with it, one popular choice is the Canon 100-400mm L lens, which looks like a good compromise of quality and value, especially if you go for the original design which is now readily available second hand because there's a mark ii which is superior in every way.
I decided this was relying too much on third party lenses and adapters, it's definitely a good option if you have other Canon EF lenses that you want to use, but I don't.
Sony 70-200mm f2.8 with 2 x teleconverter
If I had unlimited funds this would be my choice for sure. The 70-200mm f2.8 G master looks like an amazing lens and it's the only lens Sony produce which is compatible with the 2x teleconverter. Unfortunately $3,000 for a lens and teleconverter is out of my budget.
You can't actually buy this setup right now, it's out of stock in most places, so if money is no object then I'd order this combination now and sit tight for delivery and you'll be sorted for all your land based surf photography needs.
It's all Sony kit so it will work perfectly for autofocus and image stabilisation on all Sony bodies. I don't think you can go wrong with this. Naturally I decided against this because it's too expensive for me.
Sony A mount lens with an adaptor
Sony make their own adaptors for using their a mount lenses on e-mount camera bodies. Confusingly there are four different adaptors which offer different capabilities depending on the camera body you're using.
SONY LEA3 adaptor – has a built in semi transparent mirror which it uses to autofocus the lens. Autofocus using this system is not as good as the autofocus that you get with the a6000 body and the 55-210mm lens, but it does give you the option of going for something like the Tamron 150-600mm lens in a mount.
Unfortunately because many Sony a mount camera bodies feature built in stabilisation, manufacturers rarely put it in their a mount lenses.
There are a couple of exceptions, Notably Sigma's 50-500mm f4.5-6.3, AKA the "Bigma", has a stabilised version for A mount. It's pretty expensive, at $1,600 US, but it's one of the more popular options for Sony e-mount shooters because of the massive zoom range.
Because of the relatively small market share of Sony a mount compared to Canon or Nikon mounts, it's hard to find a used A mount lens. I've been looking in the UK and I haven't found a second hand Tamron 150-600 or Sigma 50-500 OS in A mount yet, although there are loads for Canon and a few Nikon versions around.
The best combination for surf shooting is probably the Tamron 150-600mm and the Sony LEA2 (discontinued) or LEA4 adaptor (choose the LEA4 if you have a full frame e-mount camera or plan to upgrade to one at some point).
I ruled out both of these options as the Tamron doesn't have stabilisation (very useful at these long focal lengths, especially when shooting hand held) and the Sigma is too expensive in a mount.
Sigma lens with Sigma adapter
This is what I've been using for the last few weeks. I went for the Sigma 150-600mm Contemporary lens in Canon EF mount and the MC-11 adapter.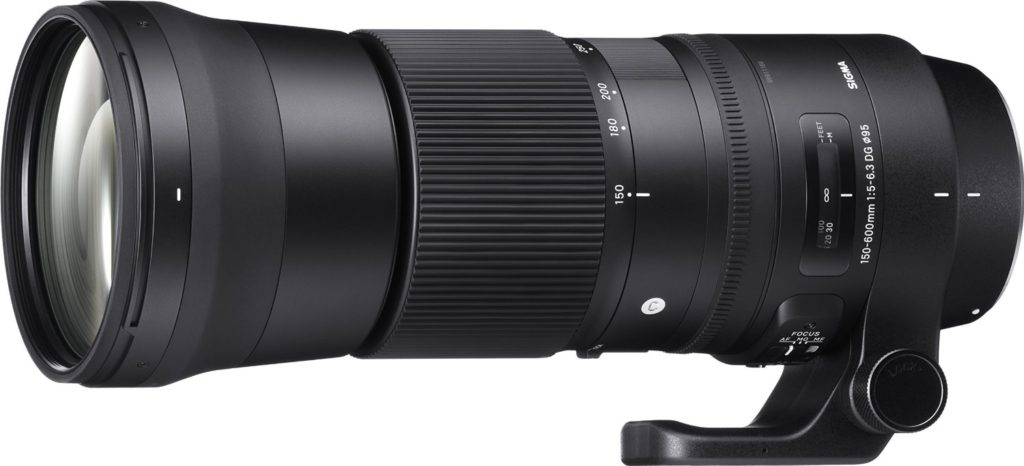 It works great, gives awesome image quality, especially when you're not at 500mm+, the focus works really well and Sigma have updated the firmware fairly frequently too to improve it.
I've published a video review with a blog post going into detail about my experiences, watch and read it here: Sigma 150-600mm Contemporary for surf photography
Interestingly I saw a post on Instagram of Rambo Estrada, a professional surf photographer from New Zealand, who uses the Sigma 150-600mm sports version (more expensive, bigger)  and the MC-11 adapter on his Sony a6300 and a7Rii.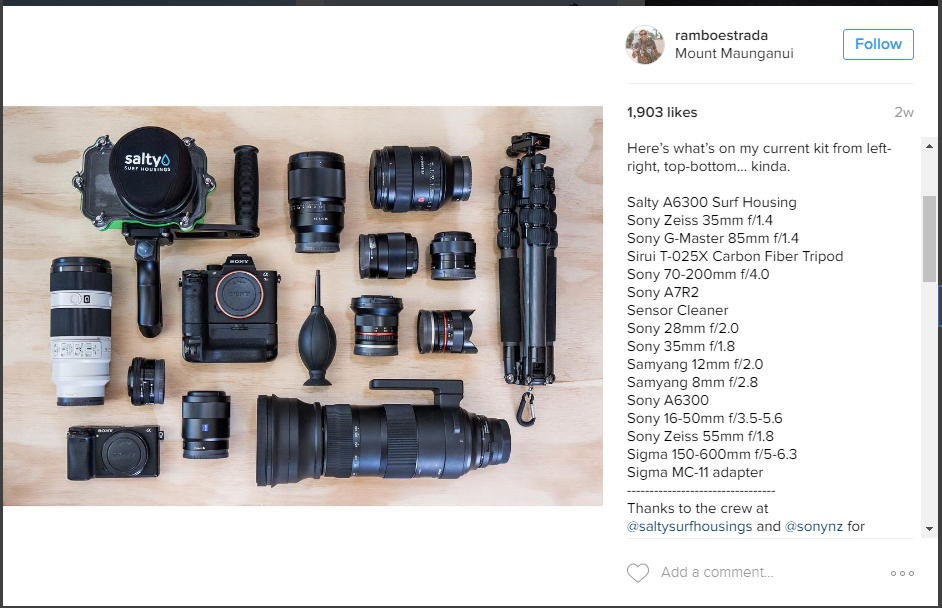 I've seen a lot of reviews and feedback on this lens +adapter combination on the a6300 and A7 series bodies, but I couldn't see many people talking about using it with the a6000. The reports I could find were sometimes contradictory and all from bird photographers (see the PS to this post below).
My experience has really pretty positive and I'd recommend this option to anyone who absolutely needs the extra length for their surf photography.
I will be publishing my video review with a full blog post very soon, just finishing off the video and uploading the sample photos from this setup.
Native e-mount lens and crop
The longest e-mount lens is currently the Sony FE 70-300mm F4.5-5.6 G OSS, it costs $1,200 US and has great image quality by all accounts.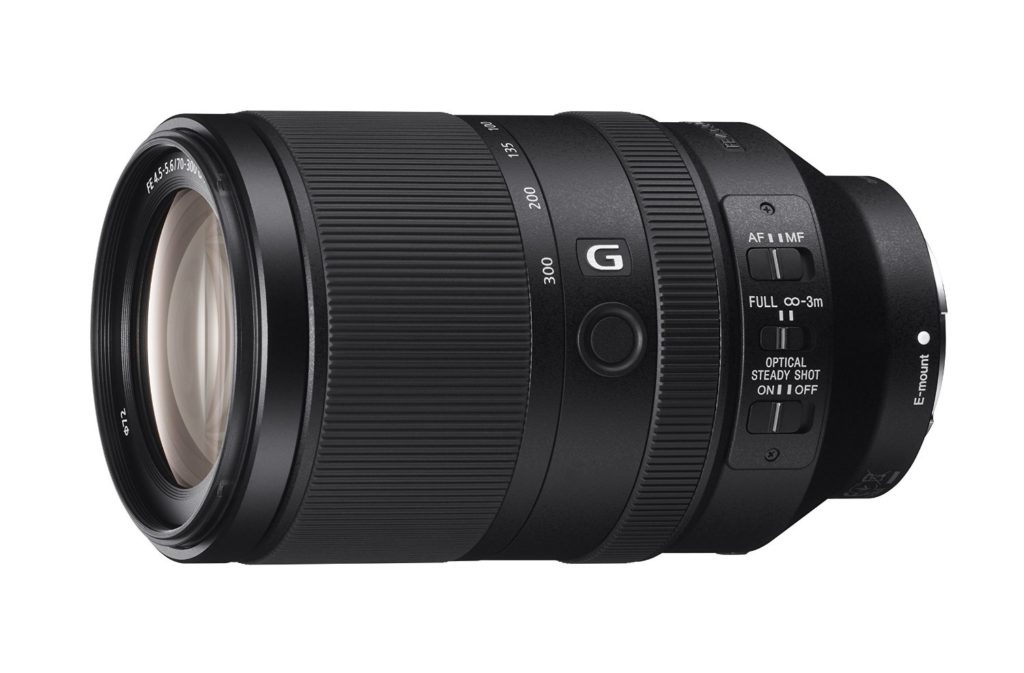 I dismissed this based on price versus increase in focal length. I currently have the Sony 55-210mm, which is slower (it has a narrower maximum aperture so it lets in less light) and shorter, but is also much, much cheaper and quite a lot smaller too. The advantage of going from 210mm to 300mm isn't worth the steep price of this lens for me.
Of course I can also crop in on the 55-210mm though, which is always an option.
The a6000 has a resolution of 24 mega pixels, I've cropped some of my photos a lot and still got 5×7 prints good enough to frame and put on the wall. As far as use on the web goes you can crop a lot more than you think when you start with a huge 24 MP file.
I created this graphic that shows you the native resolution of a shot from the Sony a6000, Nikon D500, Canon 7D mkii, 4K (UHD) TV, full HD TV and the recommended resolution for a good quality 4×6 inch photo print and the maximum resolution for Instagram: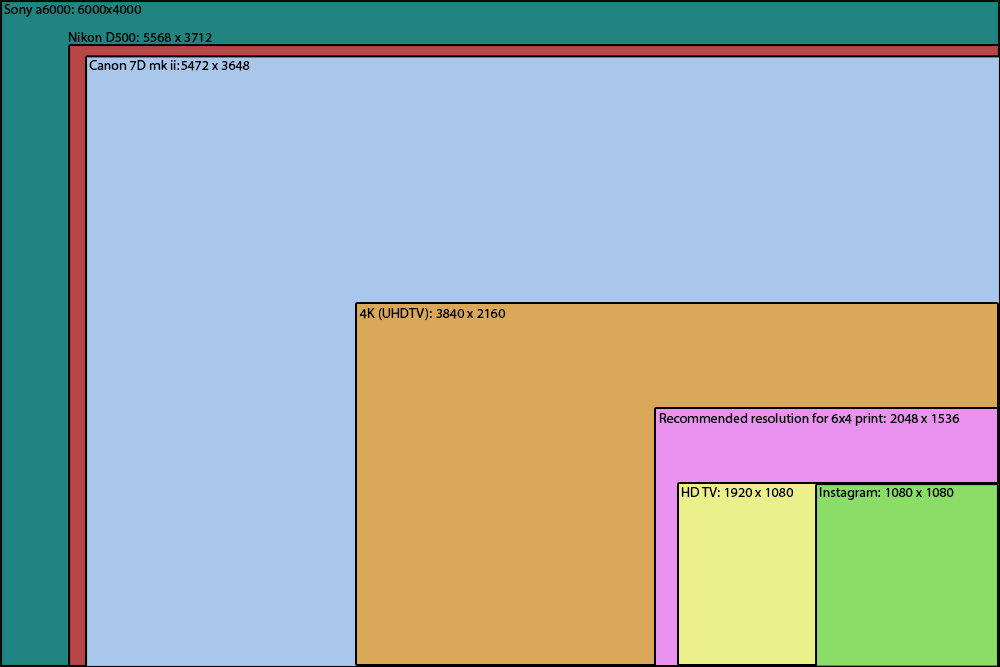 I've got a Canon MV7550 printer and I can print up to A4 size (8.27 × 11.69 inches) inexpensively and easily straight from Lightroom. I've got a stack of 6×4, 5×7 and A4 photo paper on my shelf and even a handful of unused photo frames lying around. I still print out much less than 1% of the surf photos I take.
The massive majority will live on my hard drive only to be seen by me. Some will be sent to the people who feature in them or friends who would be interested to see them. Even fewer will be shared publicly on Instagram, Flickr or facebook.
Occasionally I send in photos to magazines and sometimes they get printed. I was lucky enough to get a double page spread in UK surf magazine Wavelength once.
So when I can crop an image shot on a 210mm lens (with optional 1.7x extender) enough for any reasonable print and much more than any reasonable person would need, why do I need a 600mm lens?
The answer is: I don't really.
If you shoot video and need to get in close, or you need the extra resolution for your still images for large prints or some other reason, the Sigma 150-600mm contemporary is a great choice for the Sony e-mount system.
Maybe you shoot surf spots that are really, really far away, in that case it's great to use the 600mm, but at that point the haze and sea spray start really affecting the quality of the photo too, so there's only so far you can push it really.
If you're in the same situation as me – a keen amateur surf photographer who doesn't make a living from selling high resolution photos and doesn't need to shoot video from far away – buy the Sony 55-210mm lens and grab an Olympus Tcon17x for when it's breaking really far out, then crop as necessary in Lightroom.
You need a cheap 49-55mm step up ring to attach the TCON 17x to the 55-210mm lens.
This is the setup I use for my beach based surf photos. I can fit my Sony a6000 with the 55-210mm lens in place in my jacket pocket, and the Olympus TCON 17x in my other pocket and screw it on if I need the extra reach.
The Sigma 150-600mm is a great lens, but it's just too big and heavy for me to want to use it that much.
I've published a video review with a blog post going into detail about my experiences with the 150-600mm and touching on the 55-210mm and TCON17x, watch and read it here: Sigma 150-600mm Contemporary for surf photography
P.S. for any other surf photographers who want to dig into this subject I can save you a bit of time. It seems like the overwhelming majority of people who post on line about long telephoto lenses are bird photographers (BIF = birds in flight). Of this set of people there seems to be a higher than normal percentage of people who are obsessive over nuances in image quality and auto focus performance.
My advice is not to read too much into it. This post will only tell you what I think and doesn't include the majority of options anyway, so see if you can try out one of these lenses for yourself, that's the only way I figured out which was the best option for me.
If you've got any experience with shooting surf photography with long telephoto lenses on Sony e-mount bodies please let me know what your setup is and how it works for you.
I'd love to hear about any other options I've not mentioned, or if you're using one of the ones on the list and had different results to me. Leave a comment below or email ben@learningsurfphotography.com.