I've been thinking about picking up a Meikon dive housing for my Sony a6000, they look like good value and I know a few people have been getting good results from them, although I have heard reports of some issues too.
The only thing stopping me getting one now is that I don't have the 16-50mm kit lens for my a6000, I bought a body only and decided to go for a fisheye, a couple of Sigma primes and a Sony 70-200mm tele-zoom for my lens selection so far (I'm hoping to do an essential accessories style post soon).
You can buy them from Amazon for around $180, they're also available under a couple of different brand names but I believe they are all made by Meikon originally.
Meikon Sony a6000 Housing on Amazon
Neewer Sony a6000 Housing on Amazon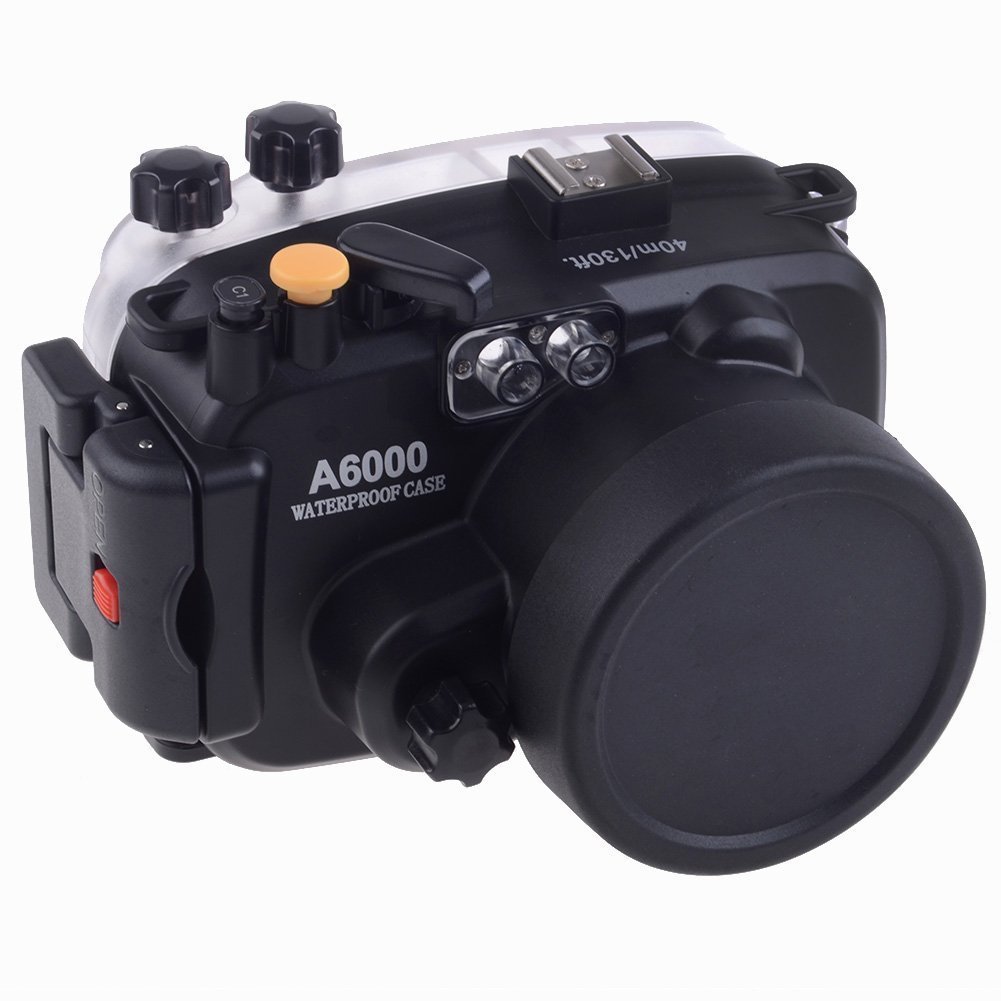 If you've been thinking about the Meikon Sony a6000 housing you're definitely going to want to take a look at this video, there's no audio, just a good look at the unboxing of the housing and how the closure system works, and at 2:15 they show you the wide angle dome port add-on too.
Here's a photo from Meikon's site showing that dome add-on: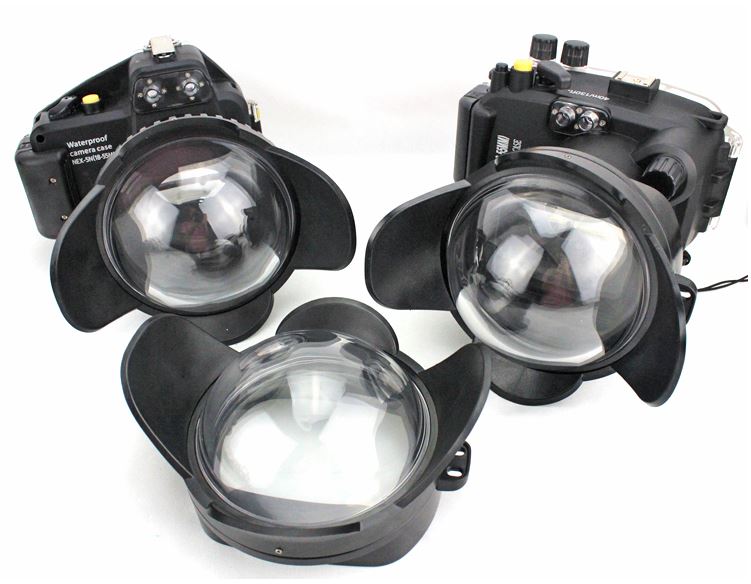 It's similar to many dome port addons for lightweight dive housings in that it clips on the front of the existing port, so you will not be able to use this as an alternative to a dome port for shooting with a fisheye lens on the surface, all it does is correct distortion and the zoom effect of a flat port underwater, allowing you to get closer to your subject.
I kind of like the idea of using one of these dome ports as the starting point for my own dome port on a DIY housing, or for an over/under GoPro case design perhaps, but it definitely wont make this housing a replacement for my Aquatech CR-60 which I have modified to fit my Sony a6000.
Is It Any Good For Surf Shooting?
It is a dive housing, and I'm sure it works really well for making images underwater, especially with the level of control you're given over the camera functions and the ability to trigger external flashes from the pop up flash, but it's not ideal for shooting on the surface in waves.
The port is fixed, so you're limited to short prime or zoom lenses, not that there's anything wrong with that, the 16-50mm zoom is a perfectly good lens and I'm sure you could fit both of my Sigma 19mm and 30mm prime lenses in there too, giving you some flexibility at least, but you're not going to be able to shoot fisheye or long telephoto using this housing, both of which I really enjoy doing in the surf.
There are a couple of reviews on the Neewer branded version on Amazon, one of which says that it's been used in the surf in Hawaii with no issues, so I think it's got to be worth a go for any Sony a6000 users who don't have a better option, but having used dive housings in the past for compact cameras and DSLR's I would definitely recommend going for a surf housing over a dive housing every time.
So What Can I Use?
I love my Aquatech housing, if they offered one for the a6000 I would definitely recommend it, and I even heard a rumour they were considering making one, but nothing has popped up yet, and SPL, Essex or Liquid Eye don't have an off the shelf option yet either.
I can't help thinking the market is ripe for someone like KNEKT to get in on the splash housing market, offering something that would fit all the smaller mirrorless cameras with a pistol grip and a flash connector would offer the budding surf photographer (a big part of KNEKTS market I assume) somewhere to move to from the GoPro.
Until someone steps up and offers something suitable you might want to follow my lead and adapt an old water housing for the Sony, I've written a post about the adaptations I made to the Aquatech CR-60 to use the a6000 inside and because of the relatively small size pretty much any DSLR housing will work, so keep an eye out if you think that's going to be an option you'd like to look into.