Every now and then you see a unique style of surf shot, sometimes it's down to the lighting, or the positioning of the photographer and rider, but occasionally it's more to do with how the shot has been post processed.
I saw a great photo pop up on facebook from Portuguese Photographer Nuno Fernandes, known as Higher Visuals, you can see the actual photo here: Photo by Higher Visuals of Matthew Davies
I asked permission to post the image above so you can see the effect I'm trying to achieve when processing surf photos that I've taken.
How To Recreate An Effect In Lightroom
In this case I wanted to make my own version of this style of shot, I use Adobe Lightroom for all my photo editing and as you will see it's very possible to get this (and pretty much any other) kind of look using Lightroom's various tools.
First off I needed to find a photo or two that would look good with this kind of effect applied, so I found a couple of shots with some spray off a cutback, I didn't have one to hand that was quite as impressive as Matthew Davies cutty in the shot, but I tracked down a couple of likely candidates.
That's where the video below picks up, I've got two monitors and on one I kept the original photo active so I could compare it to my version whilst working towards the finished image.
You'll see that I tried the same processing out on a few different raw files and ended up with some that I didn't like and one that I really thought looked good. My favourite one also reminded me a bit of Mattias "MC Snow Hammer" Hammars Infrared surf photos, so I would encourage you to check them out if you like the look of the shot.
By the way, if infrared surf photography interests you check out this post: Infra Red Surf Photography: Life On Mars
You can see the original attempt at matching the style of the shot in the video, but here's the final image of mine that I'm most happy with: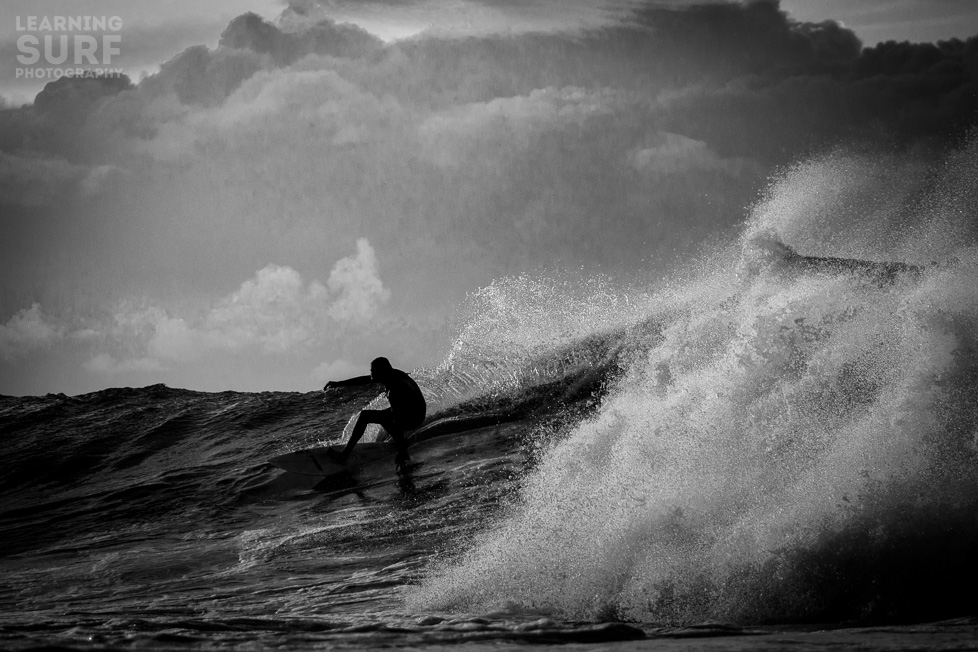 You'll notice it's not particularly close to the original, I did get the first image I selected really close to the reference shot by Higher Visuals, but when I applied the same adjustments, via the pre-set, to this image I actually preferred it.
This is a perfect example of how borrowing someone else's style or technique often leads you into creating something unique for yourself, I set out to effectively copy a photo's look and ended up with a shot that's similar but definitely has my own spin on the effect.
Processing Surf Photos – What Next?
So now I have a Lightroom pre-set for this style of extreme silhouette cutback spray shot, I can apply it to any photo I think it might work with in the future, whichever camera I shoot it with.
I've also now upgraded to Lightroom 6 (I used Lightroom 5 for this video), and I can happily report that the pre-sets work fine with the new version, I will be producing some more of these videos soon and I think a couple of the latest features could really help with breathing new life into some of my older surf photo's too.
If you're interested in seeing any particular styles of processing surf photos created in Lightroom let me know in the comments or in an e-mail to ben@learningsurfphotography.com and I'll see what I can do.