Summary: If you want a good looking, durable print to mount on your wall, Saal Digital offer a good range, excellent quality and great service.
I'm moving house soon, so when I saw a promoted post on Instagram for Saal Digital, asking for people to apply to review their wall decors, I filled in my details.
A few days later I got a response giving me a voucher to put towards a wall decor print. I ordered, it came in a few days and now I'm doing a review in case you might want to order one too.
Who are Saal digital?
The website is saal-digital.co.uk, but I think they're based in Germany. They offer a really wide range of photo prints on all types of materials from small photo books to huge wall mounted canvases.
I hadn't heard of them before, but their service was good, the delivery was very quick and the piece I had sent was packaged better than any other print I've ordered.
What did you order?
I wanted to try out something I hadn't ordered before. I've ordered a big canvas, and several regular photo paper prints in sizes up to really big posters, which I've framed and put up on the wall.
I also print my surf photos myself on a Canon MG7550 printer. It only goes up to a4 size, which is ideal for hanging on the wall in the hallway, where you're always quite close to the print, but a bit small for a feature piece on the wall in a bigger room.
Here are the options I had to choose from:

You can see them all on the wall decor page of the Saal Digital site.
I wanted to maximise the value of my voucher, so I wanted something bigger than I could print myself, on a material that I hadn't ever ordered before.
I chose Alu-Dibond, here are the technical specs:
Multi talented Alu-Dibond: rigid, weather resistant and high resolution
The print has an impressive saturation and colourfulness with high resolution and sharpness. It is realized through the newest direct UV printing with 6 colours instead of 4, including light inks, and sixfold UV cure. Even large and monochromatic areas are resplendent in saturated colours and absolute subtlety and fineness.

Aluminium composite panel 3 mm (matte)
custom size available
six-colour UV direct printing, incl. light inks
stable, rigid and weather resistant
according to format type, aluminium subframe, standard mounting or standoffs available
For pros: ICC profile available
Sounds good right?
In order to get as big a print as possible I decided to go for no mounting options, I'm planning on using some special sticky mount things I've got knocking around, once I get to the new house.
I went for the 40 cm x 60cm size.
How do you order?
Once I'd browsed the site and used the comprehensive pricing/size chart to figure out which option to go for, I wanted to place my order.
At first I was a bit confused, because I was browsing the site on my phone and I couldn't see the option to upload a photo.
After I went on my desktop PC to have a look, it became clear that I needed to install their app so I could place the order. In hindsight I probably dismissed the message which asked me to download their app to my phone when I first looked at the site. I often dismiss those messages, preferring to use a web based interface whenever possible, but in this case there's no way to upload a photo without the app on your phone or computer.
Luckily the windows app is intuitive enough that I was able to quickly try out a few different options and see how they might appear on my final print.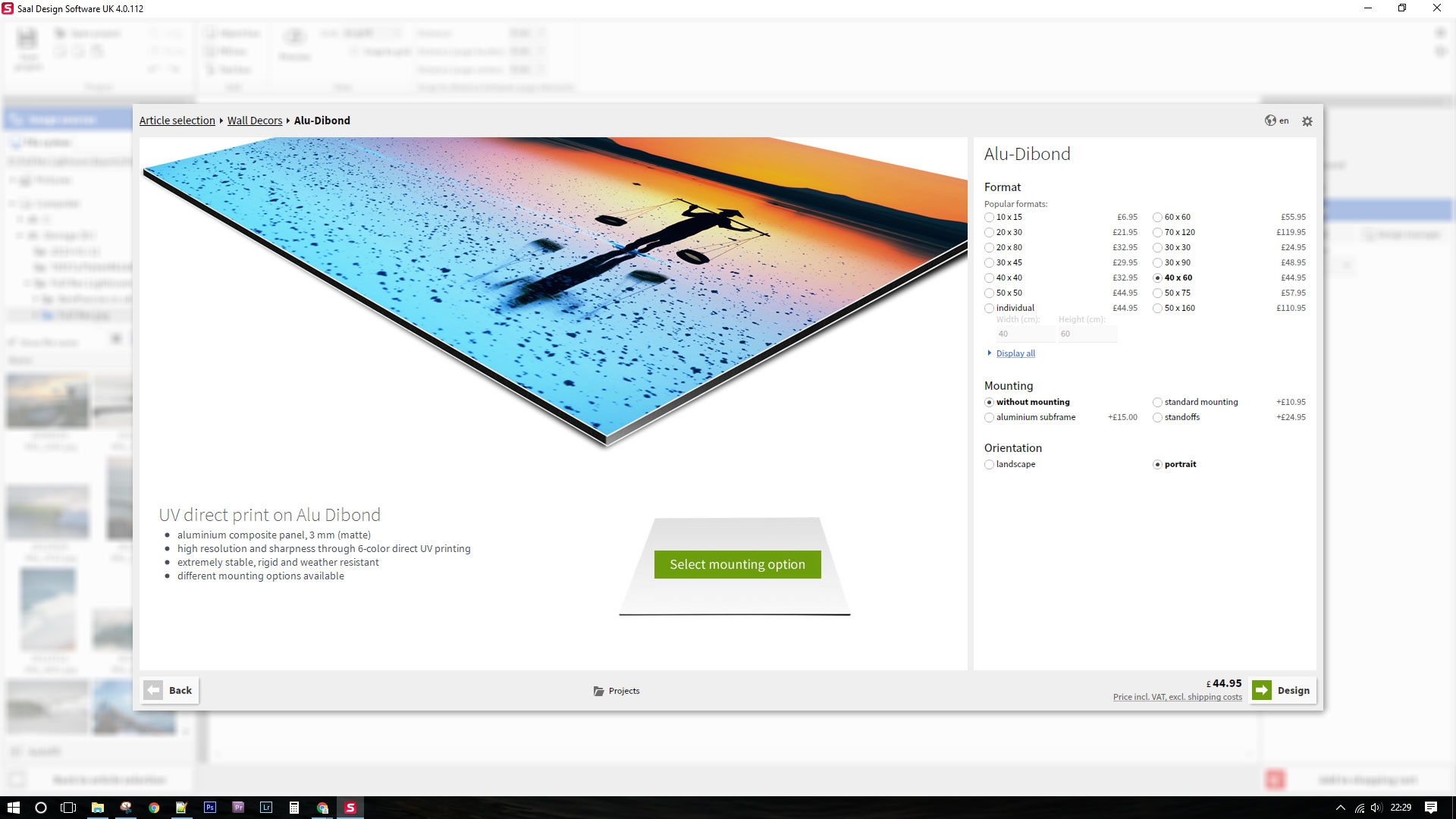 Choosing the type, size and mounting options for my piece of wall decor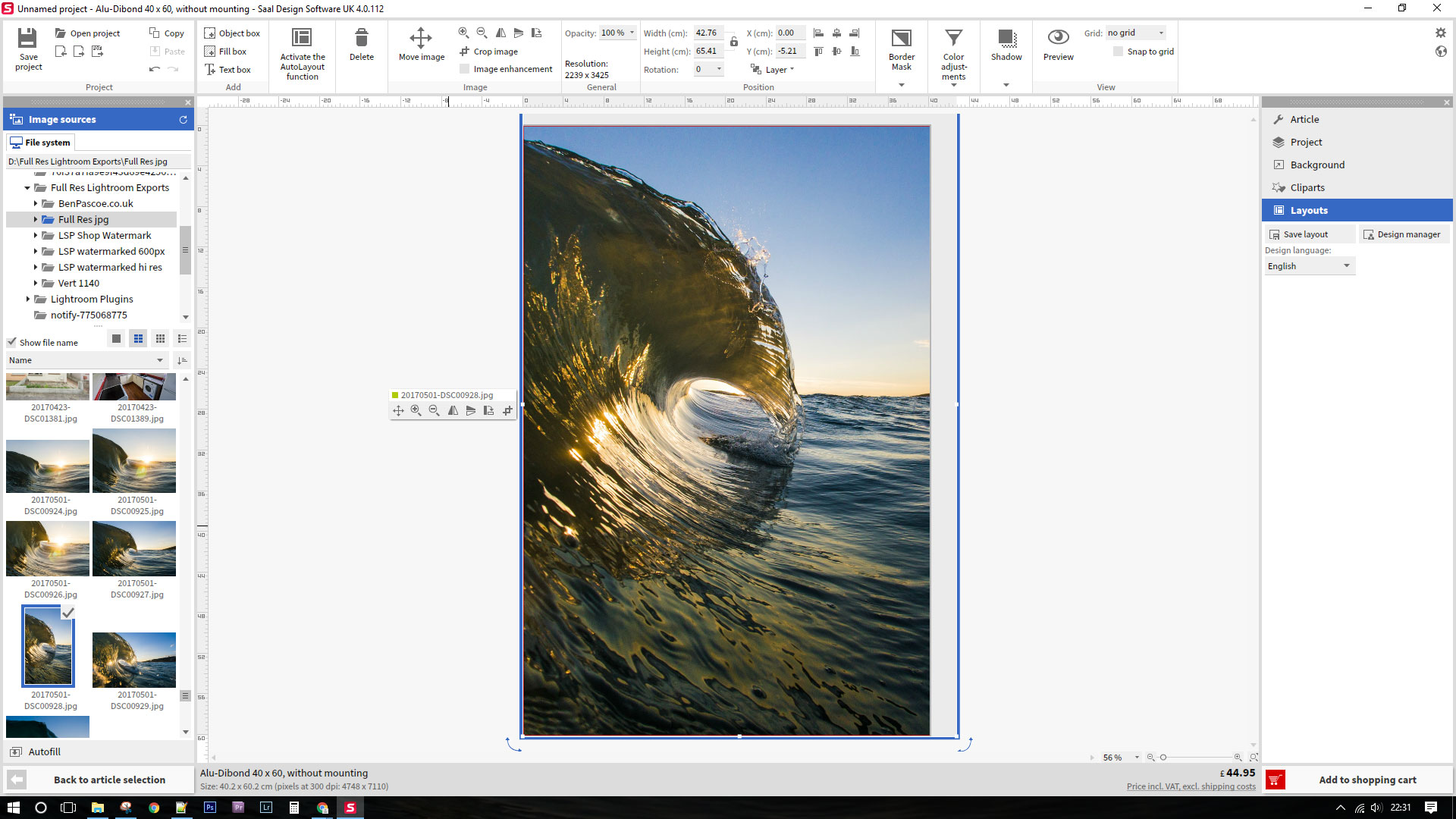 Laying out the image I went for.
Which photo did you get printed?
I tried out a few different photos but decided on a shot from a fairly recent session near my new house, so when people ask about it I can say, "oh that, I took that just down there" and point out the window.
The shot was taken on my Sony a6000 using the Meike 6.5mm circular fisheye in my Liquid Eye C6000 water housing.
Here's the original shot, straight out of the camera:
And here it is after some tweaking in Lightroom to bring out the colours of the sunset, correct the distortion a bit, and crop it into a portrait orientation (I used this one as a phone background for a while):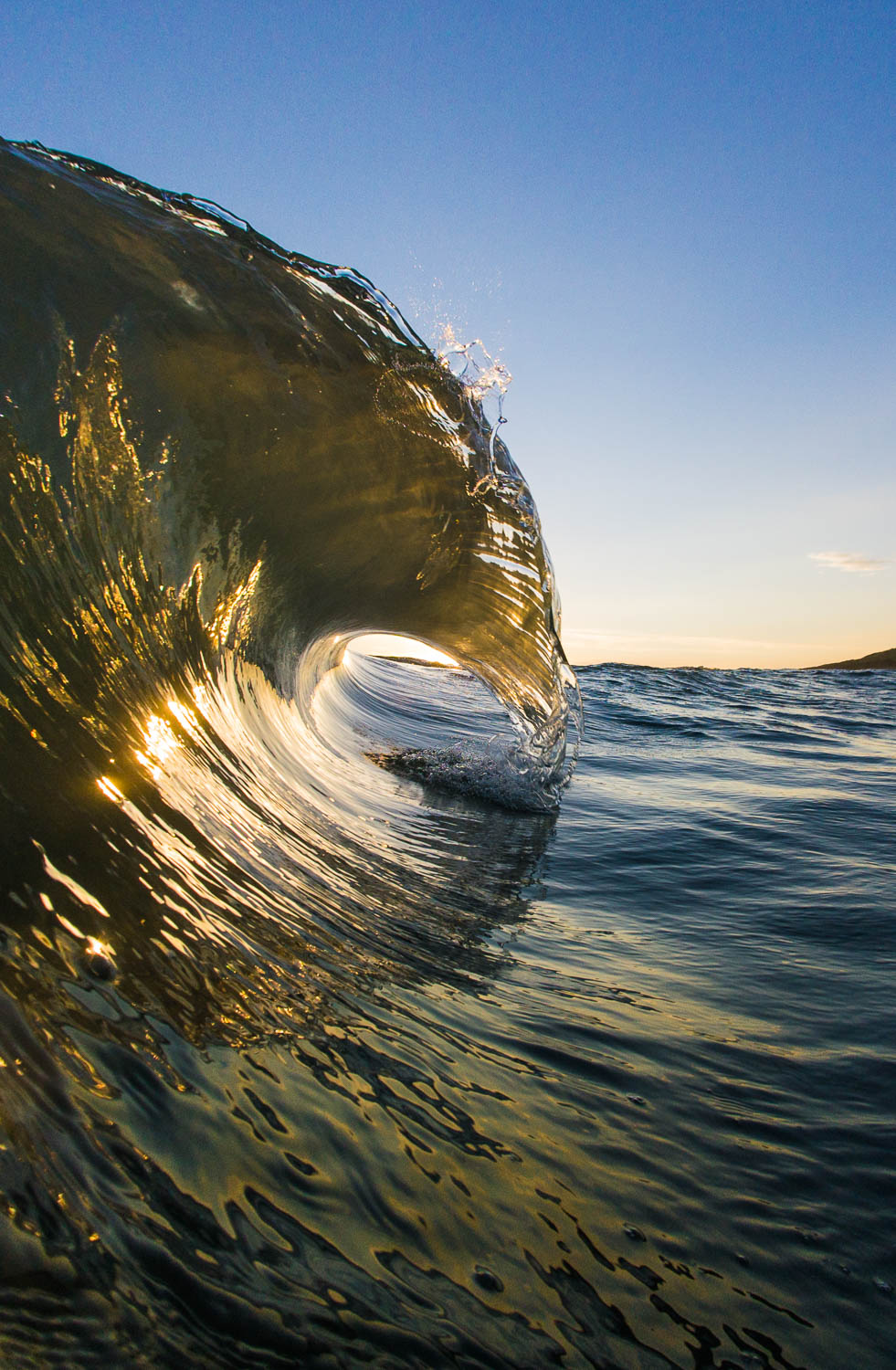 The resolution of the jpeg I uploaded to Saal digital's software was 2239 x 3425 pixels, or about 7.6 MP. I didn't use the full image as you can see in the screen shot above, so the final print was made using something like a 7.5 MP jpeg file.
I was a little bit concerned that the resolution wouldn't be high enough to do the style of print justice, but I got no warnings or errors int he system, so I figured it would be fine. If I had been paying full price then I'd have probably tried to find a different image, or at least changed the orientation to landscape to use more of the shot.
How did it turn out?
Really good. The aluminium is cool and different, it's got a matte finish and the resolution is plenty good enough in the image and the printing to bring out some great detail in the curve of the wave.
The colours are accurate, even though I didn't take advantage of their ICC profile, that would have let me do some soft proofing in Lightroom to check how my colours would look. There's less contrast in the aluminium print compared to one I printed on glossy photo paper, but I expect that's down to the matte finish.
When you see it in nice light up on the wall it looks fantastic and I'm sure it'll get plenty of attention from guests in the new house.
I'm really looking forward to getting this up on the wall, and because it's weather resistant I can put it anywhere I like.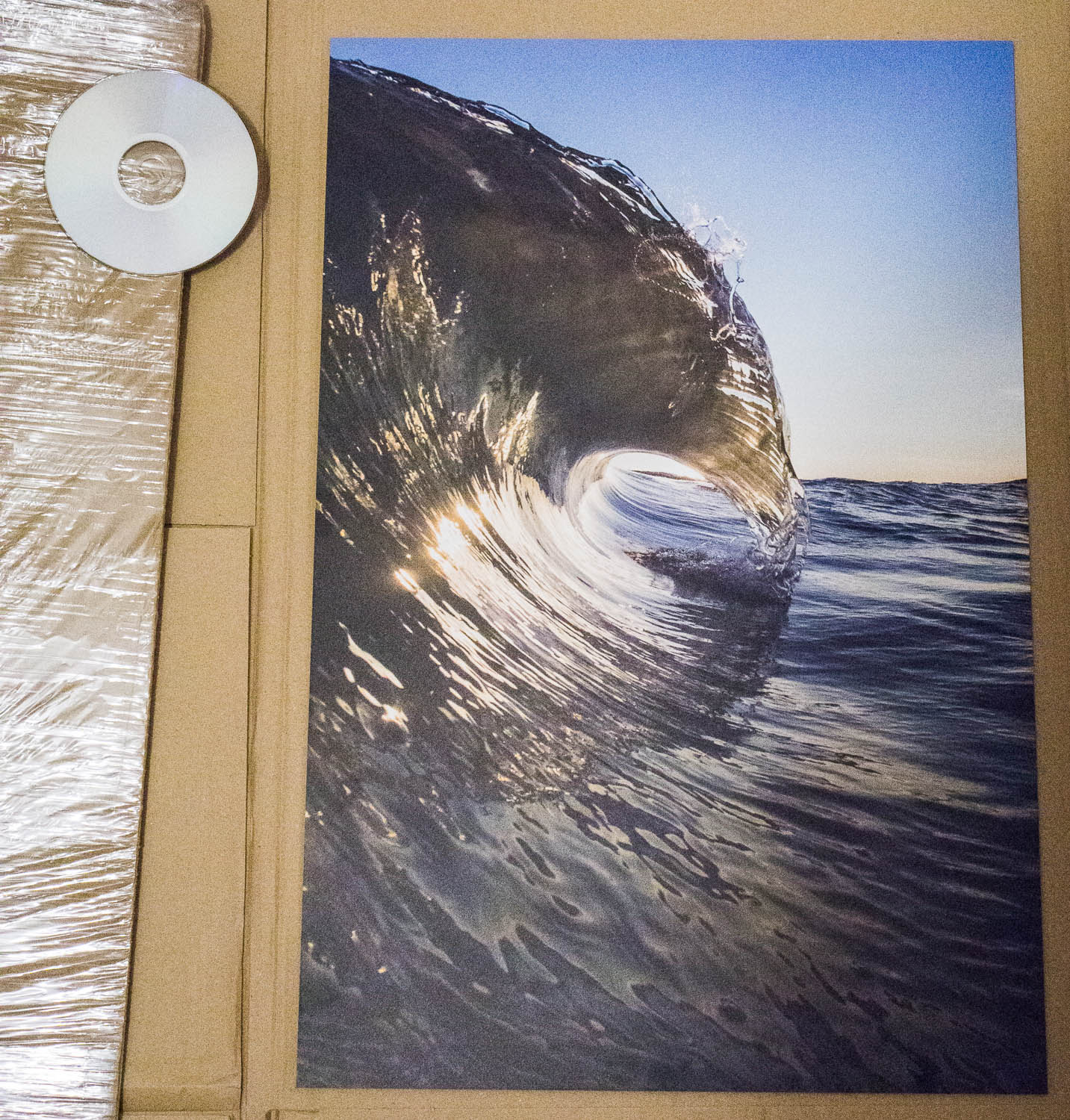 Here's the print with a DVD next to it for scale and just some of the excellent packaging that it came in. This photo was taken in rubbish light, the noise comes from the high ISO on my camera, when I've mounted it on the wall I'll take a proper photo and show some of the details.
Conclusion
I would recommend Saal Digital if you're in Europe and you want a professional quality print to hang on your wall.