UPDATE: You can read some feedback from Matt at Salty Surf Housings at the bottom of the post.
Salty Surf Housing's are pretty new on the surf water housing scene. I included them in my list of Sony a6000 surf housings when I first saw they were offering a Sony a6000 surf housing for pre-order a few months ago.
At the time I e-mailed and got some more information but it was still a little way off release, and the Sony a6300 hadn't been announced.
Recently there's been a flurry of activity on their instagram account, so I decided to round up all the info I could about this promising new housing manufacturer and their Sony a6000 and a6300 water housing options.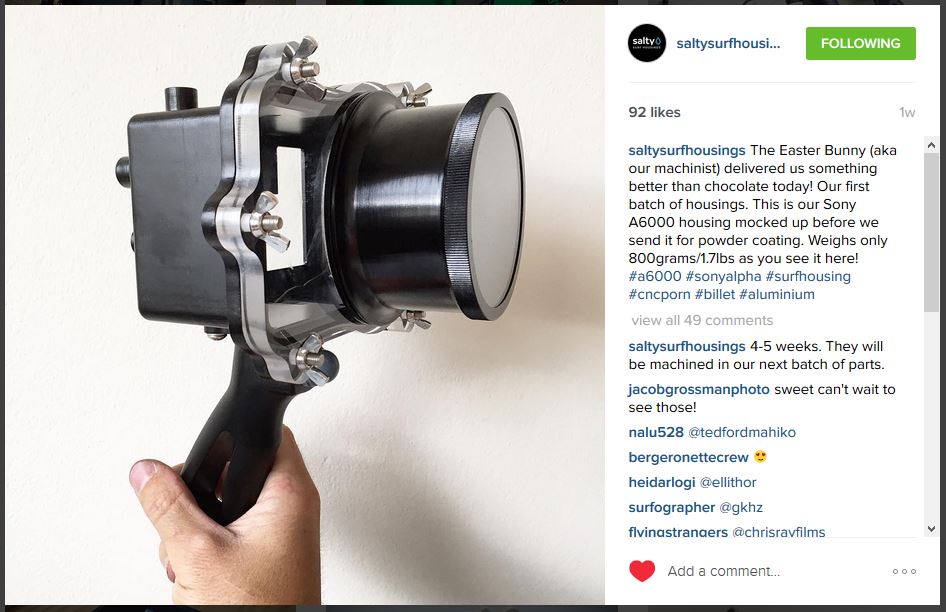 Now it looks like there's been some interesting developments in the Salty Surf Housing line up which shows a good understanding of what the market of surf photographers wants.
The controls for the Salty Surf Housings Sony a6000 housing are confirmed as:
Top shutter button
 Top dial
 Rear Dial with 'press' for ISO control
 Set/enter
 AEL
 Video Record
 Playback
 Custom Button 2
Which is a great selection, definitely enough for me and I suspect nearly every other surf photographer, especially as the Custom button can be mapped to a number of different controls.
Seeing it in someone's hand, especially in the video (further down this page) really makes you appreciate the compact size of the housing, of course a dome port would add some bulk to the setup, but not that much.
The housing, pistol grip and the smaller flat port will cost you AUD$1,799 (US$1,355 , GBP£958) and they're currently out of stock, the next shipment should be in May.
Salty Surf Housing Dome Port
You might be thinking – what about a dome port?
Well the site says they're in development and should be available "mid-2016", which isn't ideal if you live a long way from Australia – like me in the UK.
Getting stuff shipped over from outside Europe is always a bit of a pain, involving high shipping fees and import taxes and duties to pay once it does arrive. So when I do place orders from overseas I like to get everything I could possibly need in one go.
Much as I'd like to get this type of housing in the water right now I'd definitely want a dome port with it, so I'd much rather wait for everything to be ready and have it shipped at that point. By then I'll have seen some reviews and read about people's experience with the housings too so I'll get a good idea if this is the best option compared to say the Liquid Eye c6000 housing for the a6000.
Salty Surf Housing Sony a6000 Basic Housing
But before you place your pre-order – there's another option that might be interesting to a few of you Sony a6000 owners.
The Basic housing is cheaper (AUD$1199 / ~US$900) but has fewer controls with just the top dial and C1 button, and it only comes with a one stage pistol grip as standard.
But, it's blue, which is better than black, and you get a 4″ dome port, ideal for use with the Rokinon/Bower/Samyang 8mm fisheye, which I use myself.
So if you only want to shot fisheye with this housing then the basic option is a great choice. It also has an option for a GoPro mount of some kind, but I don't see how that would be significantly better than a stick on mount, so I might not pay the extra $29 for it myself.
However – if you want to shoot with any other lens you're going to need a flat port and a two stage trigger, and that's where the extra costs come in.
This is what I'd buy personally:
AUD$1199 – Salty Surf Housing Basic a6000 housing
AUD$189 – Two stage trigger upgrade
AUD$199 – flat port
For a total of AUD$1587 (US$1197), you get two ports and a decent housing with the bare minimum controls to keep most people happy. That sounds like a pretty good deal to me.
Salty Surf Housing Sony a6300 water housing
The Sony a6300 is now available, and Salty Surf Housing's have theirs – unfortunately it sounds likeit doesn't fit straight into the same housing.
The good news is that they're already working on a Sony a6300 housing and it will have the same features and price as the current a6000 housing. There's no word on the release date yet.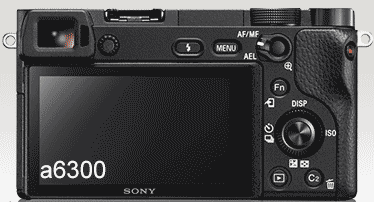 My comparison gif showing how close the a6000 and a6300 designs are. The fact that the A6300 doesn't fit in the  Salty Surf Housing a6000 model shows what a tight fit it must be for the current camera.
Salty Surf Housing shipping, tax and duties charges
Shipping is a flat rate of AUS$100 (~US$75), which seems pretty reasonable for getting it half way across the world.
If you're in the US you can expect to pay about US$80 in taxes and duties, and if you're in the UK it would be about £247 (~AUS$463). Remember that you might have to pay a handling fee on top of that too, in my experience in the UK that adds another £10 or so.
For other countries you might find the dutycalculator.com website useful for figuring out the rough costs of getting a housing to you.
Salty Surf Housing's Sony a600 water housing setup video
The video shows the housing and port system up close but there's a couple of things I do differently when setting up my Aquatech housing.
1: Silicone grease
I've stopped applying any to o-rings on my housing, I find it just attracts sand and other crap and you can get a good seal on an ungreased o-ring.
In fact here's a quote from Aquatech's sport housing manual (link to pdf):
O-ring grease should NOT be used for the Main or Front Compression O-ring, any grease could attract unwanted dirt, sand, etc.
I do use it on the controls though, to keep them sealed up and moving nicely.
In the past I've applied it with no ill effects but if you don't need it and it attracts dirt then it's just a waste of time.
2: Tightening the plate
I don't tighten my back plate as much as the front plate in this video. My plate doesn't touch the housing at all, there's about a mm gap between the plate and the housing wall.
The o-ring is easily checked for a good seal but it's not squashed totally flat, just compressed. My housing uses bolts to secure the plate, but many Aquatech's, including a couple I've owned myself, use latches. Latches mean you don't have to worry about what pressure you're applying, you just snap them shut and you're good.
I guess Salty Surf Housing's have done their tests and found that's the best way to seal the housing but it seems like it could cause issues to me. he mentions overtightening causing the plexiglass (a brand name of acrylic) to crack, that doesn't sound good. The SPL a-series housing I had – which is also front loading, had plastic wingnuts – so if you overtightened it stripped the thread of the nut before damaging the front plate.
What I would change on the Salty Surf Housing Sony a6000 housing
To be totally clear – I love the look of the housings and it's the first off the shelf (well, as soon as they're back in stock) surf housing you can buy for the Sony a6000, beating the established housing manufacturers to market. I also think for a first generation product it looks very refined.
But… there are a few things I'd like to see changed based on my experience with several different brands and types of surf housing.
Fewer fasteners. My Aquatech CR60 uses 5 bolts and it's much bigger, the Liquid Eye C6000 uses 4 bolts and my Meikon a6000 housing uses 1 latch, so 6 wingnuts seems excessive.
Use recessed allen head bolts with threads on the housing instead of wingnuts. As I mentioned I've had a front loading SPL housing with wingnuts and it was a pain doing them up, plus they look untidy and could easily catch on your wetsuit or seaweed etc. to be fair – I didn't have any issues with that, and at least they're on the front, not the back where your face goes, and you don't need any tools to do them up.
Two stage trigger should be standard. I might be wrong but I don't think a two stage trigger costs significantly more than a one stage trigger to make, it's pretty much the same hardware with a different switch. All the pistol grips I've made myself were just as simple to make two stage, so charging $189 extra for focus control seems like a rip off. I could definitely be wrong though and the switch itself might cost $100 on its own maybe.
Make it back loading. Assuming the port system would work just as well if it was built into the housing rather than the front plate (Aquatech's does), and you don't use wingnuts to fasten the plate on, back loading is a better option. You can add extra controls or convert for a different camera body (Sony a6300 for instance) more easily and you don't need to have a clear window in the aluminium housing either.
Make it a bright colour. There's a good reason housings are often bright colours, if you let go of it you can find it more easily. Black would be practically invisible underwater in the UK with our mostly rubbish visibility. Make it yellow, orange, red or at least a bright blue or turquoise. Black also gets hotter more quickly which might exacerbate fogging issues (not that I've had any fogging issues with any housing bigger than a GoPro).
I'd like to stress again that I really like the look of these housings and it's a first generation product from a new company. If you looked at any of the big brands first generation of housings you would probably not be seeing such a polished and thoughtful design.
Update:
Matt very kindly got in touch to give me some feedback on the things I'd change. He answers all the points and it makes interesting reading for anyone considering this type of housing.
I think it shows that a great deal of thought has gone into these decisions and makes me even more confident that these housings will offer a surf photographer a great option for whatever camera they use.
Here's the feedback:
Dome ports are finalised and being machined with our next batch of housings, ready late May.

The A6300 can be squeezed into our A6000 housing however it will require modification of the foam inserts inside the housing. The multiport plug on the A6300 is 180 degrees compared with the plug on the A6000, meaning that the 90 degree trigger cable plug we use for the A6000 housings will point upwards when using the A6300 – not a big deal, but it does foul on the foam inserts without modification. The A6300 is 4mm thicker than the A6000, and the top dial and shutter buttons are in slightly different spots. We considered it better to build an A6300 specific housing, rather than try to modify our A6000 housing with less than ideal results.

The two-stage trigger does cost us significantly more than the single stage trigger. We use custom built MIL-Spec (military specification) buttons that are quite expensive, but built to last.

Silicone grease comes down to personal preference with surf housings. Technically an O-ring will last longer and perform better if maintained with silicone grease, however like you said you can still achieve a good seal without it.

Tightening the plate – we have designed our o-ring grooves in accordance with best practice engineering design. That means that the o-ring achieves its optimal squeeze level (and seal level) when the faceplate is in contact with the housing. I've noticed that other manufacturers design their o-ring grooves to be basically the same width as the o-ring when it is uncompressed. Obviously this works for them, with some manufacturers not even utilising a groove, but as an engineer myself I like things to be designed to specification, and allow for the o-ring to reach its optimal performance level.

I wanted our housings to be assembled without any tools, hence the wing nuts rather than allen head bolts. Having 6 wing nuts does allow for a contingency with the seal, if the user forgets/looses a wing nut.

We do offer custom colours with our housings if users prefer something brighter. I will be offering a green standard option for the next batch.
And here's the rest of the original post:
What I like about Salty Surf Housings
Apart from those few things I really like the look of the housings themselves, but what really sets Salty Surf Housing's apart so far is their more modern approach to product design and customer focus.
The website is modern and updated pretty frequently. The first batch of housings have just been sent out and there's already two new models in the works. Responding directly to what the customer wants by offering a more budget friendly housing with a dome port and no unnecessary extras is a really good move.
I'm going to be keeping a close eye on the Salty Surf Housing website and Instagram feed because everything I'm seeing is positive. I can't wait to see what they come up with next.
If you've ordered a Salty Surf Housing, especially the Sony a6000 model, please get in touch and let me know your thoughts in a comment below or by email at ben@learningsurfphotography.com, I'd love to hear some feedback from a surf photographer.
Read more about the housings and place your order for the next batch in May on the Salty Surf Housing website.