I already knew the Samsung NX1 was a great camera for action sports photography, and even considered the Samsung NX 300 model when selecting my latest camera body, the excellent Sony a6000, but one of the big sticking points on the Samsung NX 300 was that there is no water housing available off the shelf for it.
Then, this marketing image from Samsung caught my attention: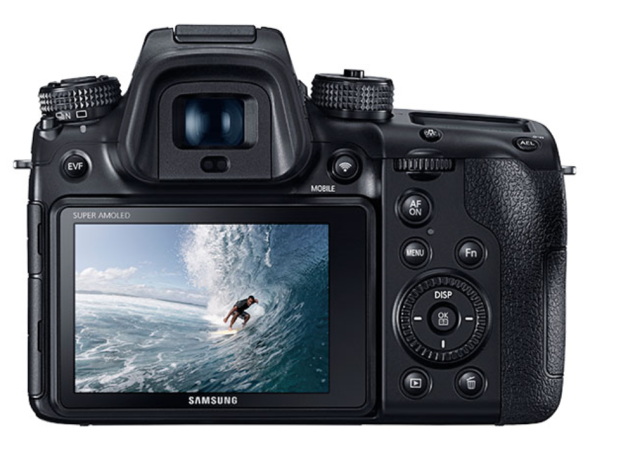 The Sony has the very reasonable Meikon housing off the shelf and a fairly standard lay-out and wired shutter release port, which allowed me to adapt my existing Aquatech housing for the Sony a6000, but there's nothing similar for the Samsung range.
But There's A Surfing Photo On The Camera!
The lack of Samsung NX1 water housing options is why the shot of the back of the NX1 displaying a surfer in a tube, a photo which could only have been taken with the camera in a housing, piqued my interest.
So was it taken on the Samsung NX1? and if so, what type of Samsung NX1 water housing was used?
It was trivial to find the source of the original photo, it's by stock site contributor Reniw-Imagery and is available to license for web advertising for £50 for a low res royalty free version via Getty images or £20 for a high res version via iStock (owned by Getty?) and there are plenty of results for people who have done just that if you reverse image search for the photo.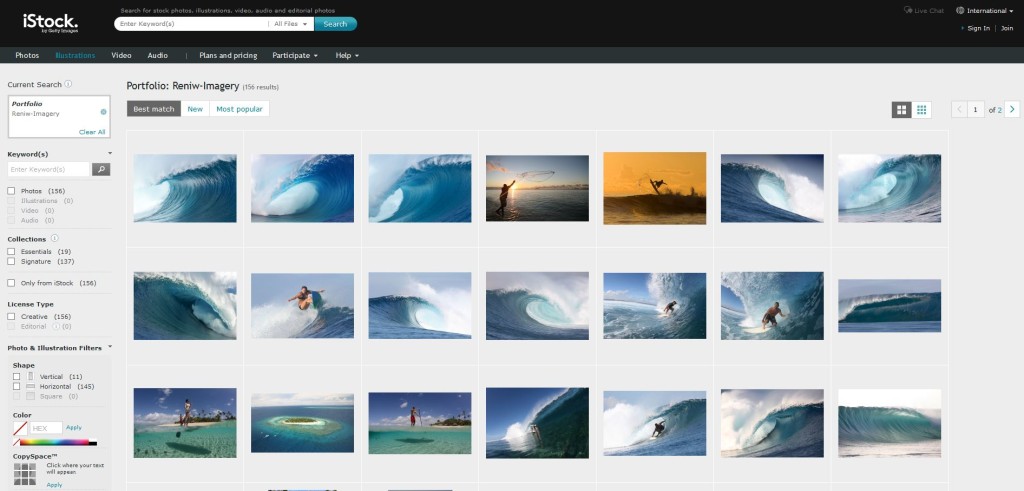 If we assume that as an experienced stock photo contributor Reniw-Imagery is uploading at the maximum resolution he has (because you want people to be able to use the image for anything, even billboards, and you can charge more for higher resolution images), we'd expect to see at least some 28MP (6480 x 4320 pixels) images in this selection as that's what the NX1 is capable of.
However the highest resolution offered is consistently 13MP (4368 x 2912 pixels), of course sometimes there's a crop applied, but I looked at two or three of the close-up shots (the one's less likely to have a crop applied) and got 13MP consistently.
After figuring that out I then noticed the "switch to old view" button on iStock, and in the old view it tells you that the photo was uploaded on 06-01-10, over 4 years before the Samsung NX1 was announced…
What a bummer, I'm not naive enough to believe that marketing images tell the truth, but Samsung got my hopes up here.
What camera do I think was used to take this shot? a 13MP sensor resolution is not that common, I expect it was taken with a Canon 5D, it's the only relatively common camera that matches the resolution and would have had water housings available, it looks like the actual shot in the image is a crop and based on the other images from seemingly the same session and the distortion on the horizon I'd say it was shot with the Canon 15mm fisheye lens.
Samsung NX1 Water Housing Options
None of the big splash housing manufacturers offer an off the shelf option, and even the Dive brands aren't bothering with Samsung it seems, here's what I've found so far:
Your other option is a custom housing, I'd see if someone like Liquid Eye housings or CMT could make you something, it really looks like the NX1 and it's more budget friendly NX siblings would make really good surf photography options, but until there's a Samsung NX1 water housing available, it doesn't make much sense to go for it over Sony, Panasonic, Canon or Nikon.
What Surf Photography Gear Do You Recommend?
I've just re-written my recommended gear page to include the gear I use myself, everything you find on the recommended gear page offers an excellent compromise of performance and value and I believe it's the best kit you can get if you're a hobbyist surf photographer, after all I use it myself: Learning Surf Photography Recommended Surf Photography Gear