I've had a few questions about the Samyang 8mm fisheye that I use for my surf photography in my Liquid Eye C6000, Salty Surf Housings Basic and converted Aquatech housings.
I shot a short video which covers the main things I like about it, the limitations it has and the basics of how to get good surf photos with this kind of lens.
Samyang, Rokinon, V1, V2, e-mount, x-mount, silver, black etc. etc.?
Unfortunately there is quite a lot of confusion around this particular lens, there are several different variations on the same, or very similar design.
There is a version 1 and a version 2.
The version 2 is newer, longer and technical tests show it has a slightly higher image quality whilst being slightly less wide than the version 1.
I've used both versions for surf photography and in my real-world use I can't tell them apart when comparing the final images. They are both great, small, good value lenses.
So choose version 1 or version 2 depending on the dome port you are going to be using and the price you can find them for.
If you have, or plan to get a Salty Surf Housing go for the version 2.
UPDATE: If you've got or plan to get the Liquid Eye C6000, you can get either version of the lens, just make sure you get the port that matches your lens as they offer one for each version.
Here are a couple of links for each version in the Sony e-mount (compatible with the Sony a6000) on Amazon, double check if you're not 100% which one you need before ordering, the prices vary a little between brand and version but they're around $280 on average.
For Version 1, look for this in the description:
10 elements in 8 groups
For Version 2 (although these listings have a photo of the version 1 lens), look for this in the description:
Constructed of 11 elements in 8 groups
It should be that simple, but unfortunately there are some other confusing things to watch out for.
Brand names
Samyang Optics are the company making these lenses, but they are sold under different brand names in different places. I have the versions with Samyang printed on them, but in North America you're more likely to find the same lens with Rokinon printed on it.
Samyang also make other lenses and stamp them with the following brands: Bower, Walimex, Pro-optic.
But I don't think they make the 8mm f2.8 fisheye in anything other than Rokinon and Samyang (I might be wrong though).
If you find an 8mm f2.8 fisheye that looks like one of these but has a different name on it, the lenses are all the same, only the names have changed.
Lens mounts
Samyang produce this same lens for a variety of different lens mounts:
Sony e-mount
Fuji x-mount
Samsung NX mount
Canon EF-M mount
They also make a very similar 7.5mm f2.8 fisheye for the micro four thirds mount, which is smaller and less wide (because the micro four thirds sensor is smaller than the APSC sensor).
Cinema lenses
Even more confusingly they produce a lens with exactly the same optics inside it but with a de-clicked aperture ring and a gear built in to the focus ring for cinema use.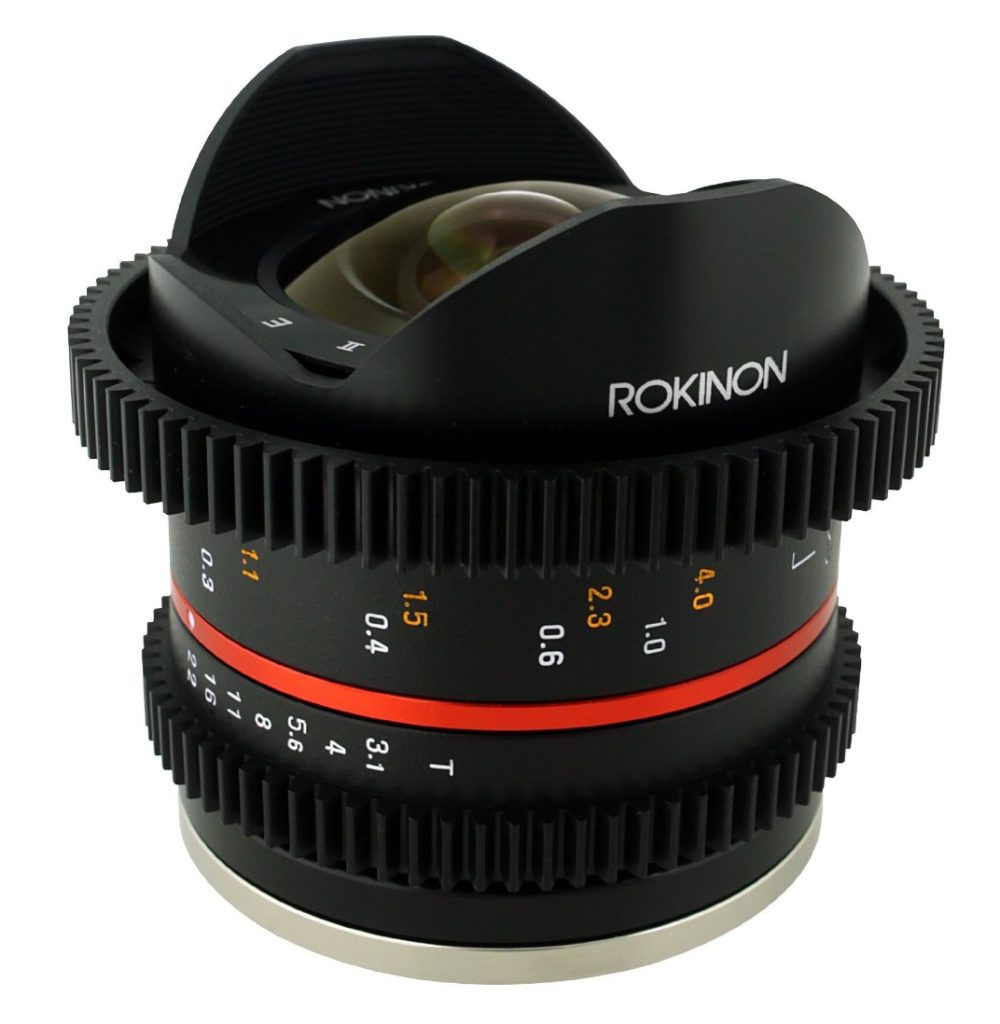 This one's called the Rokinon 8mm T3.1 UMC Cine Fisheye II, but if you put it on your Sony a6000 you would get the same image as the regular 8mm f2.8 fisheye.
Similar lenses
Just to make it a little bit trickier for the casual observer to know which lens I'm talking about Samyang also make another 8mm fisheye, this one's got a maximum aperture of f3.5 and a removable hood, so it's easy to tell apart. It's also made for DSLR APSc lens mounts like Nikon and Canon EF.
OK, now that's out of the way, on to my short review of the lens itself for surf photography.
It's awesome.
That's probably all you need to know, but if you want examples and more non technical views of the lens read on.
Image quality
The sharpness and contrast easily compares to the Tokina 10-17mm fisheye I used on my Canon DSLR's, and the Canon 15mm f2.8 fisheye that I owned briefly and used on 35mm film SLR's, a 60D and tested briefly on a Canon 5D mk II.
Just get the settings right and you'll be happy with the quality of the shots. I don't zoom in on the corners of my photos and the majority of my shots are published on line, but I have had a photo I took using the V1 of this lens printed in Wavelength magazine, and I've printed several at A4 size myself (there's one on the shelf behind me in the video above) and I've been very happy with the image quality.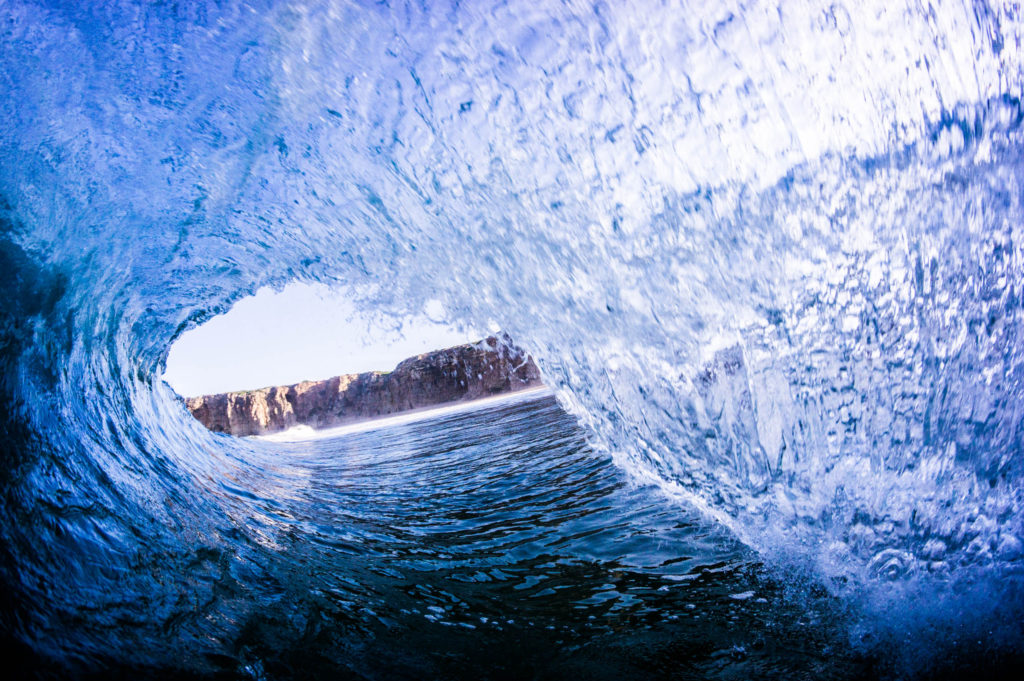 Manual focus, manual aperture
The lens is manual, you set the focus and the aperture on the lens itself and you can't change them using your camera buttons.
This is a good thing. When I shot with my Tokina 10-17mm (I took over 7,000 shots with this lens on a variety of bodies) I would set it to manual focus and tape it in position before 90% of the surf photo sessions I had.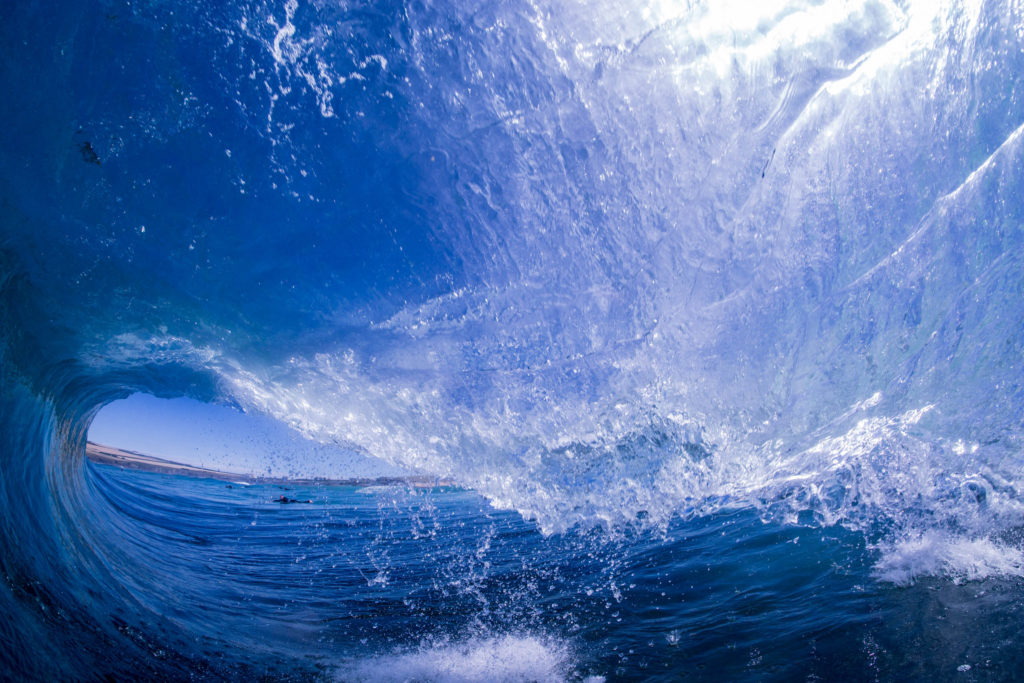 Samyang 8mm fisheye settings
With any photography you should experiment and see what works for you, no wave is the same and no lighting is identical, so my settings might not work for you.
But… I'm going to give you my basic settings as a place to start with this lens, then you can tweak them to find the look and feel you prefer.
Aperture: Sunny = f8, cloudy/dusk/dawn = f4, night sky = f2.8
Focus: Surf: 1m, night sky: infinity
Shutter speed: 1/1000 or faster
ISO: Auto
Start there and see what you get.
Lens port for Samyang 8mm fisheye
Find out which lens port to use, and how to shoot with it in my full post on the subject:
Water Housing Users Guide: Part – Which Port Should I Use?
Basically, you need a dome port.
You want a big one for underwater or over/under style shots but a small one, like in the video, will work for above water, and it'll stay out of the way too.
This was shot looking straight up, you can see the land on both sides of the frame, it's such a wide lens you need a dome port so you don't get the port in the shot.
Conclusion
I love my Samyang 8mm f2.8 fisheye, it's super fun to shoot with, it's tiny and the image quality is great. There's a good reason that the most popular water housings for the Sony a6000 have dome ports that are designed for this lens.
If you shoot with an alternative or want to know any more details on this lens, let me know in the comments below, or send me an email at ben@learningsurfphotography.com
The best way to support this site is to make a purchase through Amazon using my links. You pay the same price and I get a small commission.