UPDATE: You can get a 5% discount off your order for the Sea Frogs Salted Line housing and accessories by putting the code: LSP in the discount box on the checkout page.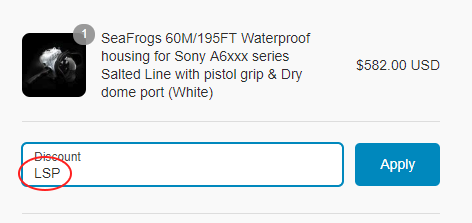 You pay less, and I get a small commission which goes towards running this site.
Summary: The Sea Frogs Salted Line a6xxx series is a versatile water housing that has all the features surf photographers need, and some they don't. Buy it now if you want to take dive and surf photos.
Watch my detailed video for all the information on the Sea Frogs Salted Line a6xxx series waterproof housing:
Sea Frogs Salted Line a6xxx series price
You can buy the Sea Frogs Salted Line housing from the sea frogs website here: seafrogs.com.hk
The prices for the items in the video are:
Sea Frogs Salted Line a6xxx series Supported Lenses
I'm slowly building out the list of supported ports and lenses for this housing, so if there's a specific lens you want to know about leave a comment below or email me on ben@learningsurfphotography.com and I'll do my best to find out for you.
There are at least 4 ports available for the Salted Line a6xxx housing, so there are a lot of lenses that will be supported in some way.
Sea Frogs Salted Line a6xxx series Standard flat port
The standard port that comes with the housing supports the following lenses according to Sea Frogs:
Sony E 10-18mm f4 OSS (with zoom)
Sony E 16-50mm f3.5-5.6 PZ OSS (with zoom)
Sony E 18-55mm f3.5-5.6 OSS
Sony E 30mm f3.5 Macro
Sony FE 28mm f2
Sony E 35mm f1.8 OSS
Sony E 50mm f1.8 OSS
Sigma 19mm f2.8 DN Art
Sigma 30mm f1.4 DC DN
Sigma 30mm f2.8 EX DN
Lenses I've tried myself in this port:
Dimensions
Sea Frogs Salted Line a6xxx series Dome port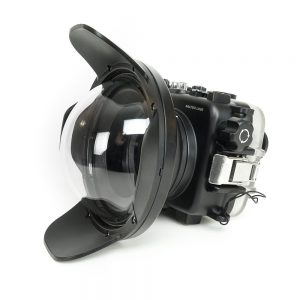 The dome port officially supports the following lenses (not a complete list, I'll add to it as I find more):
Sigma 16mm f1.4
Sony E 10-18mm f4 OSS (with zoom)
Any short fisheye like the Sony 16mm with fisheye adapter, Samyang 8mm f2.8, 7artisans 7.5mm f2.8 or Meike 6.5mm f2 will not work with the current dome port.
Sea Frogs have confirmed that they're working on a smaller dome which will support some or all of these shorter fisheyes and it should be available in March 2018.
Sea Frogs Salted Line a6xxx series Macro port
The smaller macro port can be used with some small prime lenses, it's a bit longer but narrower than the standard port. It has a 67mm filter thread on the end so you can attach a macro adapter for dive photography.
Dimensions:
Internal diameter: 80mm at housing end, 63mm at front end
Internal length: 75mm
Approximate maximum length of lens: 95mm
You can only buy the port through the Meikon website at the moment. There's one lens that's officially supported:
I've tried the following lenses inside and can confirm they work too:
Sony E 35mm f1.8 OSS
Sigma 60mm f2.8 EX DN
Sea Frogs Salted Line a6xxx series Telephoto port
This one was originally designed for the Sony FE 90mm macro lens and can be used on the Sea Frogs A7 series housing too. Sea Frogs list it as a telephoto port for the a6xxx housing and I've tried out two lenses in there and confirmed they work for some of their zoom range.
Sony 55-210mm – works between 55 and 135mm – then hits the front element
Sony 18-200mm (the old, non power zoom version) – Vignettes up until 35mm, then works until 70mm when it reaches the front element
I haven't got the zoom working with either of those lenses, I think it would be possible with the 55-210mm, but the 18-200 would probably be too big to fit a lens gear around.
Using the Sea Frogs Salted Line a6xxx series in surf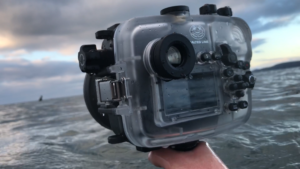 I've only taken the housing out once so far. I shot with the Sony 35mm f1.8 lens on my Sony a6000 body and used the pistol grip and the standard flat port.
It worked really well, I was able to focus and shoot separately with the two stage pistol grip, I didn't need to change settings much, but I was able to use the controls easily when necessary.
It floats fairly high. They now offer a white version which I'd be tempted to get for a bit of added visibility.
I was able to shoot surf photos one handed (I shot some video on my iPhone in an AxisGo in my other hand, it's at the end of the video above), and didn't have any issues with how the housing handled in the water.
It's really clear that this is a dive housing which has had some accessories added to make it easier to use on the surface. It's heavier and bigger than it needs to be for a surf housing because it has extra features and controls and a deeper depth rating than a surf housing.
Should you buy the Sea Frogs Salted Line a6xxx series housing?
Yes – If you want to go deeper than 5-10m and shoot on the surface too.
Yes – If you are on a tight budget and you don't want to shoot fisheye surf photos.
Yes – If you have an a6000 but you are going to be getting an a6300 or a6500 in the near future and need to use the same housing.
Maybe – If you want a solid surf water housing, are budget conscious and you don't travel that much with your kit.
If you're one of the people I'm talking about above – then you won't be disappointed with this housing.
No – If you want a small, surf specific housing with ports and features designed for surf photography.
No – If money is no object and you want the best possible surf housing.
Everyone will be different. The good news is, there are so many housings available for the Sony a6xxx range of cameras that one of them will be perfect for you.
Any questions about the housing, or any suggestions for tests I can do with it – let me know in the comments below, or send me an email at ben@learningsurfphotography.com