If you're wondering which surf housing to buy for your Sony a6000 or a6300 this housing comparison will help.
I've used several of the most popular options for shooting surf photography with the Sony a6000 series, and I'm going to go through which one is most suitable for you. All the options I talk about here have equivalent options for the a6300 camera, and some of them can even accommodate both camera bodies.
To help I've prepared a video, some housing comparison images and all the links you need to find out everything you need before making a purchasing decision yourself.
The main thing I've learned is that there isn't a bad option. All of the housings that I've used work well and have their own strengths.
You need to decide how important different types of surf photography are to you, then work out which housing will make that easiest for you.
If you've shot in the water before this should come naturally, but if you're new to shooting surf photography in the water then it's a little harder. I know from the questions I get on email that a lot of people who have an a6000 or a6300 are buying their first water housing for an interchangeable lens camera. So you might want to watch until the end to see what I found to be the benefits and limitations of each housing.
Cheapest Sony a6000 housing
If you're on a tight budget and you want to get your Sony a6000 or a6300 in the water then this is the best option for you.
If you want to shoot surf photos I'd definitely recommend saving up the extra for a housing with a pistol grip and interchangeable ports.
Meikon dive housing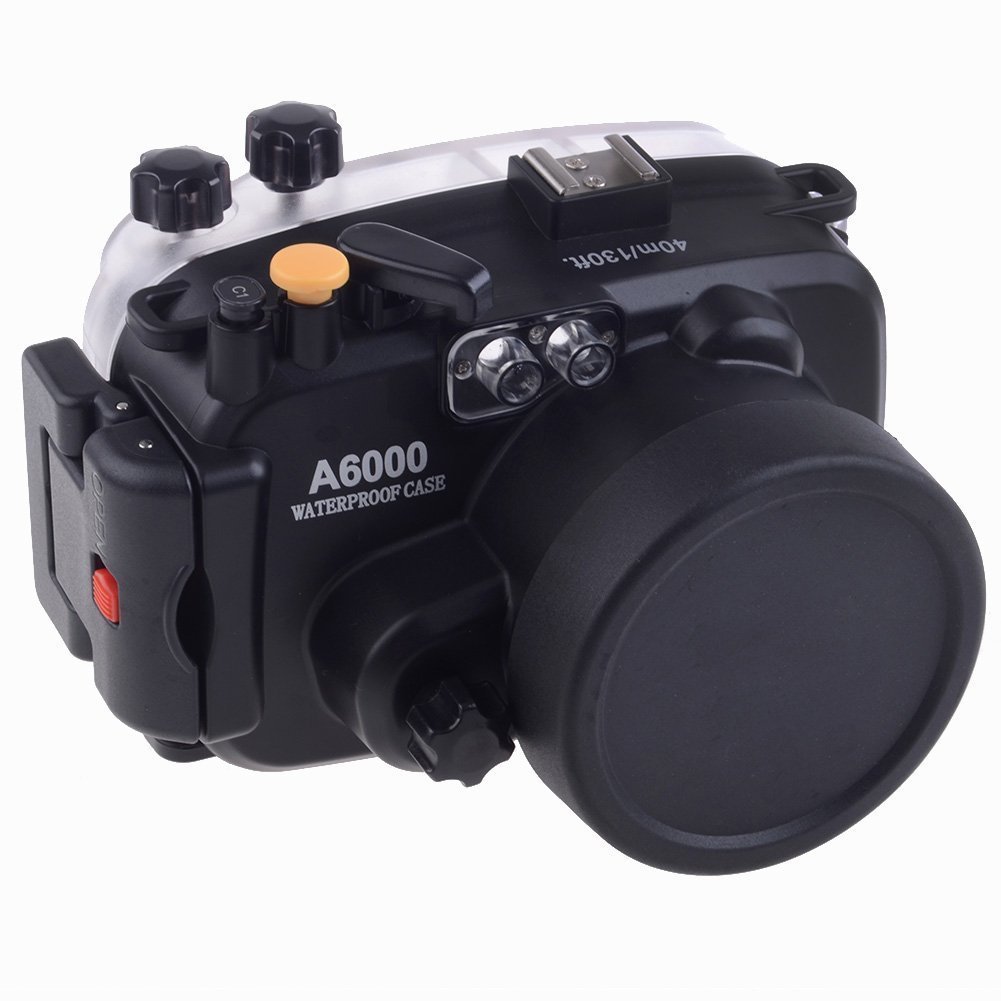 Cheap and cheerful, this is a great way to get into the water, but it has some serious limitations when it comes to surf photography.
Although Meikon manufacture the housing, many other brands have licended it and put their own name to it, here are a few on Amazon that are all the same Meikon housing:
Benefits
Cheapest
Easiest to seal
Full controls
optical connectors for dive style strobe flash units
Limitations
No viewfinder access (can be polished)
No pistol grip (DIY options available)
Fixed lens port (you can add your own port)
If you can live with the limitations, or you're happy to work around them, it's a fantastic option for people wanting to get into surf photography on a tight budget.
Surf housing comparison for the Sony a6000 & a6300
The remaining options are all designed for surf photography, they all offer interchangeable lens ports for a variety of lenses and a pistol grip for shooting one handed.
Here's a little animation of the outlines of the three housings, so you can get an idea of how the sizes compare: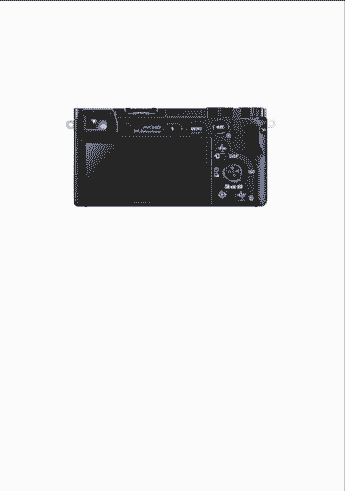 Liquid Eye C6000 & C6300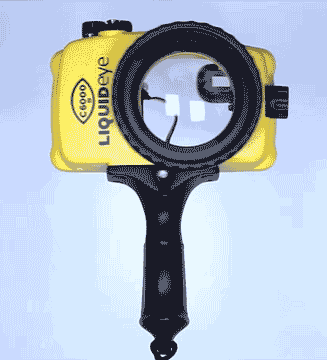 Great design and good value with a couple of issues for some surf photographers.
Go for this if you want the best value, smallest set up and you only use smaller native e-mount lenses.
Benefits
Good value
Smallest and lightest surf housing
Easy to seal – 4 x bolts
Limitation
Small lens port limits possibilities with big FE or third party lenses
There are other little issues that I cover in my video review, but they don't limit my ability to shoot photos.
Salty Surf Housings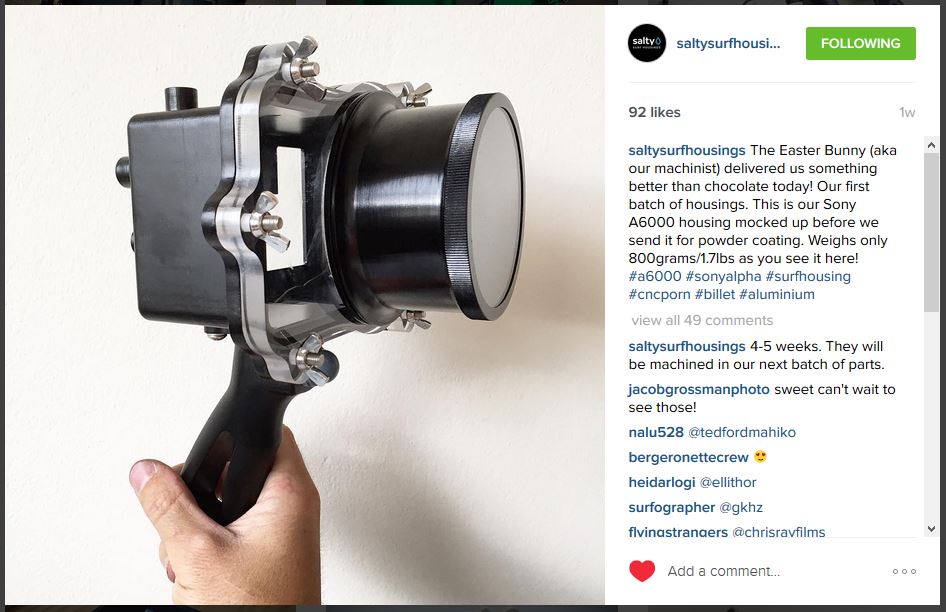 Salty Surf housings are a relatively new company but they were the first to offer an off the shelf surf housing for the Sony a6000.
Choose Salty if you need the biggest selection of lens ports.
Benefits
Strongest housing, made form a single piece of aluminium
Good two stage trigger (not standard on BASIC model)
Bigger lens port allows for lenses like the Sony 70-200 f4
Limitation
Fewer controls than some alternatives
Aquatech ATB 6000 & ATB 6300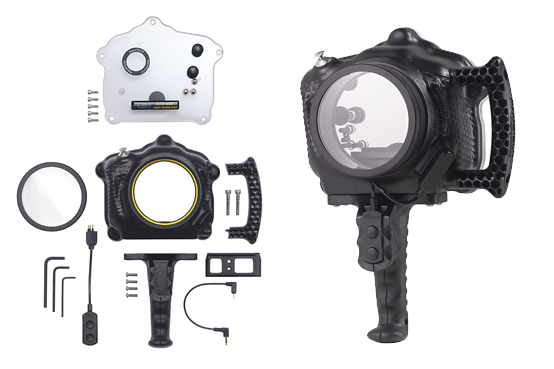 Aquatech have a great history for producing professional camera housings. Their ATB range aren't the smallest housings but they do offer the biggest possibility for third party lens support and a great network of distributors worldwide.
Aquatech are your best option if you need face to face customer service or you're using third party DSLR lenses.
Benefits
Worldwide distribution and customer service network
Same housing for a6000 and a6300 bodies (different tray needed)
Biggest port system, useful for third party DSLR lenses
Limitation
No video record control on a6000 version
Alternative surf housings for the Sony a6000 & a6300
There are a few more options that are worth considering. My Ultimate Sony a6000 water housing page has all the options I know of so far listed with prices and other details.
If you know of a housing that isn't on the list or if you want some more specific advice on which option might be best for you let me know in a comment below, or send me an email at ben@learningsurfphotography.com
More information:
Read up on the different housings I mention in the video in these posts: