The Sony a6300 has finally been announced!
I'm going to be covering all the questions I had about the new camera, and my thoughts on whether it's worth getting a Sony a6300 for surf photography from a couple of perspectives.
Nearly all the questions I get e-mailed (ben@learningsurfphotography.com) are from one of 2 types of surf photographers:
Surfers who use GoPro's who are looking to get into surf photography more seriously
Hobbyist surf photographers like myself who have some photography gear and knowledge who want specific help on a particular subject
I'm going to give you my overall thoughts on the new Sony a6300 for surf photography, especially as it compares to the Sony a6000.
Then I'll break it down for each type of reader so you can quickly see my views on the best option for you.
Sony a6300 specifications overview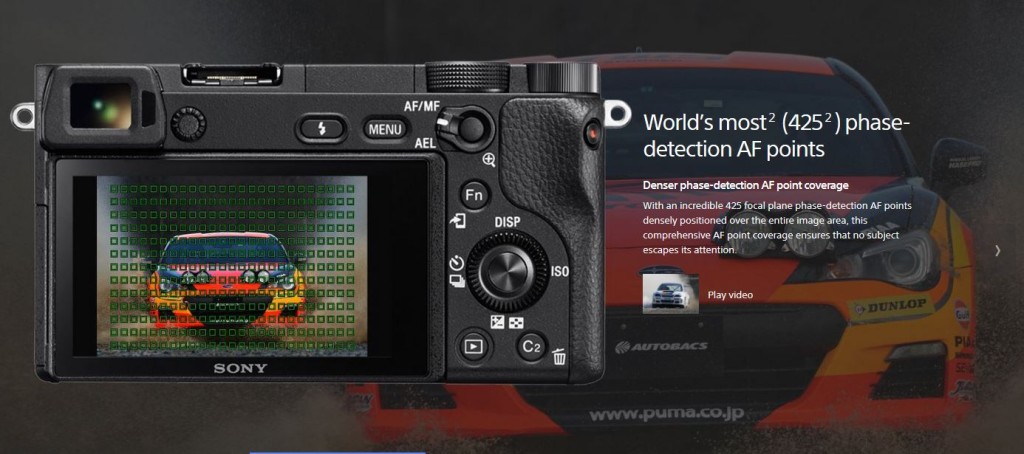 Here are the main differences between the Sony a6300 and Sony a6000:
4K video capture up to 100 Mbps
1080p video at 120fps
Mic input via 3.5mm jack
11 fps continuous shooting (8fps continuous live view)
Moisture resistant construction
24MP CMOS APS-C sensor with copper wiring
425-point on-sensor phase-detection AF system (169 contrast detection points)
higher resolution electronic view finder (EVF)
Silent shooting
Max ISO of 51200
I might have missed some specifications here, but I think these are the most relevant to surf photography, at least for me.
So what do they all mean, and how do they compare to the closest competitor to the Sony a6300 – the Sony a6000?
4K video capture up to 100 Mbps
1080p video at 120fps
Mic input via 3.5mm jack
These video features are a pretty big deal, it's the new standard for video and I really like these capabilities.
It's looking like Sony are seriously going after the video market with the Sony a6300. There's already a host of video lenses for the Sony e mount thanks to the high end Sony video cameras that share the same mount. There's also some relatively inexpensive, good quality lenses you can pair with the Sony a6300 to make it into a fantastic video shooter.
120 frames per second at 1080p is also a big plus for surf shooters – slowing down your clips will result in smoother action with more frames to play with.
The microphone input for the Sony a6300 is also something that I missed from my Canon 60D and Canon 70D bodies – the Sony a600 doesn't have one and the alternative is to get an expensive Sony microphone for the hot shoe.
If my main priority was video then I'd definitely be looking to upgrade from the Sony a6000 as soon as the Sony a6300 was available, but it isn't. 99% of the files from my Sony a6000 are still images.
The video from the Sony a6000 is great too buy the way – the 1080p files I get from it are awesome, and I love that it's just a button press away when ever I need it. It's just not my focus with the camera.
11 fps continuous shooting (8fps continuous live view)
The Sony a6000 and the Sony a6300 can both shoot at 11fps, but the Sony a6300 also has a new mode which re-creates the way an optical view finder (OVF) of a tradiotnal DSLR looks when you're shooting a burst.
This is something I noticed straight away after switching from a Canon 70D to the Sony a6000. A DSLR has a mirror based view finder, when you look through it and hold down the shutter for a burst of photos you see the action happening in real time with a tiny moment of darkness when the mirror flips up to expose the sensor for each frame.
Once you're used to this it becomes very natural to follow the action with your eye as the view finder rapidly blinks with the shutter.
Any mirrorless camera that uses an electronic view finder, like the Sony a6000, works differently. You can see the action happening but because the EVF is effectively a tiny LCD screen you're always shooting in live view mode. So effectively instead of getting a tiny moment of darkness for each frame you get a tiny freeze frame of the action instead.
This can be a bit disorientating, but the effect can be minimised by turning off auto-review in the menu (see the photo below). Once you get it set up like that it's just a case of getting used to the way the burst mode looks. Personally it's not been that big a deal for me but I'd like to have a go with the new live view 8fps mode on the Sony a6300 to see how different it is.
If it keeps a continuous image, without dark frames or freeze frames, it could potentially be better than a DSLR style optical view finder for many people.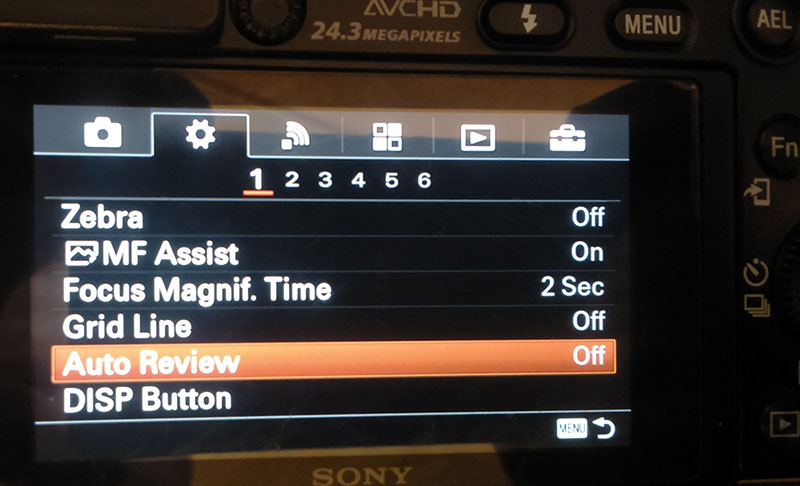 Moisture and dust resistant construction
Can't argue with this, it's got to be a bonus when shooting at the beach or any other potentially wet environments.
I haven't had any issues with my Sony a6000 though so it's not a huge deal for me. Having a water housing is obviously a bonus too, whenever I know I'm going to get the camera wet it's in a housing anyway.
24MP CMOS APS-C sensor with copper wiring
Apparently this means it's more sensitive and capable of higher resolution. I don't know enough about this technology to know how this works, I don't think it's going to offer a huge benefit for surf photographers though.
425-point on-sensor phase-detection auto focus (AF) system (169 contrast detection points)
The Sony a6000 has 179 phase detection AF points and  25 Contrast detection AF points, which means fewer points within the frame can be used to lock on to a moving object and keep focus.
This will give you a better chance of keeping a surfer in focus as they move through the frame – this is a good thing.
I haven't had any issues with focus when shooting surfing with my Sony a6000, but I did notice a big improvement when moving from an older camera like the Sony NEX 5R to the a6000 – so I'd like to try out the Sony a6300's autofocus to see how big a jump in performance this represents.
I think if I shot more surfers this would be a big bonus, but I mainly shoot line-ups and empty waves. Looking at my favourite shots from my lightroom library, there's not that many which feature action packed surfing.
If you mainly shoot photos or video of surfing action, this could be a big benefit for you.
Higher resolution electronic view finder (EVF)
Silent shooting
Electronic level
Max ISO of 51200
These could potentially be important to you, but not for me.
The EVF on the a6000 is great and does the job perfectly well for my surf photography.
Silent shooting might be useful for things like weddings – but extra shutter noise makes no difference for surf photographers.
I hardly ever used the electronic level on my Canon 70D, I've got a little spirit level bubble hot shoe insert for my Sony a6000 which does the same job, but I very rarely use that too.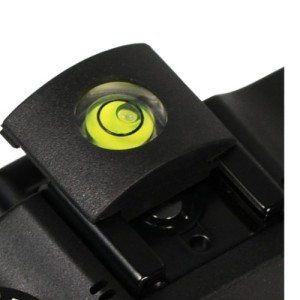 Looking at my Lightoom library I don't shoot surf photo's at ISO above 3200 with the Sony a6000. On the very rare occasions I push it that high it's very early in the morning and I just want a shot for reference. Better low light performance is always a good thing though, and having a higher maximum ISO level generally means lower ISO's are less noisy.
I currently use a GoPro, should I buy the Sony a6300 as my first camera for surf photography?
Short answer: No – get the Sony a6000 and extras instead
Long answer: The Sony a6300 is going to sell for $1,000 for the body only when it's released. This is what I'd buy if I wanted to start shooting surf photography and I had $1,000 to spend: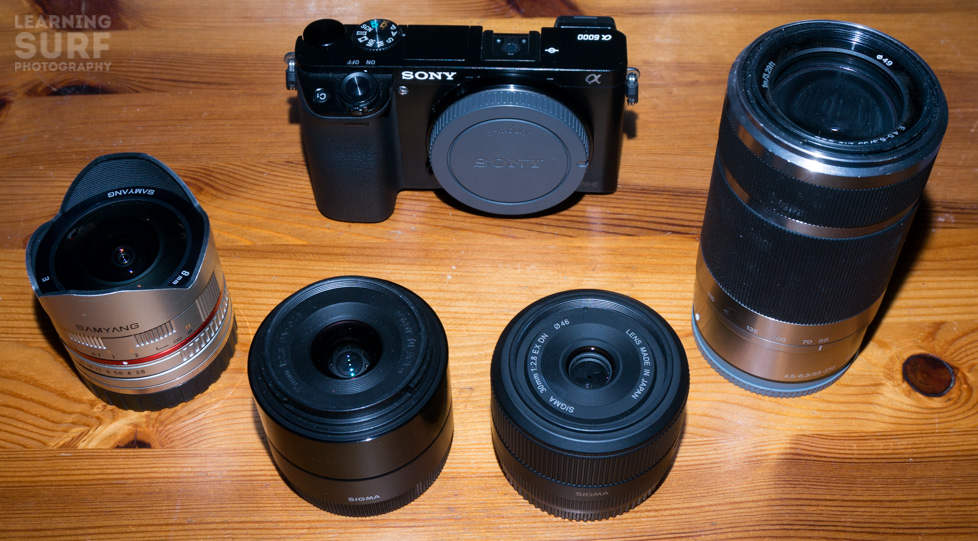 So you've got the incredible Sony a6000 camera body, a sharp, fairly fast, normal length prime lens, a water housing, a telephoto zoom for shooting from the land and a top quality SD card from a respected manufacturer, all for less than the price of the Sony a6300 body!
The Sigma 30mm fits in the housing and offers you something completely different to a GoPro, a 30mm lens on the Sony a6000's APSC sensor is equivalent to 48mm on a full frame or 35mm sized sensor. It's not a coincidence that most 35mm SLR cameras were supplied with a 50mm lens, this kind of focal length isd roughly equivalent to the field of view that your eye sees.
I've written a whole post on why I love shooting with this type of lens in the water, and I think if you're moving from a GoPro it's going to give you a really nice natural progression to shooting a different – non super wide – style of photograph.
The Sigma lens is fantastic value, at f2.8 it's got a fast enough aperture enough to give you a shallow depth of field, something you can never, ever achieve with a GoPro, and I promise you'll have fun taking portraits of family and friends with this lens too. It's also small and light and inexpensive. It was the first lens I bought for my Sony a6000 and it still spends a lot of time on the camera both in and out of the water.
The 55-210mm isn't the best for image quality, but it's small, lightweight and has image stabilisation built in. You can shoot action from the beach and the big range makes it pretty versatile for line up shots and getting into the action.
I've even used mine in the water with a zoom port on my converted Aqautech housing with decent results.
A decent SD card is worth paying a little extra for. Sandisk make reliable, fast cards, so I round out my recommendation with their Extreme Pro 32GB card.
I already have a DSLR or mirrorless camera – should I move to the Sony a6300 for surf photography?
Short answer: Maybe
Long answer: It depends what your priorities are.
If you don't shoot video, stick with what you've got or buy a Sony a6000 (see above).
If you do a bit of video and bit of stills – hang fire, see if the price drops or a competitor comes out with something more compelling in the near future, for now use what you've got or pick up a second hand Sony a6000 and start building your lens collection (see above).
If you shoot a lot of video and you already have Sony e mount lenses – yes, definitely get the Sony a6300, the video features combined with the auto focus improvements make it the best option for you for shooting surf video.
Will the Sony a6300 fit in my Sony a6000 water housing?
Well, it's the same length and height, but it's 3.7mm deeper, so if you've got a tight fitting custom housing you might be out of luck.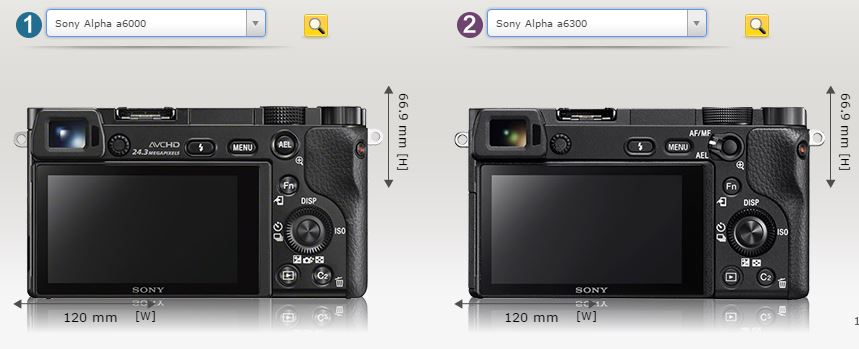 I'd imagine any housing with a tray style insert for holding the camera in place will be OK, it'll just need a new plate for the a6300.
For tight fitting housings, like the Meikon Sony a6000 water housing that I use, it's going to need a fair few modifications inside to make it compatible. Although it looks like there could be enough space inside for the extra 4mm of thickness, I think it might be a very tight squeeze and modifications to the internals could mean losing more than a few controls.
I expect Meikon are working on a housing right now, so it's probably worth hanging on a couple of months and buying a new one for the new camera body when it arrives.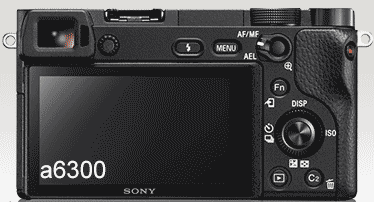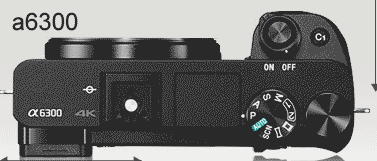 I made these animations so you can see the backs and tops of each of the cameras and how they change.
The controls are almost identical, but Sony have added a rocker switch to the AEL button and moved some of the other buttons very slightly too.
I think it would be possible to make a surf housing which could accommodate both cameras fairly easily. There are controls that will allow the button press for the old style AEL button with the twist of the new style button surround.
Personally I wouldn't need those controls anyway, so I'd be fine with one universal housing, most importantly the control dial at the top and the dial on the back haven't moved much at all, so they should be fine.
I thought I saw an Instagram post by Salty Surf water housings stating that their Sony a6000 housing (pre-order available for $1,800 AUS – approximately $1,200 US) will support both the Sony alpha a6000 and Sony a6300, but I can't find it now.
Even so I expect other surf housing manufacturers might offer a similar housing with support for both cameras, possibly with different back plates and trays to accommodate the quirks of each body.
Conclusion: Sony a6300 is the best camera for surf video, Sony a6000 is still amazing
So I'm going to be sticking with my Sony a6000 for a little longer. I'll seriously consider upgrading at Christmas 2016 if the price is right, but we'll see, right now the Sony a6000 is definitely not holding me back, and there's so many other things I want to experiment with too.
I'm starting to get into 360 degree photography and video with my Ricoh Theta S and the Nikon Keymission 360 is looking like a great 360 degree photography option for surfing, so that's on my wish list now that I'm happy not to upgrade my main camera body.