Sony have announced their new top end apsc sensor mirrorless camera, the Sony a6500.
It's got some really cool features, but are they enough to make it the best option for surf photographers?
Here's a comparison table showing the key features of Sony's alpha 6000 series of camera bodies for surf photography:
| | a6000 | a6300 | a6500 |
| --- | --- | --- | --- |
| Price | $548 US | $998 US | $1,399 US |
| Second hand price | $425 US | $875 US | N/A |
| Max video res @ 30fps | 1080p | 4K | 4K |
| Weather proofing | No | Yes | Yes |
| In body stabilisation | No | No | Yes |
| Touchscreen | No | No | Yes |
| Buffer RAW+jpeg | 21 | 22 | 100 |
Sony a6500 buffer
The buffer is pretty nuts, 100 frames in RAW+jpeg mode, that means you could shoot at the highest burst rate for about 9 seconds without stopping.
This is an advantage when you're shooting sequences, but in my experience you're unlikely to want to shoot bursts that long of surfing. It would be more useful from the land than the water but even then it's not going to be a huge deal.
Sony a6500  touchscreen
Again this is something that will only be useful from the land. I had a Sony NEX5r and a Canon 70D which both had touchscreens, I used them a fair bit in general, especially for video.
Changing your focus point and touching to select where you want to focus is the main reason for using a touch screen. If that's something you do a lot then you will benefit from the touchscreen, if not it won't make a huge difference in my experience.
Sony a6500 In Body Image Stabilisation (IBIS)
This is awesome for video shooters, it will definitely help get smoother video on lenses which don't have stabilisation built in (Sony calls this optical Steadyshot or OSS on their lenses).
Personally I don't shoot much video of surfing with my a6000, at least not so far. If I did shoot video I'd probably use my Sony 55-210mm, my Sony 18-105mm f4, or my newly acquired Sigma 150-600mm C with MC-11 adaptor all of which have OSS or equivalent stabilisation. Of course, if I had a body with IBIS I'd be able to use every lens, even cheaper old lenses with an adaptor, and have them stabilised for video.
For still photo's and for video with the lenses I'm likely to use, IBIS is no advantage, and I think it would be the same for the majority of surf photographers.
IBIS or OSS simply doesn't matter when you're shooting fast action like surfing. It compensates for camera shake, not movement of the subject. Any shutter speed (1/1000 or faster is a good general rule) that can freeze surfing action will be fast enough to eliminate camera shake issues too.
For general photography, especially indoors, it's a really big plus, but this is a site about surf photography, so that's my main focus.
Sony a6500 4K video
It's got the same video modes as the a6300, which are pretty good. If you need 4K resolution there are plenty of options available now from various manufacturers.
I haven't needed 4K yet, but my next camera body will definitely have 4K video, because my next TV will be able to do it justice.
Improved menu
The menu is notoriously hard to get around quickly on the a6000. I've never run into any real issues myself, I know where the items I need to select are for the most part and I don't change too many of them these days.
Sony a6500 water housing availability
There's no Sony a6500 water housing available off the shelf yet, but Salty Surf Housings have already announced they're making a housing for the a6500. Their turn around time on a new model is much faster than any other manufacturer, so it should be available soon after the release of the a6500.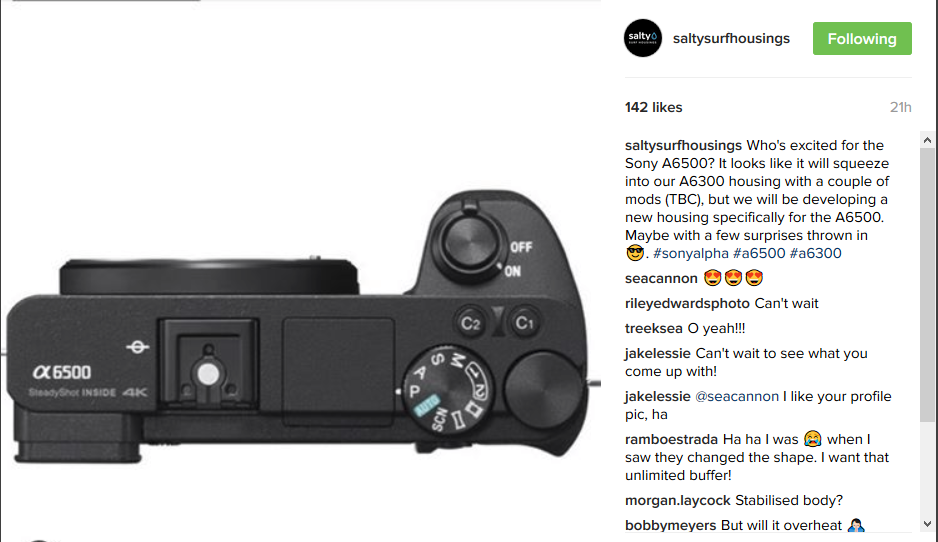 You'll definitely find it easier to find a housing for the a6000 or a6300 for the next few months. Once the Sony a6500 has been available for a while there are likely to be options at the same or similar prices to the current a6000 housings.
I wouldn't be surprised if you could fit the a6500 inside the Aquatech ATB housing – but it might require a new back plate and tray, or it might not be possible for some other reason, I'm sure we'll hear soon.
Should you buy the Sony a6500 for surf photography?
I like to ask myself this question when I see a new piece of camera gear:
Will this new thing let me take surf photos that aren't possible with my current kit?
I try to only consider cameras, lenses, housings, ports and other new items if they will let me take photos that I can't already take.
The Sony a6000 was smaller, had better autofocus and faster burst speed than any DSLR I could afford, so it allowed me to take photos that I couldn't take with my DSLR.
My Sony a6000 can take any surf photo that the a6500 can take, plus it's smaller, there are water housings available off the shelf, and it's an absolute bargain, especially second hand. It's actually a better option than the a6500 for shooting still surf photographs right now.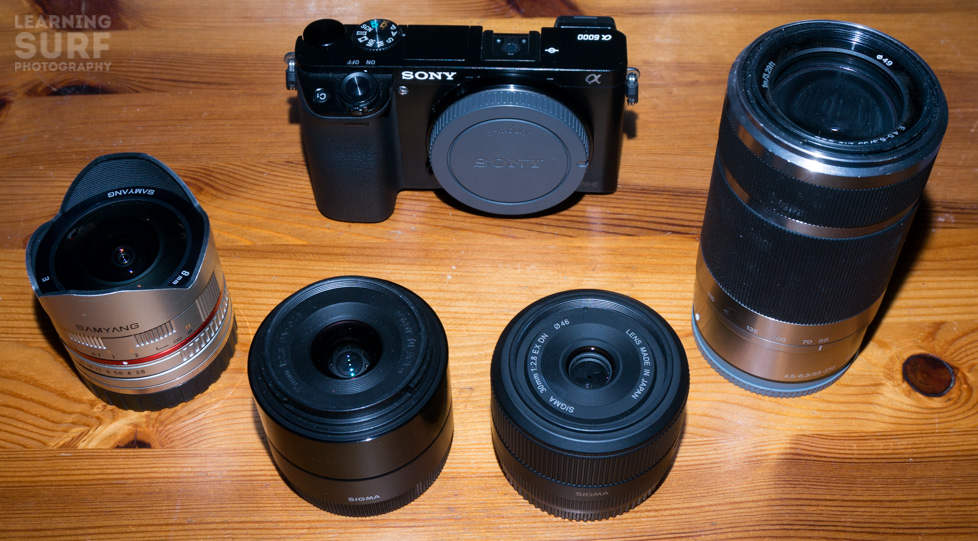 If you want to shoot surf photography from the water and land then the good old Sony a6000 is the best value camera you can buy.
If surf photography is only a small part of what you take photos of and you have the money, go for the a6500.
If you need 4K video but don't have enough for an a6500 then get an a6300.
(Also – when the prices of the a6300 drop and there are more available on the second hand market I'm probably going to pick one up, it's a great camera for sure.)
So what would I buy with $1,400 US?
I'm going to assume I've already got a GoPro camera for wide angle surf photos. If I had $1,400 and I needed to spend it on surf photography gear I'd buy this;
If I had a GoPro and I was happy with that I'd go on a nice holiday instead.
Are you going to buy the Sony a6500 for surf photography? Have I missed something obvious that makes it a killer upgrade?
Let me know in the comments below or send me an email at ben@learningsurfphotography.com, I'm keen to hear any reasons to upgrade because I like shiny new things as much as the next person, I just can't justify this one.