A couple of new surf water housings have been announced for the Sony A7 series of cameras. Details aren't too available but here's some Instagram post to keep you Sony shooters up to date.
Aquatech Sony A7 housing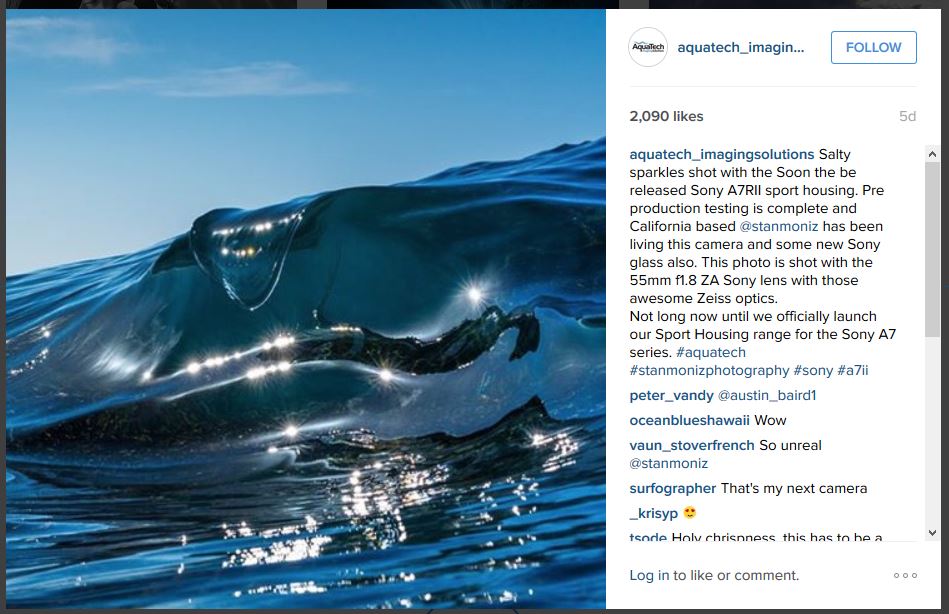 The image was shot by Stan Moniz and you should check out his website for some awesome surf images.
This housing was sort-of announced on Instagram quite a while ago, but this post makes it completely clear that the Sony A7 series is the one that's getting housed.
The Sony A7 series bodies are all very similar in size and button layout, so I expect Aquatech will have one shell to fit all of them and possibly even the same back plate for each as well.
Aquatech Sony A7 housing price
No prices have been announced yet but I'd expect the Sony A7 range of housings to fit into the Elite range (alongside the Panasonic GH4, Canon 5D mkIII, Nikon D800 etc.) so the price with a pistol grip and a port (the bare minimum I'd recommend for surf photography) is likely to be $2,500 – $2,800 US dollars.
Using the same basic shell means they can produce more of the same design and keep costs lower and it's the same way they've created housings in the past. For instance I have the CR-60 housing which is designed for the Canon 60D but they also produced the CR-7 at the time for the 7D camera body using the same plastic shell with a different back plate.
For Sony A7 users this is a bonus as you'll only need to buy one housing, postol grip and set of ports and you wont have to change when you upgrade the camera body.
This week I traded my Canon 60D body (which I bought second hand in order to test out a couple of housings on my recent trip to France) for a Canon 7D body and with a cheap adapter cable I was able to get it working inside my CR-60 housing. I'm going to test it out today and tomorrow hopefully before selling it on with my other DSLR gear.
SPL A7 housing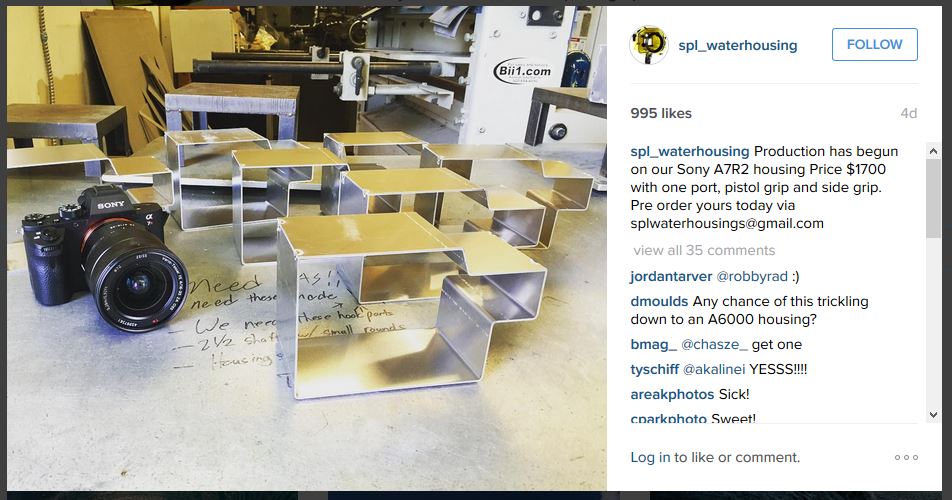 Breaking with tradition SPL announced the price alongside their A7RII housing:
Production has begun on our Sony A7R2 housing Price $1700 with one port, pistol grip and side grip. Pre order yours today via splwaterhousings@gmail.com
Curiously these housings look like they'er going to have a welded back plate, I am by no means an expert on this so I could be totally wrong, but I have owned an original style SPL a-series housing with a welded back plate and these bare cutouts look consistent with that construction.
It's perhaps a little odd because SPL are currently discounting all their welded back housings for Canon DSLR's to get rid of stock, presumably because they're going to be replaced with the new moulded style housings that they also revealed recently on Instagram: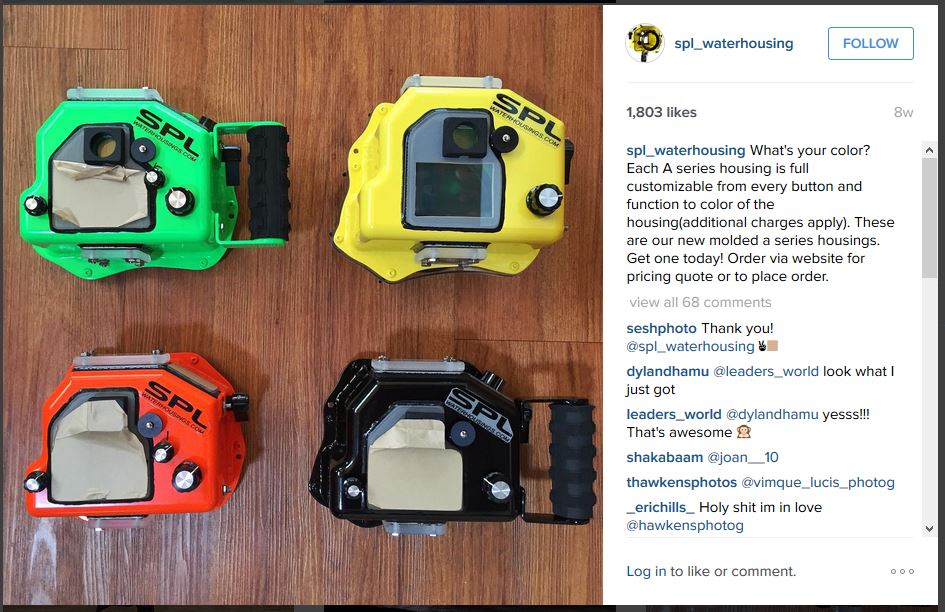 I would guess that it's easier to get production done quickly with the welded style as a mould takes a while to get sorted out properly, but it seems a bit strange to offer a brand new style of housing in an old – perhaps even discontinued – style of manufacture.
This is pure speculation on my part though so I'd be happy to be corrected in the comments or through e-mail at ben@learningsurfphotography.com
The price looks very competitive though so if you're a Sony A7 shooter this could be a relatively inexpensive option, but you might want to wait and see if there's a newer moulded version in the pipeline soon.
Meikon Sony A7 housing
Of course I wouldn't be able to get through a post on water housings these days without mentioning everyone's favourite budget housing manufacturer: Meikon.
They have their plastic version for around $255 which supports the kit 28-70mm lens, in my experience it will also support many other prime lenses, anything that will fit inside it basically.
The Meikon A7 series housing on Amazon – $255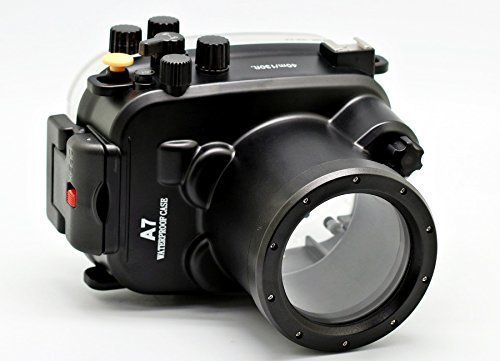 I've used two Meikon plastic housings and I really like them, my current favourite set-up is the Sony a6000 and Meikon housing with a DIY pistol grip trigger made with a KNEKT GPLT trigger (I'll be making a video about it soon).
If you want to know more about how to use a water housing check out the water housing userrs guide series for some essential tips: