The SP Gadgets Section GoPro Pistol Trigger ($59 US) is a cheaper alternative to the KNEKT GPLT and KNEKT GP4 GoPro pistol triggers.
It's the first alternative I've seen which uses the KNEKT's pivoting lever design but with cheaper plastic materials.
The actual trigger mechanism is lifted straight from the KNEKT design, there are some differences which I'll go into in detail, but the SP Gadgets GoPro Pistol Trigger will allow you activate the shutter (top) button of your GoPro camera one handed. This makes it much easier to take photos of waves whilst swimming without getting your finger in the shot or having to use both hands.
I'm going to answer some basic questions for you then get into the detailed analysis of construction, design and pro's and cons.
What do you get?
You can buy the SP Gadgets GoPro Pistol Trigger on it's own for $39 US, this is useful if, like me, you already have a suitable handle to screw into the trigger. I'm using a Ho Stevie floating GoPro handle with the SP Gadgets GoPro pistol trigger and that's what you see in the photos.
The handle screws in using a standard tripod bolt, there are grooves in it to help seat it better with the SP Gadgets handle, but it works fine with my Ho Stevie version, I might add a rubber washer just to make sure the connection is solid before using it in bog waves though.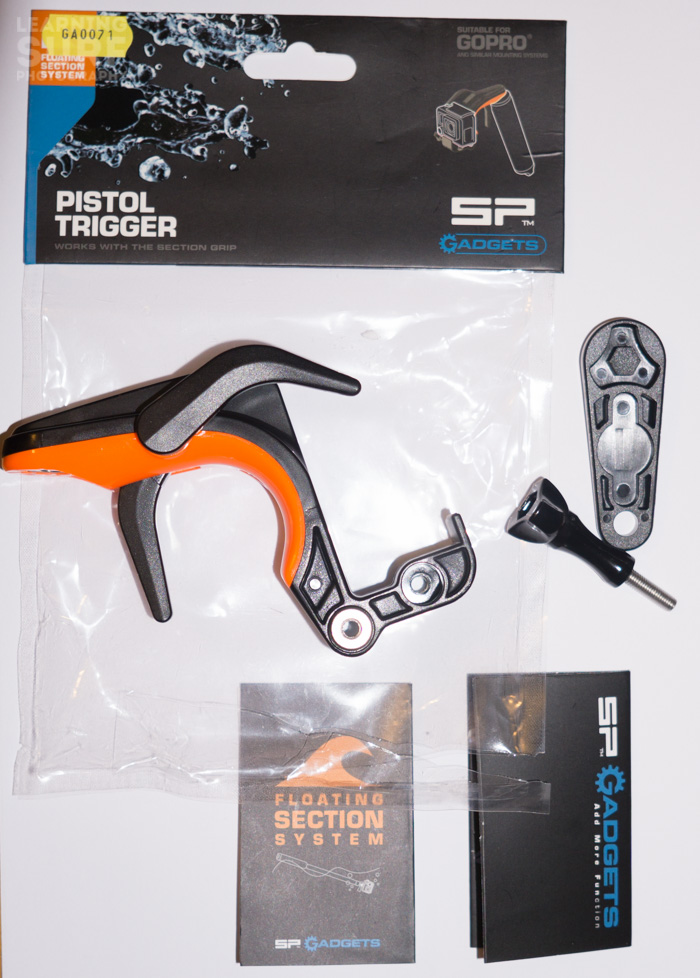 If you haven't already got a suitable handle you can purchase the kit for $59 US which includes the trigger section and the SP Gadgets GoPro handle as well.
You also get a bolt and a plastic spanner with the basic package, there are some other extras with the full kit but they're standard stuff like a wrist lanyard and a tripod to GoPro mount adapter.
The bolt is handy, but unfortunately it uses a different design to the standard GoPro bolts, and even other bolts provided by third party companies. The thread and length is standard, so you can use this bolt with any other GoPro mount and you can use your official GoPro bolts with this trigger.
The difference is the plastic end, the SP Gadgets version has three grips and the GoPro version has four, this means you can't use the SP gadgets spanner on any other bolts, and you can't use the GoPro spanner on the SP gadgets bolts.

(Left to right: SP Gadgets Spanner, Sp Gadgets bolt, Ho Stevie Mouth Mount bolt, Ho Stevie Handle Bolt and tripod to Gopro mount adapter, official GoPro bolt long and official GoPro bolt short.)
I don't like the idea of the spanner anyway. I prefer to just use my fingers to tighten the bolts, I've never run into problems with bolts coming loose this way, and it means most of the time I can unscrew them by hand easily.
One common way that Gopro mounts get snapped, or weakened is when the bolt is over tightened without a camera in place. This flexes the plastic of the mount and can lead to it breaking, and providing a spanner encourages over tightening.
Also – you can just use any Philips head screw driver to loosen a tight bolt (or tighten a loose one).  You've probably already got a couple of screwdrivers handy, and they can be used with more types of GoPro bolts than the SP gadgets or GoPro spanners.
Which GoPro cameras is the SP Gadgets Section GoPro Pistol Trigger compatible with?
I've tested the GoPro pistol trigger with a Hero 4 style housing and the Hero 3 style housing, so it will work with any camera that will fit inside either of those housings.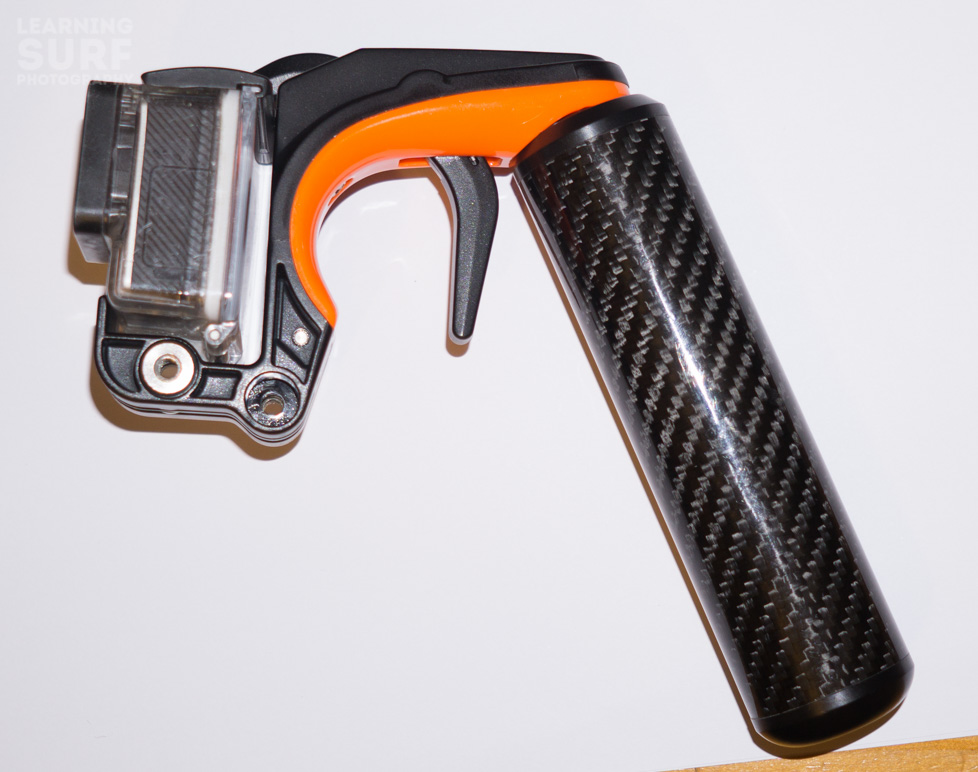 The bigger HD Hero and Hero 2 housing and the GoPro Hero 4 Session will not work with this GoPro pistol trigger.
Here's a complete list of the GoPro cameras that are compatible with the SP Gadgets Section GoPro Pistol Trigger:
Can the SP Gadgets Section GoPro Pistol Trigger be used with a battery or LCD BacPac?
No, there's no space for any extended back door.
If you need a GoPro pistol trigger that works with a battery or LCD BacPac I'd recommend the KNEKT GP4 trigger, it uses a different design which allows it to accommodate the extended back door:
Can the SP Gadgets Section GoPro Pistol Trigger be used with a GoPro Dome?
Yes, I've tested it with my KNEKT KSD6 dome port and it fits fine, although I'd recommend reading the next section which covers a couple of concerns I'd have with using the SP Gadgets GoPro Pistol trigger with an accessory like a dome port or in heavy waves.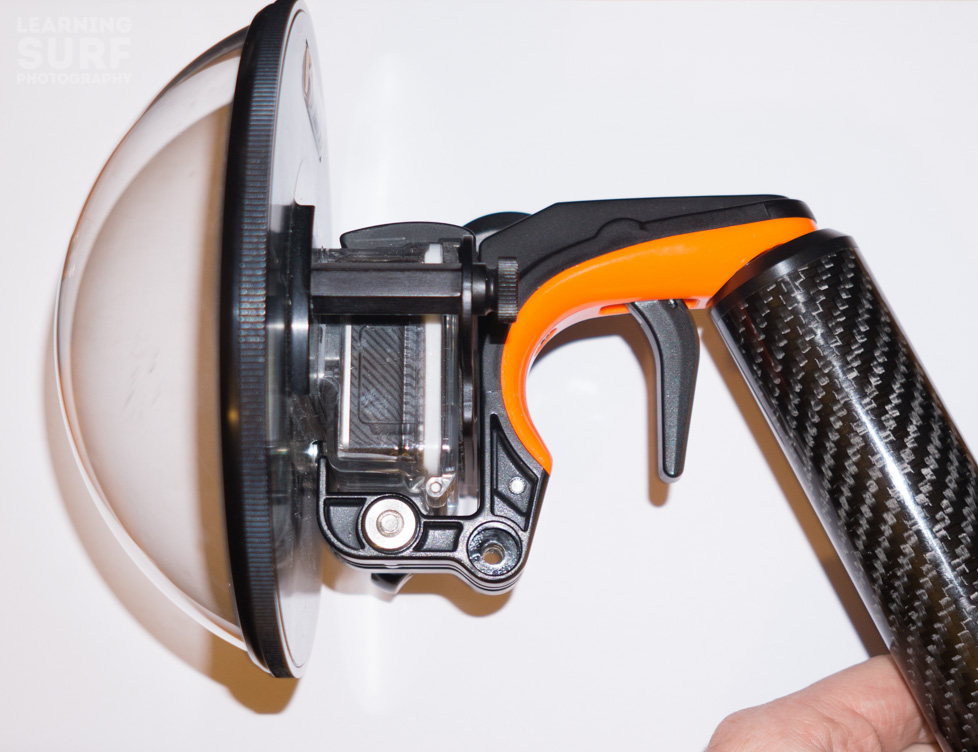 The KSD6 dome fits onto the pistol trigger and you have full access to the controls.
What do you like about the design?
The trigger mechanism itself is simple and works well.
Making the handle a separate piece to the trigger is good overall I think, it does introduce another point of possible failure, but I think the convenience of being able to buy the pistol part separately is worth it.
There's an extra GoPro mount on the bottom – this is good (not as good as the KNEKT GPLT's tripod threaded holes on the top and bottom though). I originally thought you might be able to see the top GoPro in the bottom GoPro's field of view if it got tilted upwards but I tested it with two Hero 4 housings and they've positioned it to make sure this is avoided.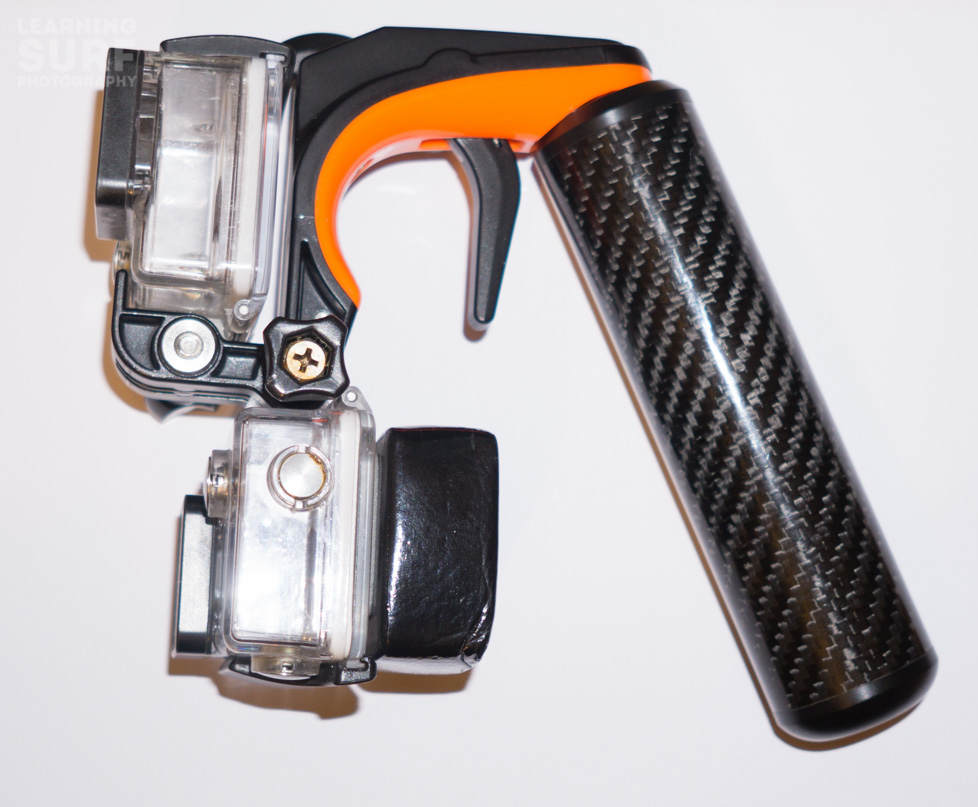 SP Gadgets have also put the threaded nuts (permanently attached) on opposite sides, so you have easy access to both sides for undoing or tightening bolts. It's a good idea and it shows they've thought about this feature.
What don't you like about the design?
The main section is made of two pieces of plastic held together with a screw and a metal rod. I got the screw undone and had a look inside, I saw the metal spring that puts tension into the trigger mechanism.
I wasn't able to remove the metal rod which hold the two together so I wasn't able to get the trigger lever out. I don't think it would be an easy job to fix the mechanism if it snapped or the spring became corroded or clogged up with salt residue.
There are more potential points of failure than the KNEKT GPLT, and it feels more flimsy all round due to the plastic construction. I was able to twist the front section around the handle pretty easily, especially when I had the KSD6 dome in place.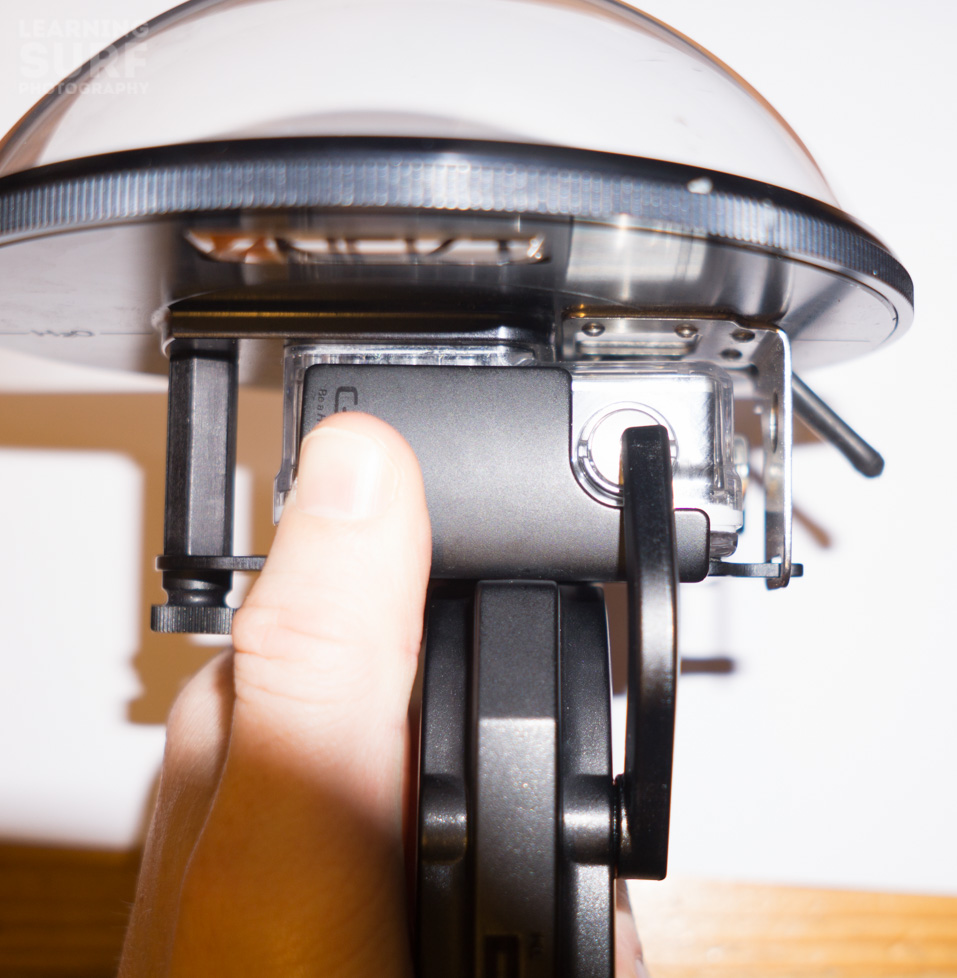 It didn't feel like it was going to break but it did mean that the trigger couldn't activate the button properly because it was snagged on the plastic surround that's part of the housing. I'm not sure if this would be an issue in real world use, but it's not possible to do the same thing with the KNEKT GPLT GoPro pistol trigger because it's made from aluminium.
SP Gadgets Section GoPro Pistol Trigger Vs KNEKT GPLT
This is the real question – which one would I recommend?
I'm going to compare the $59 US SP Gadgets Section GoPro Pistol Trigger kit to the $99 US KNEKT GPLT trigger.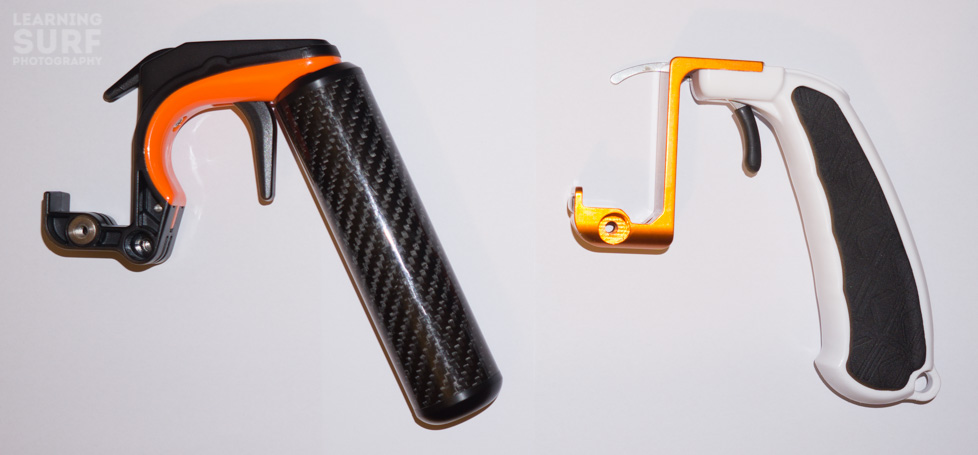 Firstly – if you want to shoot surf photos, you already have a compatible GoPro and you have an absolute maximum of $60 US to spend then buy the SP Gadgets GoPro Pistol Trigger. It's much, much easier than trying to shoot surf photos without a trigger at all.
If you are able to stretch to $99 US then I think the benefits outweigh the extra $40 US.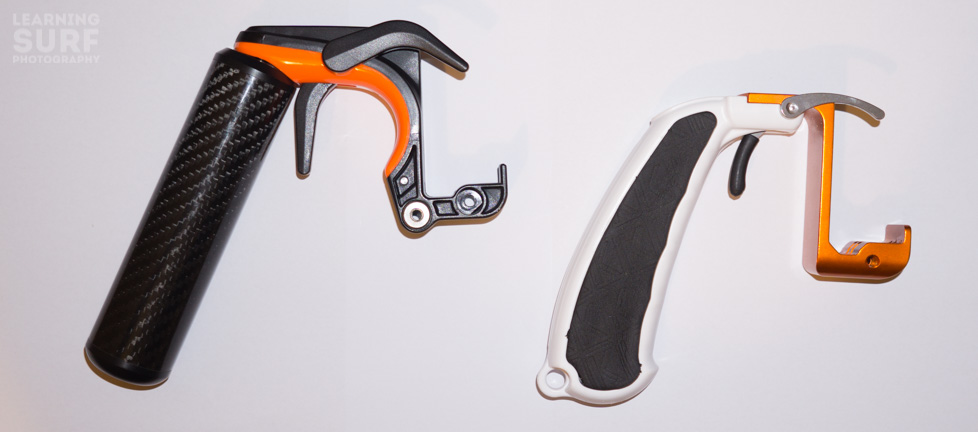 The GPLT feels like it's going to easily outlast the SP Gadgets version, and even if the GPLT goes wrong it's much, much easier to fix.
This is the kind of thing that you will use a lot, if you're like me it will get thrown in your bag, banged into the floor, pushed into sand and rocks, hit by surfboards and constantly put under the stress of having large volumes of water smashing into it.
Personally, having handled both, I'd pay the extra and get something that's going to last and can be fixed yourself with a cheap kit.
If you've got any questions about either the KNEKT GPLT or SP Gadgets Section GoPro Pistol triggers send me an email on ben@learningsurfphotography.com or leave a comment below