I've had a Canon 60D for about 18 months and have really enjoyed using it for surf photography, nearly all the shots you've seen on this site up to this point have been shot using the 60D (with most water shots using the Aquatech CR-60 housing), but a couple of weeks ago I dropped and broke it.
I have pretty good house insurance with accidental damage cover and a new for old replacement policy, so it was pretty straightforward to claim for a new camera body, and as the 60D has been superseded I ended up being sent a Canon 70D (after paying my £200 excess).
The first one I received had a weird issue with the mode dial, so it had to go back, and the second one I got is working fine, I've had it for 4 or 5 days so far and used it for the first time to shoot surf photo's yesterday.
Why The Canon 70D?
Well, I didn't have a choice, but I have posted a couple of times on this particular camera before, when it was announced I said that I'd probably prefer to get a second hand 7D rather than the 70D, but more recently I got excited about the prospect of using the built in WiFi of the 70D to gain full manual control when it's in my housing.
Now I've got it I'm instantly impressed with the faster frame rate for stills, and the auto focus in live view, although not something I use very much for surf photography, is as good as everyone's said, the extra few mega pixels haven't made much difference so far but they might in the future.
Water Housing options for the Canon 70D?
As I've noted in the past the Canon 70D is very similar in size and layout to the 60D, and it uses the same remote trigger release port, so I was hoping to slot it straight into the Aquatech CR-60 housing, as it turns out it's not quite that simple, but it only took me about 15 minutes to get it sorted and working in there (I have now put up a post on the minor modifications you need to do to the housing).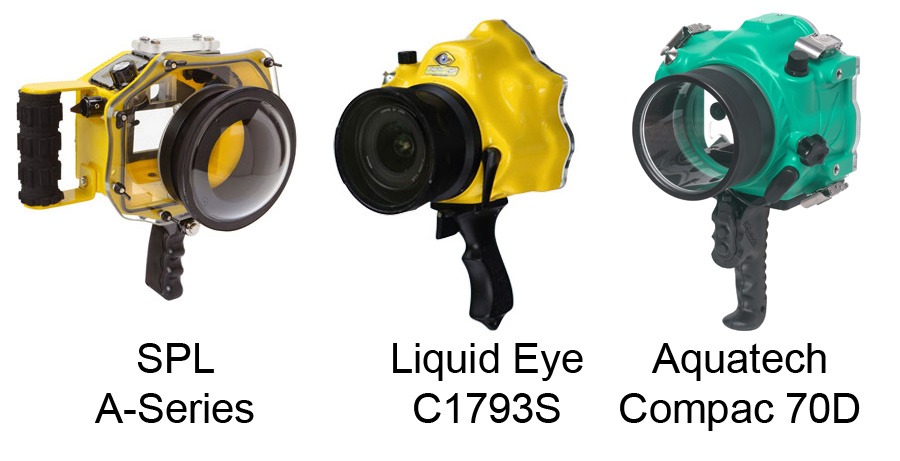 If you want to buy an off the shelf housing for the 70D you're pretty limited right now, the first one I found that's ready to purchase now is from SPL, it's an A-series aluminium housing, you can contact them for prices via their website, there are other more universal housing's like Liquid Eye's C1793 series, which support a wide range of Canon DSLR's so the 70D will no doubt also fit in, although they might need tweaking a bit for the controls.
If you don't mind waiting you can pre-order a Compac / Elite 70D housing from Aquatech for $1,495.00, bear in mind this is not like the basic CR-60 housing I've got, it's got a two button pistol grip included with it (nice idea, to separate focus and shutter release that you might have seen on the Essex Slant X pistol grip too), it has a flash bulkhead, built in zoom control and it uses the four latch system for closure, rather than the bolts I use.
Your other option is to get a custom housing made, but due to the relatively recent release of the 70D you might end up having to send your camera in to have the custom housing made up if they haven't already made one for that camera.
First Impressions
After only shooting surf for one session I've barely scratched the surface of the features of the camera, so these are the things I noticed, mostly compared to shooting with my 60D.
Faster frame rate – at 7 fps it's noticeably faster for shooting sequences compared to my 60D, which is a good bonus, it's still slower than the 7D's 8 fps though.
Touch screen – it's actually really good and I've found myself using it a lot to navigate menus and review photo's.
WiFi – the Canon EOS app is a bit clunky but definitely works, I've been trying to get DSLR controller working wirelessly but it's not as straight forward as the Canon app unfortunately, the good news is that I can change settings (currently only shutter speed, aperture and ISO) with my phone in a waterproof aquapac case when my camera is inside the housing.
Focus Point selection button – there's a new button between the shutter and the top control dial, it's for selecting the focus point and it works really well, selction is intuitive enough that I didn't need to look anything up in the manual to work it out, I actually think it could be one of the better improvements over the 60D for my surf shooting.
View Finder overlay – this is really good, when you're looking through the viewfinder there's a transparent layer that pops up with focus points, electronic level and a bunch of other stuff directly on the image, it's really good for shooting in the water with a longer lens as you don't have to mess about looking at the LCD screen so much.
Mode dial improvements – There's 15 icons on the 60D, and 10 on the 70D, and the new dial spins all the way around, this is how the mode dial should have been on the 60D.
Video/Stills switch – One of the icons that's moved off the mode dial is the video mode, to activate video mode you rotate a dial around the pause/rec button, this does mean the control on my housing doesn't match with the button any more, but also means I should be able to modify it a bit to allow me to activate the video mode from within the housing.
Autofocus in video mode – this works very well, the 60D was not very useful for video inside the housing, as I found out, but the 70D, especially if I can work out how to flip the switch with my housings limited controls, should be a big improvement.
I'll put up more of a review once I've had some proper experience using this camera, the next test will include some video hopefully and I'm sure that I'll be testing out the high ISO performance pretty soon too.
If you have any questions about the 70D and how it performs for surf photography let me know via e-mail or in the comments.
Resources and Links: