This housing has now sold, I currently have an SPL A-Series housing on sale which will work with a 10D, 20D, 30D, 40D, 50D, 60D, and 70D, find out more here:
https://www.learningsurfphotography.com/for-sale-spl-a-series-housing-fits-canon-60d-70d-more/
I had a lot of interest in the housing I put up for sale recently, and after the feedback I got I decided to modify the pistol grip trigger to make it two-stage, so you can now activate the focus and shutter independently with only one hand on the pistol grip.
The design was inspired by the new Aquatech pistol grips which have two buttons, arranged vertically, one which releases the shutter and one which focuses, having used it in the sea it's actually quite intuitive to operate the camera this way, you can hold both buttons or operate them individually as needed.
I used smaller, raised stainless steel buttons mounted in the same pistol grip, so none of the seals were affected by the modification and it remains water tight, I'm convinced it's a great way to achieve back focus type control whilst still only using one hand and giving you the flexibility to shoot really naturally in the water. I've already ordered the parts so I can adapt my other old style pistol grip to work this way too.
having raised buttons makes it easier to locate them without looking and allows you to operate them easily even if you're wearing wetsuit gloves.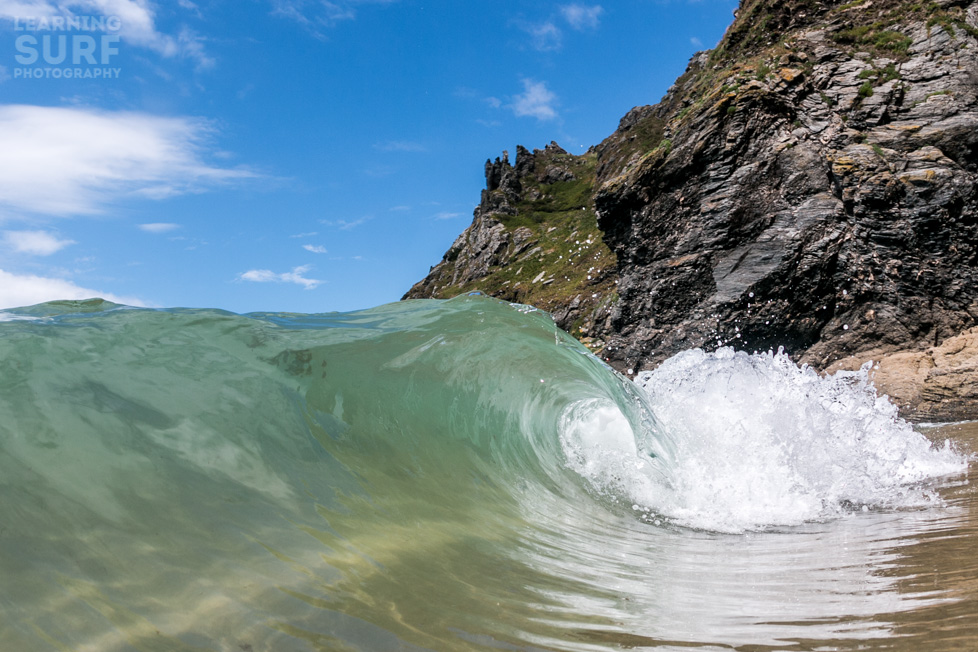 Testing it today confirmed it's all working fine, so it's still up for sale, this time with the updated pistol grip, here are the details again:
I've got too many housings and I'm no longer using some of them, so I'm offering one for sale here, if you'd like to purchase this housing the price is £430 (that's $775 Australian Dollars or $730 US dollars) with free shipping to anywhere in the world (you could also pick it up from me in Plymouth, UK), to request more details or get instructions on payment please e-mail me here: ben@learningsurfphotography.com
The housing was made by AquaLenz (the company that turned into Aquatech), it was originally designed for a large 35mm Canon SLR, I don't know exactly which one but it was probably the EOS 1N HS, it has a dial control on the top right which rotates and pulls in and out a small amount (I don't use this) and a push button on the back which I think would have been for back focus on the original camera (it doesn't line up with any controls on the 70D), there are no other controls on the housing itself, they have been sealed up.
What You Get
The housing itself – a lightweight bright red housing with velcro on the inside if you want to add removable padding
Back Plate – it has a groove in it which the o-ring sits in, secured by 4 latches, like the newer Aquatech housings
Pistol Grip with two buttons, one for shutter, one for focus, can be used simultaneously
Blanking plate for the pistol grip so you can remove it and keep the housing water tight
2 x O-Rings – I've only used the grey one, there's a blue one too
2 x flat ports, one is just under 3cm long, the other is just over 5cm, measured from the bottom of the thread to the inside of the end piece, there's also a spare flat end piece provided
2 x dome ports – they are similar in dimensions, I can fit the 70D with the Canon 15mm fisheye, so any smaller DSLR like the 550D will also fit too as long as the lens isn't bigger than the Canon 15mm fisheye.
High density foam block – this is all I needed to make it a snug fit for my Canon 70D
It's supplied with 4 ports, two flat and two domes, all the dimensions are above so you can figure out if your camera and lens combo will fit, I've used a Canon 550D, 60D and 70D in there and I've put a 5D mark II inside to make sure it fits, but I haven't taken it out in the water (you would need a cheap adapter to convert the 2.5mm jack plug that's wired onto the pistol grip to the correct connector for the 5D or 7D cameras, they cost about £5).
The flat ports will handle all of my prime lenses (28mm f2.8, 40mm f2.8, 50mm f1.8) and the kit zoom for any entry level DSLR, the domes are a perfect fit for the excellent Canon 15mm f2.8 fisheye with my Canon 70D so any fisheye the same length or shorter than that should work well.
The ports screw into a metal threaded mount on the housing, there's an o-ring at the base of the mount and one around the top of the port threads, just like the more modern Aquatech housings, there's a spare o-ring for the ports supplied too.
You can see Jon Frank using the same style of housing in this video clip on Stab Mag: http://stabmag.com/a-return-to-old-fashioned-values-jon-frank-and-noa-deane/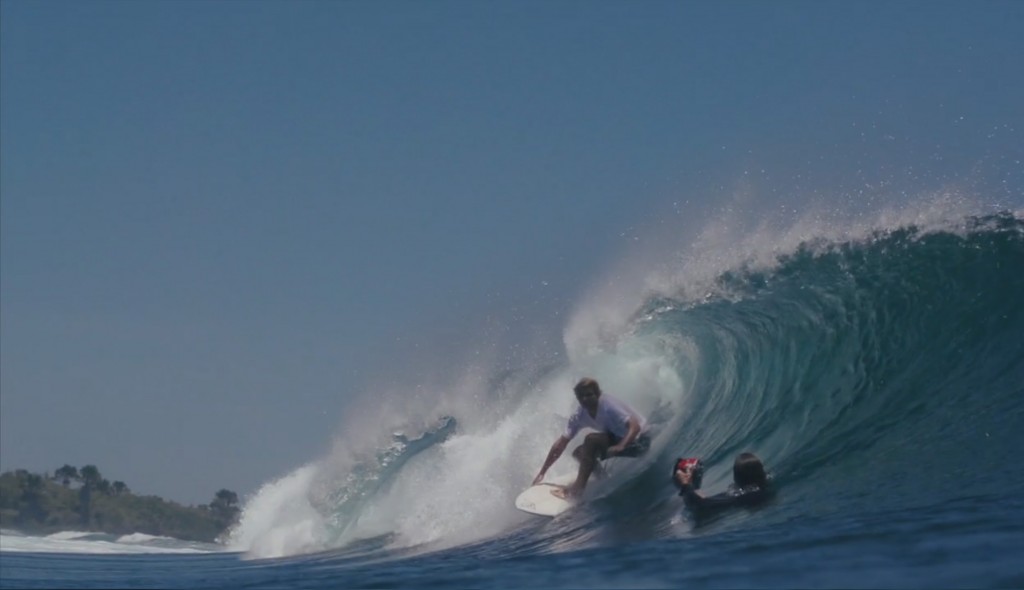 This is a great budget housing for someone who wants to get started in surf photography but doesn't want to spend more than they have on their camera body and lenses, all you need to do is add some suitable padding for your camera body (there's velcro on the inside so you can stick in some foam and remove it easily) and plug it in and you're away.
I'm based in Plymouth in the UK but I can ship it most places in the world, it will be packaged well bubble wrapped and sent by courier, the price is £430 (that's $775 Australian Dollars or $730 US dollars) with free shipping worldwide, if you'd like to have a look at the housing in person, send me an e-mail at ben@learningsurfphotography.com