Summary: More surf photos are taken on phones than cameras. Smart people are taking action.
GoPro and Nikon are struggling, Canon keep releasing mediocre mid range cameras. What are you, the next generation of amateur surf photographers, going to use to create awesome surf images?
Your phone! (once you've got your waterproof iPhone housing of course)
Here's my very unscientific venn diagram of people who take photos of surfing, (it's not to scale, the mobile phone owners circle would have to be 200 times the size of the GoPro circle) and the cameras they use.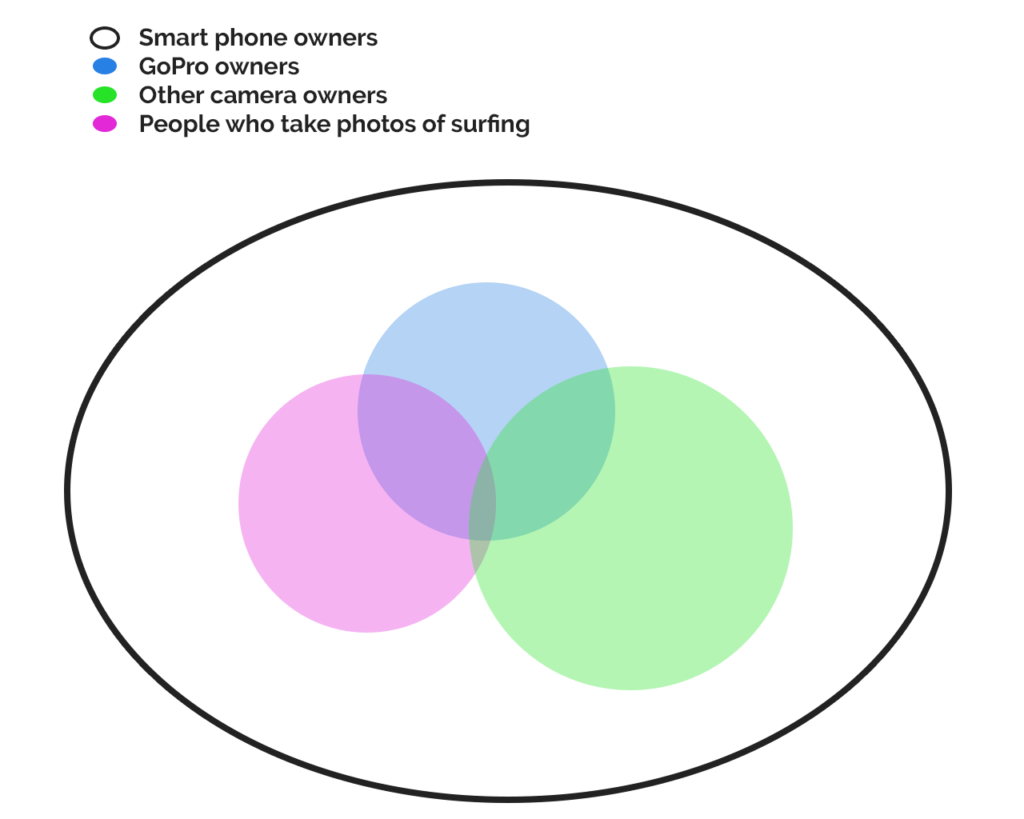 Let's look at how the market divides up:
The current market for surf housing manufacturers is the intersection between the pink and green circles
GoPro accessory makers have most of the blue circle with a focus on the pink overlap
Waterproof iPhone housing makers have the whole pink bit, but struggle with the blue overlap (at the moment)
I've simplified this a lot, here's a scale diagram that featured on PetaPixel comparing smart phone users (yellow) to other camera users (blue/green/red) for reference:

Here are my very, very rough estimates of the figures, sources linked where possible:
Smartphone users: 2.1 billion (of them maybe 15% or 315 million use an iPhone)
GoPro users: 10 million*
Other camera users: 30 million
People who take photos of surfing: total guess by me based on my own observation of people at the beach
*GoPro users is based on 6.6 million GoPro cameras being shipped in 2015 and 5.2 million in 2014. I reckon lots of those were being shipped to people who already had one, and quite a few ended up in multi-camera rigs too. Factor in older models and people who buy second hand and you've got 10 million users.
I also looked at the number of downloads the GoPro app has in the Google Play store (no figures for iOS are available) and it's 10-50 million downloads. I've personally downloaded it onto at least 5 or 6 devices over the years, so I'm happy to assume that there are far more installs of the app than there are users of the cameras.
So it's not surprising that top water housing manufacturers are getting into the waterproof iPhone housing market.
Here's something interesting from Aquatech's Instagram: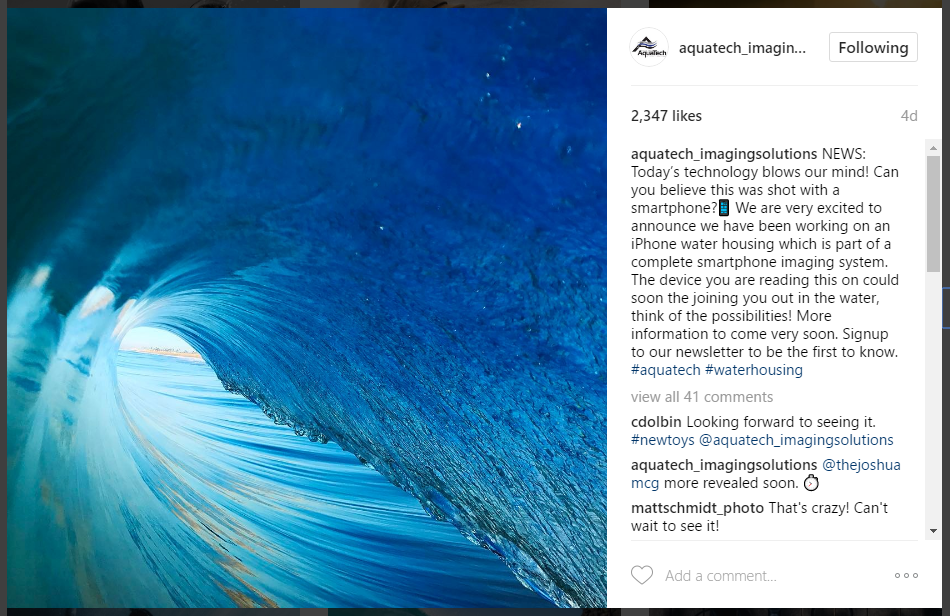 They don't explicitly mention that it's an iPhone 7 plus that took the shot, but I'm willing to bet they're working on a waterproof iPhone housing system.
And here's one of Zak Noyle's recent posts: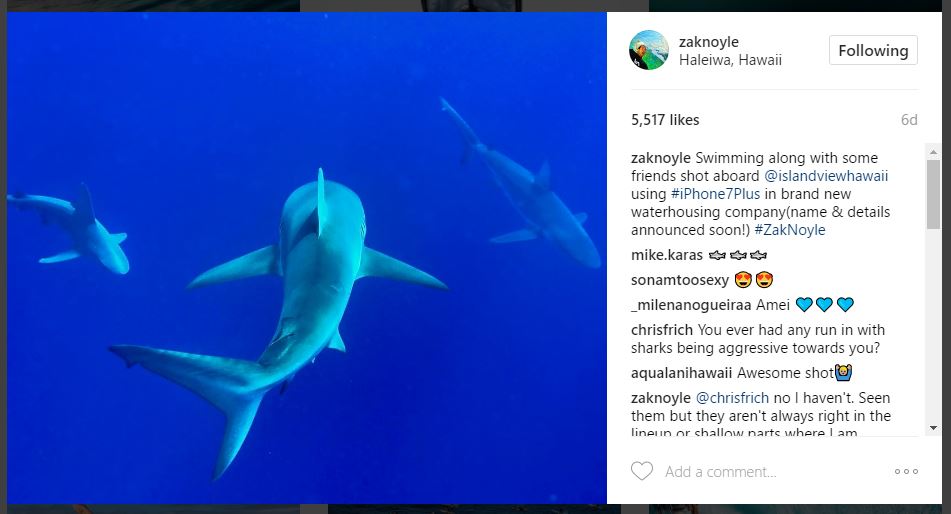 He's definitely using a waterproof iPhone 7 plus case to take that photo, and there's a couple of interesting comments too:
zeemillz Better then watershot bud?

…

zaknoyle @zeemillz night and day better. Tell all to wait. I'll show you it next time I see you or we go sandys sunrise to try them!
Zak was happy enough with the Watershot's performance to sign up for a signature edition, so this new one must be pretty good.
I might be reading too much into an Instagram caption (but so often that's all we get to go on), but when he says "brand new waterhousing company" that suggests it's not Aquatech but someone who hasn't entered the market yet. A commenter even suggests his own "Zak" brand – which might not be too far fetched. Maybe it'll be another collab with RVCA – the surfwear company that's already diversified into skate and art?
Besides the Watershot connection he's also a very public user of SPL water housings for his Canon DSLR's, so it might be a bit strange to see him using an Aquatech phone housing. Then again, surf photographers have been known to change brands, you might have noticed Clark Little using Aquatech gear, notably in his Shorebreak movie, but now he's well set up with CMT housings it seems.
A brand new company would be awesome, more competition in this relatively new area will mean we get great gear that makes taking and publishing surf photos even easier.
What will Aquatech and the mystery company's waterproof iPhone housing look like?
By teasing us on Instagram Aquatech are asking us to speculate on what they're up to, so here's my take on an Aquatech waterproof iPhone housing system: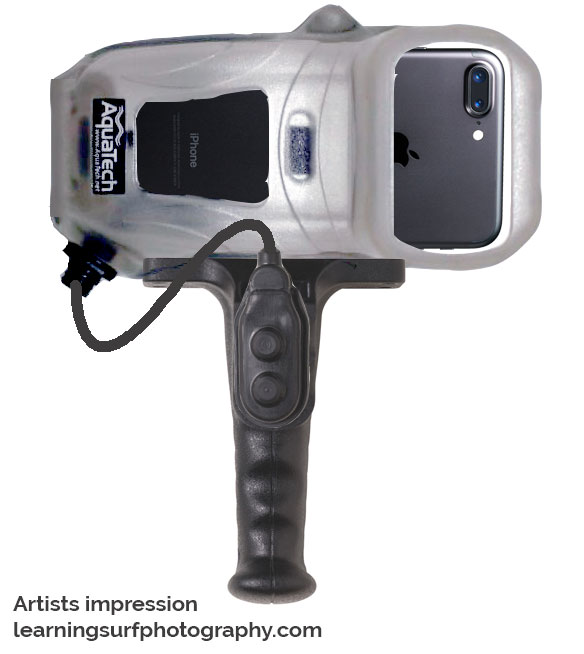 I imagine it will look a lot nicer than this quick Photoshop job. Here are my must have features of a high level smart phone surf water housing system:
It's the obvious advantage over every other option on the market.
Aquatech have all the expertise required to build the first smart phone housing which operates like a surf housing. Extra points for making it compatible with their current pistol grips and switches, that would mean you could use all the other accessories like their pole mount too.
Watershot already have one, which makes it easier to access the camera controls using the 5 or 6 buttons that are available on the housing. This might not come with the first Aquatech release, and no doubt there are other camera apps that would work well in this housing, but if I saw a job listing for an app developer at Aquatech (and Meikon, and KNEKT  and everywhere else that makes housings) I wouldn't be surprised.
The commenters are asking for it already, and Aquatech have a recent track record of making more universal water housing designs. They have their Base system which is compatible with several entry level camera bodies, and their ATB platform for mirrorless cameras has expanded beyond the Sony series into the Fuji system too.
If they built a housing that could work with any smart phone up to the size of an iPhone 7 plus or a Pixel XL then they'll be opening up the product to millions more people. Notice how my design above has a large clear window which allows for a camera located anywhere on the top third of the phone.
By the way, no-one currently makes a decent waterproof housing for my Samsung Galaxy S6, which is a bummer, skip to the bottom to see what I'm doing about it.
Watershot do it already, these days I think you need to make that front facing camera available for selfies in the water.
Interchangeable lenses
I'm not convinced there's an absolute need for interchangeable lenses on a phone water housing. Then again a lot of the current options do offer at least one extra lens, so maybe I'm wrong and it will be essential for all phone housings.
Camera tech in phones is improving constantly. There's quite a lot of innovation going on in phone cameras, think about the evolution of Gopro's over the last 6 years vs the phone cameras, especially just recently. Smart phone manufacturer OPPO have a 5x optical zoom built into their smart phone, it's got a very clever periscope style design.
Apple, LG, Honor and Huawei all have dual lens phones available, giving you different focal lengths and scope for more in phone processing to recreate traditional photographic effects and create brand new ones too.
Of course there's one thing that will allow you to take a completely different type of photo, and that's a new lens, so I wouldn't be surprised to see a swap-able lens system on the Aquatech and the other phone housing, but I wouldn't be gutted if it wasn't there either.
What waterproof iPhone cases are available now?
If you want to get ahead of the crowd and start taking surf photos with your smart phone here are your current options:
Watershot waterproof iPhone housings
The current market leader as far as I can tell. Zak Noyle had a signature housing with Watershot a couple of years ago but I can't find it on their site (the link on the home page goes to a missing page) and they continue to make housings for iPhones up to the latest iPhone 7.
They also offer an over/under dome port for their housings, which is pretty expensive (probably worth getting a GoPro and a dome port for it instead if you really want the over/under style of shot).
There's an update on the product page for the iPhone 7 housings that says it will be shipping in April. iPhone 7+ users will have to wait until May according to their Instagram account.
Right now you can get a good deal on an older version on Amazon.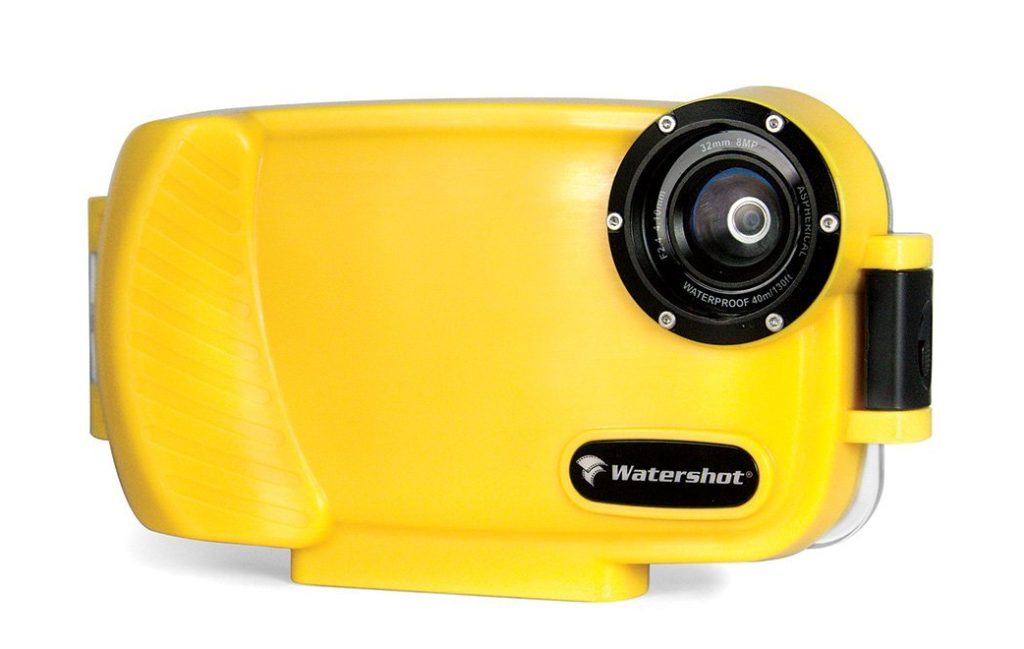 Optrix by Body Glove – a waterproof iPhone case system
The latest housing they offer is for the iPhone 6s, so I don't know if Optrix will be around for much longer. The current generations have some pretty big discounts on Amazon, so that's not a good sign either.
They do offer a good range of screw on lenses for the housing though, and you get full access to the touch screen, so that's pretty cool.
The downside is that it's only rated to 10m (5m for the 5/5S/SE version). That's probably not enough for surfing, although they do claim it can withstand a fall off a jet ski, so maybe it's fine. I hope to test one of these out very soon.
The prices range from $40 for a basic housing up to $90 for a kit including 4 lenses.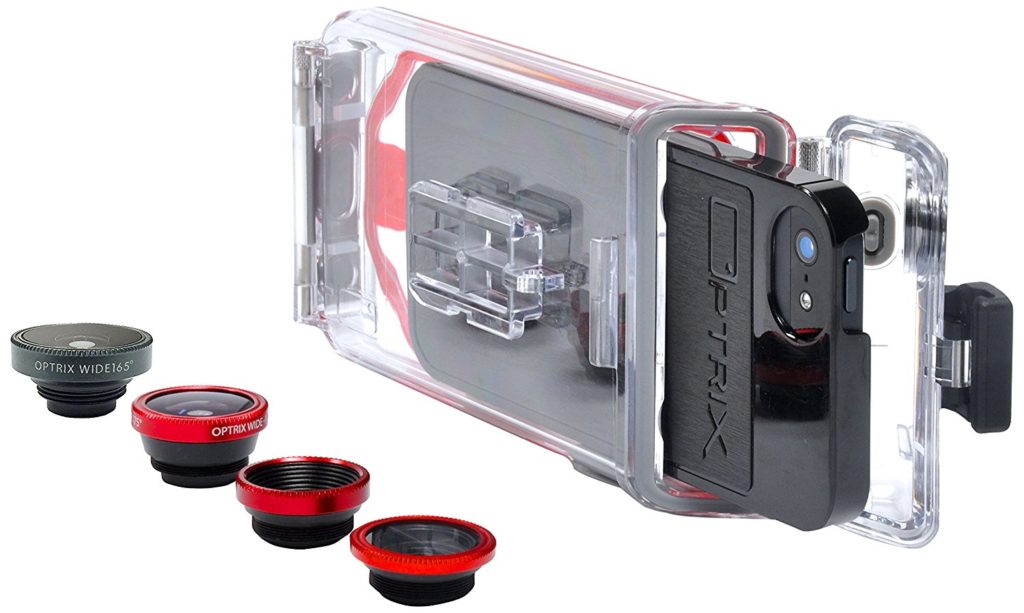 Meikon waterproof iPhone housings
My old favourite budget water housing manufacturer Meikon also offer a series of phone cases.
They look almost identical to the Watershot housings, although they don't appear to have a clear lens for the front facing "selfie" camera. That's a bummer, and it seems like another case of an obvious omission, a bit like the way they frost the plastic on their a6000 cases obscuring the electronic view finder.
They do have a full range of iPhone housings though, including the iPhone 7 plus, and the prices are very reasonable at around $79.
They're rated to 40m, the same as the watershot, and having used a couple of their camera housings I'd happily recommend the Meikon iPhone housing for use in the surf. The main draw back is the lack of a pistol grip or extra lenses, but until Aquatech and Zak Noyle's mystery company release theirs, this is probably the best option for iPhone 7 plus owners.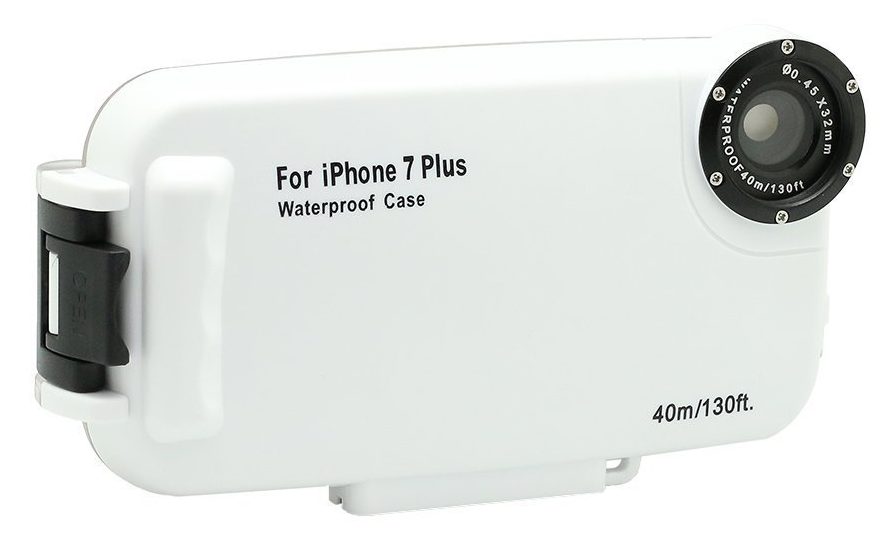 Off brand options
There's a bunch of off-brand generic looking dive housings for various iPhone models. They all cost around $20-$30 and I imagine they'd be OK for messing about in the pool, but I'd fork out the extra $30 or so for a Watershot or Meikon personally.
This one's my favourite because of the terrible photoshopped product photos:
Potential challengers
Who else should produce a waterproof iPhone housing? I think the natural options are Salty Surf Housings and KNEKT.
Salty seem to be able to knock up a housing for any camera in record time thanks to modern design and manufacturing workflow and a desire to stay ahead of the crowd. I reckon they could pop out a waterproof iPhone 7 housing which used their current range of pistol grips in no time!
KNEKT have the experience of working with a mass market hardware manufacturer (GoPro) and building products that perfectly compliment the original design. They also managed to create a pistol grip that is compatible with 5 generations of GoPro camera! I'm not sure that's possible with mobile phones, especially the changing form factor year on year, but I'd love to see them try.
Meikon are going to keep offering solid waterproof iPhone housings at a reasonable price, but without the surf specific bells and whistles that the other manufacturers can offer.
What about Android?
As you know if you've seen my recommended surf photography gear 2017 page, I currently use a Samsung Galaxy S6 phone. It uses the android operating system and it's got a pretty decent camera on it too. It's a couple of years old and I get a lot of use out of it. If there was a waterproof case like any of the options above I'd have bought it already, but there isn't one.
All the manufacturers are kind of giving up on anything but iPhone it seems. I understand why, the iPhone is very popular, especially amongst creative photographer types, and it makes it a whole lot easier than designing for a huge range of other phones at the same time.
The problem is, I really think this trend for taking surf photos on a phone is going to be a big deal. When it's obvious that it's something a lot of people want to do then I'm sure someone will make a waterproof case that will fit most of the decent smart phones, or at least some of the more popular android handsets.
More to come soon
Naturally as soon as I see more on Instagram (where else?) about Aquatech or Zaks mystery waterproof iPhone housing company, I'll post it here.
Until then I want to get started and see what I can do with a phone in the surf, so I've ordered myself a second hand iPhone 5S, a watershot housing and an Optrix Pro kit. The whole lot came to less than $140, one of the better value experiments in surf photography I've embarked upon.
Hopefully I'll have it all in hand by the weekend and there'll be a little wave for me to try the stuff out in.
Do you take surf photos with your phone? Do you think it'll never catch on? Have I missed something obvious on my artists impression? Is there an obvious error in my venn diagram?
Let me know in the comments below or email me at ben@learningsurfphotography.com