Chris Burkard is a name you will be familiar with if you've spent any time looking into surf photography gear on line, and this is the latest video featuring his work, it's for Smug Mug and it features Chris and several pro surfers exploring Norway and documenting it as they go.
It's filmed and edited by Anton Lorimer.
Once you've watched the video above check out this interview with Chris Burkard about the video on DPReview too.
It's gotten coverage from all the main photography and surf sites so I'm sure you've seen it already, but being a photo/gear nerd I'm not satisfied with the tidbits of information about the surf photography gear used to shoot the video.
So I did a bit more digging and came up with this video:
Travel Essentials with Chris Burkard from Chris Burkard on Vimeo.
Where all the surf photography gear, and other kit he usually takes away is listed and shown off for the camera.
If you're keeping an eye out like I am you'll have noticed that Chris Burkard recently became a Sony Global Imaging Ambassador, so it's no surprise to see a whole bunch of Sony kit being used. Using both video's and the information on Sony's website here's a list of what surf photography related gear was used in the Arctic surf trip video.
What surf photography gear was used?
Renault Traffic Van – it looks like it's struggling a little bit on the ice at one point, but it looks like a sensible vehicle
Sony 70-400mm f2.8 SSM II lens – everyone should have a 70-200mm in their bag, I've got the cheap but great quality Canon 70-200 F4 L lens and I'm really happy with it, but a 70-400 gives you a pretty massive reach
Axxe 5mm hooded wetsuit – a custom wetsuit from Japanese manufacturer Axxe, with single lined panels front and back for better wind chill resistance
Rip Curl 5mm Flash Bomb 3 finger mitts – the lobster claw design really helps when you're trying to fire the trigger of a pistol grip and gloves are very necessary in Norway, but I try and avoid using gloves whenever possible myself
Da Fin swim fins – I've got a pair of these, I like them OK but I prefer the lighter Kicks swim fins which are also made by Da Fin
A Bodyboard – for sitting on when shooting in the water
Induro Tripod – he says it's ultra light so I guess it's the carbon fibre Induro CT-214 model, I could be wrong though
Really Right Stuff tripod head – I'm pretty sure it's the BH-30 ball head
Blower kit – Like the rocket blower I have, this really is indispensable for any photographer
NEX Housing – he says in his video that he uses a cheap housing from an unknown Asian manufacturer, it looks very much like a re-branded Meikon housing, they're designed for dive photography but he says that it's very good for shooting surf with a 50mm
EWA Marine bag style housing – he uses it in the shorebreak in small waves or when wanting to get photo's from rivers or near waterfalls, I've used the similar but less durable AquaPac DSLR case and got some good results
Sony A99 DSLR – the main workhorse camera body
Sony A77 DSLR – I guess this is a backup for the A99
Sony A7 – a popular mirrorless camera with a full frame image sensor
Zeiss 24-70 for the A7 – an all round lens for landscape shots
Zeiss 55mm f1.8 for the A7 – a faster, fixed lens for portraits
Nikon AW-1 – this is the camera you can see on the front of the car when he's suiting up and it's the one he's shooting with when on the bodyboard in the line-up, I wrote about this camera when it was announced and I'd love to try it out but there are still none available second hand in the UK unfortunately
CF-N6000 Silicone Jacket for Nikon AW-1 – for a bit of extra protection
So now you know, having the same surf photography gear is not going to magically enable you make the same quality photo's, but at least you now have an idea what it takes for a professional to make sure he gets the top quality results every time, even in the most demanding conditions.
Here's a photo I took in December in the UK, I was in a 4mm hooded suit with wetsuit socks but no gloves, the water was probably about 10 degrees Celsius (50 degrees Fahrenheit), so not actually that cold, but I certainly didn't feel warm after a couple of hours surfing and shooting.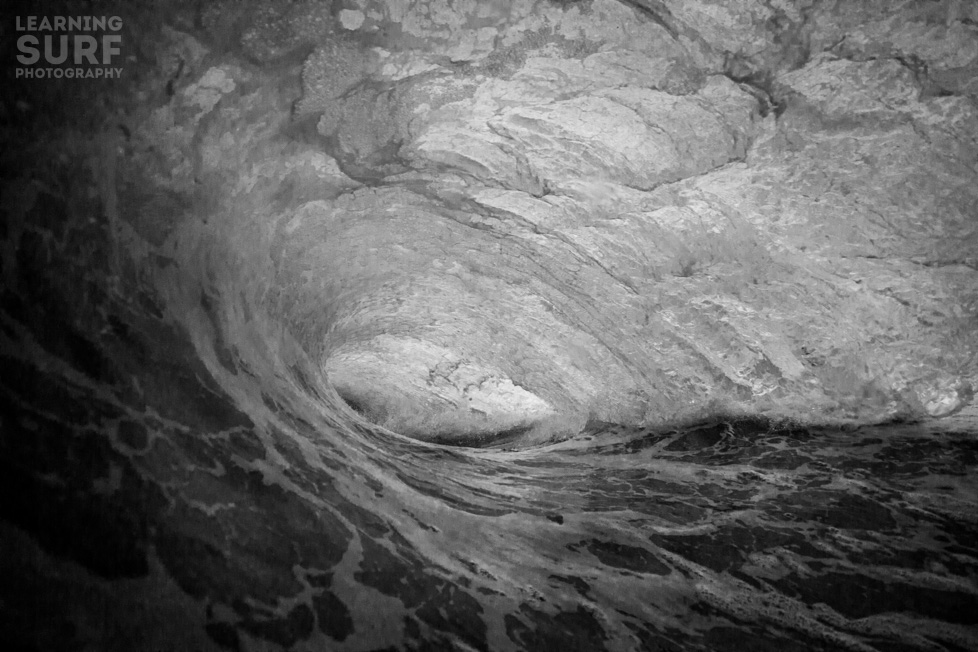 Cold (kind of) water closeout – ISO 400, 10mm, f4.5, 1/2000