I stumbled upon this video by Erick Mendonça in the list of related videos when answering a comment on my own video about the SPL GoPro Dome housing and pistol grip, it's in Portuguese (but even I understood the apology for poor audio at the start) and it's 17.5 minutes long, so you might want to skip to the highlights below.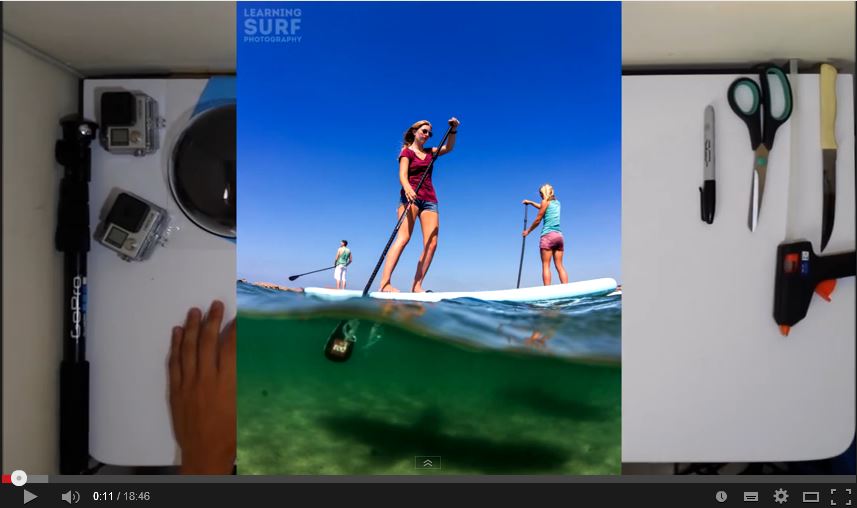 Usually I would just post the video but I did notice one of my own photo's appearing at the start of the video as an example (it was taken with a Canon 70D and a Tokina 10-17mm fisheye in an Aquatech housing with 8″ dome port, read more about it here), and the majority of my readers don't speak Portuguese, so just in case anyone sees my watermark and finds this site I thought I'd go into some detail about his process for you.
If you'd like to read an alternative guide to making your own DIY GoPro Dome Port check out Ian Matsko's detailed how-to here: Ian Matsko's DIY GoPro Dome Port
Here's the video:
And here's a translation of the parts needed:
1 x party balloon
2 x plastic plates
1 x Acrylic dome
Hot glue gun
And the process step by step:
Glue the plates together (for extra strength I guess),
Cut a hole in them for the front element of the GoPro Hero 3+ or 4 housing
Use the neck of the balloon as a rubber band to hold the camera in place
Glue the dome onto the plates
Use the top part of the balloon to go around the the whole back section of the dome with the housing in place and create a water tight seal
I would really like to see how well this stands up to use in the sea, there's obviously no way to then attach the housing to any kind of pistol grip or pole, and you have to activate the camera through the rubber balloon, so holding it securely, keeping it level and operating the top button could be a challenge.
All in all though it's a very cheap way to get a GoPro in a dome housing, and the balloon idea is ingenious, I expect it would leak pretty quickly in waves of any size but at least your GoPro is in it's housing inside there so it shouldn't flood the camera.
The main worry I would have is the whole dome filling up and the thing sinking, so I'd probably go for a red or orange balloon if you can get one just in case.
If you've tried this or any other DIY GoPro design let me know in the comments, I'd be interested to hear about it.