It can be hard to track down a good value second hand water housing for surf, and one place I've managed to buy a couple of my housings has been eBay, I go into detail about the what to look for and where to find them in my post buying a second hand water housing.
Right now there seem to be a few housings that are available, these are all in Europe, they might ship internationally but US and Australian buyers should check out their respective eBay sites, you never know what you'll find.
Disclaimer: I don't personally know any of the sellers and I haven't seen any of these housings in person, so these are just my views, as always with eBay make sure you're happy with the seller and item before bidding.
Price: £470 (+£50 shipping to the UK) – or best offer.
This one's for an older Canon DSLR, the 50D is a bit old now, you can pick up a used one for £200-£300, but this housing would easily accommodate any other Canon DSLR, so you could use it with a 60D, 70D or any of the Rebel series.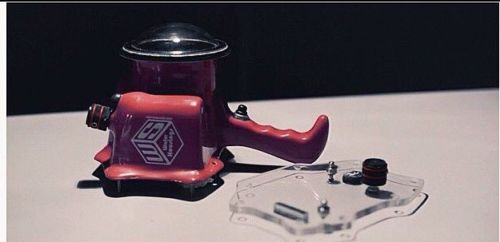 You'd need to get an adapter cable for the pistol grip release, you can find them for around £5 on amazon:
DSLRKIT Shutter Remote Terminal Convert Adapter Cable N3F-E3M
Wave solutions housings look pretty good, this one looks like it's got controls for the top and rear dials and a couple of push buttons, so plenty to get you into surf photography.
The listing is very low on details, and it says  that it "needs some maintenance", whether that's a quick going over with some silicone grease, or something a lot more serious is not clear, so if I was going to make an offer I'd contact the seller and get some more details first.
One downside is the lack of an interchangeable port system, it's got a fixed dome port which is great if you want to shoot fisheye or wide angle only, but it's a pain to shoot with a prime like a 50 or 24mm as a flat port would be much better in my experience.
You would also want to find out which lens it's designed for, I suspect it will be the Tokina 10-17mm fisheye as this is one of the most popular fisheye lenses for surf photographers using the Canon 50D, other fisheye's might not work well as it's got quite an extended dome.
Price: £700 or best offer
CMT make very lightweight carbon fibre housings, I've never handled one but they have a good reputation for quality.
This one's for a Canon 5D mark II, it's been superseded by the mark III and Canon recently announced the next generation, the Mark IV, but although it's not a brand new camera body many professionals still use it and it gets great results, the listing states that the Mark III fits inside the housing too.
This one's only got a flat port, I would prefer this to only having a dome port, it's not clear whether you can get extra ports for the housing or whether it's permanently attached, from the photo it very much looks like it's not removable, but it says it's supplied with a flat port, and the 5D Mark II housing on the CMT website (not been updated in a long time) has interchangeable ports, so I'd recommend asking the seller if you plan on making an offer.
A flat port like this will let you use a variety of prime lenses and some smaller zooms, so it's more versatile than just having a dome port.
You could adapt this housing, but I wouldn't bother, the 5D Mark II is a great camera and if you use it already this is a great chance to get a decent housing for it, you can find cheaper options if you plan to adapt for a more entry level camera body.
Price: £1,350 or best offer
I really like the look of Liquid Eye housings, a lot of thought goes into the design and it shows in the price of this used set-up, it's got pretty much everything you need to take all sorts of surf photos, and I'm sure Philippe at Liquid Eye could make up anything else you needed too.
The Large dome port is ideal for over/under style shots, and you can definitely use it for regular above water fisheye shots too.
A flat port is great for a wide range of lenses as I've mentioned, so you're getting the best of both worls with this gear, the housing itself looks like it's in perfect condition and has a similar slide in tray and allen bolt closure to my Aquatech CR-60.
Like most Liquid Eye housings they also make it possible to use other camera bodies in the same housing with a new back plate and tray:
The C1795 is also able to be used with other accessories like dedicated video double side handle grip, pole shutter release and can be used with other Canon bodies such as the 5DMk2 or Mk3 as well the 60D or 70D with corresponding camera plate and acrylic back plate
So if you're shooting with a 7D and you want a pretty much comprehensive surf photography package I'd stick an offer in, you can always grab a new back plate and tray if you upgrade to another body in the future.
Already Got A Housing?
Then check out how to use it in these water housing lesson posts.