In this two part post on iso1200.com photographer Pete Webb talks about the gear and techniques involved with shooting remote flash in the water, this isn't specifically surf related, but it's easily transferable to surf situations too.
Part 1: http://www.iso1200.com/2012/02/strobist-in-water-with-powerwizard-and.html
Part 2: http://www.iso1200.com/2012/02/wet-strobist-with-sport-photographer.html
4º Sea Swimmers from Pete Webb on Vimeo.
That video shows the end results, but what's most interesting for us as surf photographers is the techniques and gear used to get the shots.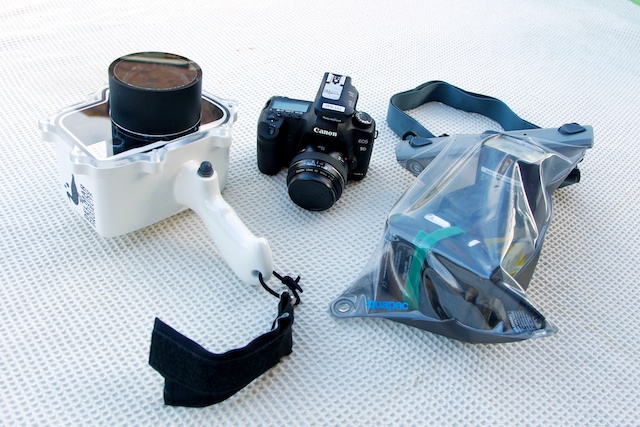 This set-up includes a custom Del Mar water housing for a Canon 5D mark II, with some extra space at the top for a Pocket Wizard transmitter, the flash and receiver are put in an Aquapac (as I suggest in my post on my wireless flash set-up) and then held by another swimmer to get the light in the right place.
This video shows Erik Hjermstad at Del Mar showing off the housing before it was shipped out:
The most interesting part of the housing for me is the side port, allowing the photographer to connect a USB cable and flash sync cord through a special plate so he can shoot tethered (where the camera is attached to a laptop and photographs pop up straight away for review) or control other above water strobes whilst the camera is in the water, I can't think of a good use for this port when shooting surf but it's an interesting idea for sure.
You should have a read of the full articles if you haven't already for some tips on the technique, it's sure to give you some ideas for your flash surf photography.
Here's one of my shots using my own water housing flash set-up, it's very much a budget option compared to a custom housing, full frame camera, Canon speed lite and pocket wizard transceivers, but it produces some nice results for minimum outlay.
I haven't forgotten about the how-to post on this subject, I'm just waiting to get some action shots using it before putting it up here, I'm not sure when conditions will cooperate but when they do it'll be up here.
If this is interesting to you check out my posts on flash photography which explain the way I built a similar set-up using my Aquatech CR-60 housing, Canon 60D and some cheap Yongnuo flash triggers.