Summary: A snapshot of a lineup and a discussion of how I would approach this situation to get the best surf photo
I wrote a post last year which featured my favourite surf photo from each month of 2016. This year I'm going to spread it out a bit and write one post for each month.
February was a little harder to choose than January, I had three photos on my shortlist.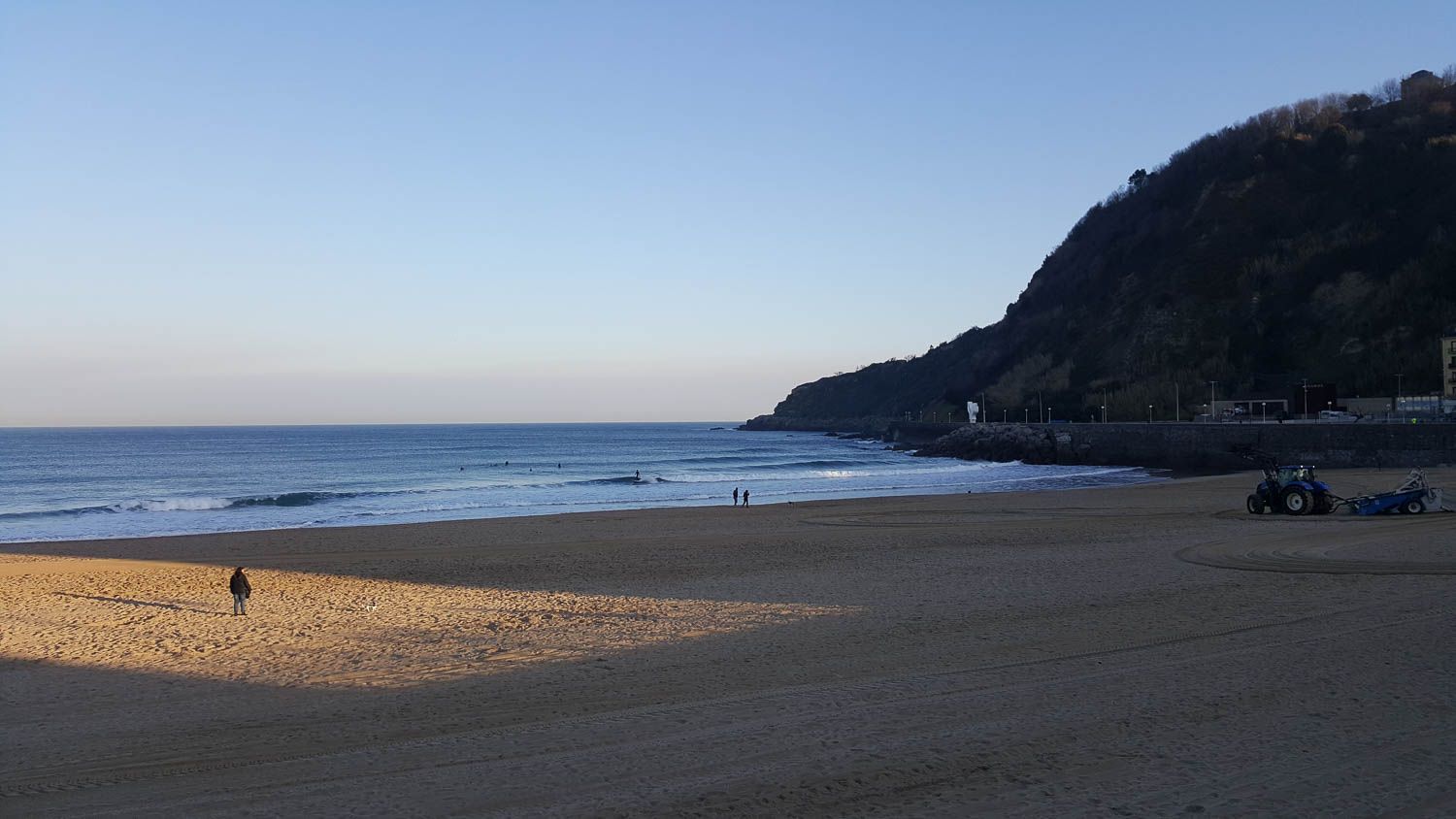 Samsung Galaxy S6, aperture: f1.9, shutter speed: 1/712, focal length: 4.3 mm ISO40
This is not the best surf photo I took in February, but it's my favourite. It represents a trip to the Basque country with a bunch of friends.
This was taken at 8:56am on the promenade in front of Zurriola beach in San Sebastian. I was on my way to the petrol station to buy some pastries for breakfast.
I don't think we surfed this day, we walked up to the top of the hill between the two beaches in the town and chilled out before heading off that night to a local Cideria. If you're in San Sebastian you should definitely check one of these places out – you get to try dozens of different local ciders and eat a nice meal in a great atmosphere.
Why did you take this photo
This photo was to show the rest of the people with me what the surf looked like. I waited for an average set and until someone was surfing a wave.
I didn't think about the composition beyond trying to get it level and getting the lineup into the middle of the photo.
To make this post useful for surf photographers I'll describe what I would have done if I wanted to take a good shot of the surf this morning:
Assessed the conditions: It's glassy, small and cloudless, perfect for a pulled back shot that includes the unique environment of a city beach.
Get up a bit earlier – the sun is rising and just starting to hit the lineup, it would be good to have been in the water 30 or 40 minutes before this point
Watched out for a good surfer. The bigger sets were rideable on a shortboard or fish so I'd be looking for anyone who might be going to put in a turn, or even a throw-away air, something that looked impressive from the back
Watched out for a stylish surfer. If there were any longboarders doing a nose ride or cross stepping or something like that it could make a decent photo
Say hello to anyone who looked friendly or interested in the camera, I'd have said good morning in the native language, my accent would have given away the fact that I'm not a native speaker, so communication could be done via very basic Spanish, sign language or English if they wanted
Use a normal length lens – my current normal lens of choice is the Sony 35mm f1.8, but the Sigma 30mm f2.8 would have done the job too
Set my camera to aperture priority, auto ISO, with aperture set to f8. If that gave me a shutter speed of 1/500 or faster with an ISO of 800 or less, I'd go to f11, this is to try and make sure the surfer and city are both in focus
Swam out beyond the surfers to get the angle looking back at the city as the sun rose, if I've identified a reasonable surfer who could get the fins out I'd be hovering around outside them. Usually if there's a half decent longboarder they will be the farthest out, so I can get a shot of them taking off (often they'll do a fin-first takeoff or a paddle-left-go-right drop knee turn or something interesting)
Play with the composition of the surfer in the foreground and city behind
Look for buildings and natural features that could frame the surfing action
Once I've got the sunrise city background with surfer in the foreground shot I'd move around and try and get some more shots of different interesting angles
Once I'd got 4 or 5 nice photos (maybe 30-60 minutes, depending on my luck) I'd have stopped shooting and gone for a surf, unless any of my mates had wanted to get some shots of themselves – then I'd take photos for the whole session instead
If I was sick of swimming (it wasn't that warm) I'd have tried to get a land angle with the tractor in it, if the tractor had gone I'd have walked out to that breakwater on the right and shot back towards the city as best I could
That's all hypothetical, because I went back to the AirBnB, put the pastries in the kitchen and got straight back into bed to sleep off my hangover.
Coming soon – my favourite surf photo from March, I'll make sure it's an action shot this time.