I've just backed my second Kickstarter project*, it's for the Pebble Core – a tiny android based computer with two buttons and a headphone port.
Pebble Core key features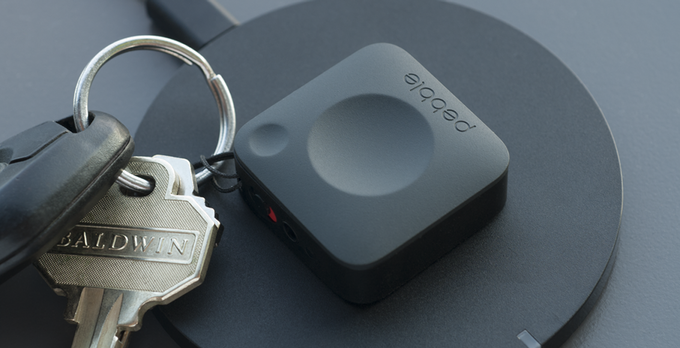 Pebble are known for making smart watches, and this is definitely a similar sort of device, but the lack of a screen mean the price is much lower and the battery will last much longer.
It's described by Pebble as
"a keychain computer that becomes your magic button for anything!"
Here are the main specs:
Android 5.0 operating system
Microphone
2 buttons
Headphone jack
3G
WiFi
Bluetooth
The two main reasons I'm excited are the Android OS and the wireless connection options.
It's tiny, so you could easily build or adapt a GoPro style waterproof case for it, and once you've got it
How will it be useful for surf photographers?
This is a site about surf photography, and the benefits might not be immediately obvious so here are a few scenarios I can imagine using the Pebble core for in the future:
Tracking GPS location when shooting – like I mentioned in the post about the Olympus TG-Tracker camera, GPS location is useful for photographers so they can automatically tag their photos with the exact spot they took them in.
Controlling a camera in a water housing – a simple waterproof housing for the Pebble Core will be cheap and offer access to the two buttons. Because it runs Android there will be an app that allows you to connect to your camera and control it via the buttons on the core.
This could be a simple wireless shutter release or it could be something more advanced that works a bit like this;
button one – cycle through settings e.g. shutter speed, aperture, ISO, exposure compensation, focus point, focus mode, etc.
button two short press – increase setting by one increment e.g. add third of a stop of exposure compensation
button two long press – decrease setting by one increment
You can tell which setting it active by looking at the camera LCD or viewfinder display. Using this simple process you could control all the popular settings for surf photography with a cheap button that clips onto your housing.
Here's another example which is a little more advanced but gives you an idea about how I imagine this could be used:
Pin a point on a map and get the pebble to control the zoom of a powerzoom lens (like my Sony 18-105mm f4) depending on how far away it is from that point, so you don't have to worry about the zoom, you just click to shoot.
That would be more useful for a remote camera, a kind of DIY solo shot system.
Live updates from the channel – Zak Noyle does a bit of this already using a phone in a waterproof case
As it's got a 3G connection you could set it up to publish any shot taken on your camera straight to the web, you could even set it up to have a long press make it send the last photo taken, rather than sending all of it.
So your buddy on the beach can see the photos straight away and publish the highlights, without any extra input from you.
SOS – there's already a feature built in for runners to have it send an SOS message via its 3G connection.
this could be useful for surf photographers at remote locations or even in crowded places like the North Shore, even if they're not the one in trouble they're often going to be one of the first groups of people to see if an emergency situation is happening and alerting the lifeguards or authorioties quickly could be really useful.
When is the Pebble Core available?
Some Kickstarters don't ever get delivered, so I'm pretty cautious about time scales for delivery, but Pebble have a good track record so I'm hopeful they'll make good on the January 2017 delivery target.
*What was my first kickstarter? This is nowhere, an awesome book by Jeremy Koreski, I love it.