There's a couple of my photo's on the Magicseaweed home page today, taken at Putsborough in North Devon, I'd only surfed there once before and it was pretty average, so it was a nice surprise to find some decent waves down there on Sunday.
Check them out:
http://magicseaweed.com/photoLab/viewPhoto.php?photoId=304518&browseSession=8d1503dc8a10c4239612500e786a6cc1&ourPick
This one is from the beach, shot with my Canon 60D and the Canon 70-200mm lens, ISO 100, f5.6, 1/1000, I like the people in the foreground, I cropped it a bit because there was a guy half way off the left edge of the frame, snapped it after a brief fly with my new quadcopter (see the post in the near future), it was too windy to risk taking it out over the sea but I'll definitely be flying it over the line-up soon.
Here's another version in which I've cloned out the head on the far right and the person in between the guy with the red suit and the blue board, they're distracting and the other three people lead your eye into the frame more, generally people say that odd numbers of objects work well, especially groups of three, so that's a bonus.
I've mirrored it too because (in the western world anyway) your eye would naturally look from left to right, this should mean your eye tracks across the image from the bottom left where there's a person wearing red, onto the bloke with the blue board, then the guy half way out and around onto the main subject, the wave, if I was any good at photoshop I might try swapping out the sky for something more interesting too.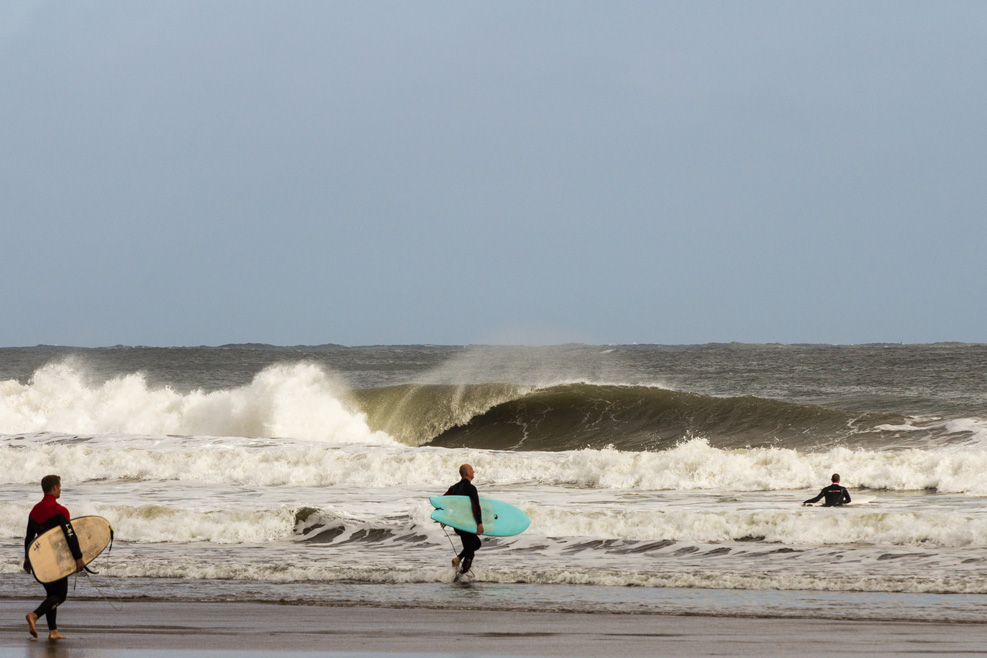 The other shot is from the GoPro HD Hero3+ Black Edition, halfway through my session I hung around on the inside when the sun came out for a few minutes and shot some stills to help with my review, this was the best wave that came through.
http://magicseaweed.com/photoLab/viewPhoto.php?photoId=304519&browseSession=8d1503dc8a10c4239612500e786a6cc1&ourPick
I will be bringing you more examples of shots soon, I think the blog could do with more actual photographs since that's what it is about, so keep an eye out for more galleries which will have some more tips on learning surf photography.