Summary: If you need the flexibility of 70-200mm in the water, or you shoot with an A7 or A9 series, the Sony 70-200 f4 G OSS is your best option, otherwise, get the 55-210mm
I've wanted to try the Sony 70-200 f4 G OSS lens out since it was announced. It's very similar to the Canon 70-200 f4 L lens that I really loved using with my Canon DSLR cameras.
Recently I decided to bite the bullet and get one so I could see if it would allow me to take better surf photos than my Sony 55-210mm telephoto zoom.
I discovered that, although it's a fantastic lens, and has some clear advantages over the 55-210mm, it's not the best choice for my surf photography.
Watch the full video here:
Sony 70-200 f4 G OSS lens
The lens is part of the G series – which is a bit like Canon's L series – if it's a G lens it's generally pretty great, although there is now the G Master series too to designate the very top end too.
It has some buttons on the side, here's what they do and where to set them for surf photography:
Auto or manual focus: I had it set to AF for auto focus for all my surf photography
Focus range: Set it to infinity-3m, unless you're shooting in the water and you're getting really, really close
Optical Steady Shot (OSS): Leave it on unless you're shooting from a tripod
OSS mode: Leave it on mode 1 (stabilises side to side and up and down), unless you're shooting panning shots on a tripod
Three focus lock buttons: These buttons lock the focus when you hold one of them down, really useful if there are things in the foreground and you're shooting from the beach
Image Quality
The image quality is great on my surf photos, better than the 55-210mm and the 18-200mm, but I'm happy with the image quality on all three.
I can print out A4 size prints at home and at that size, the image quality is so similar that I can't tell the difference.
Here are some examples of surf photos taken on the Sony 70-200 f4 G OSS lens: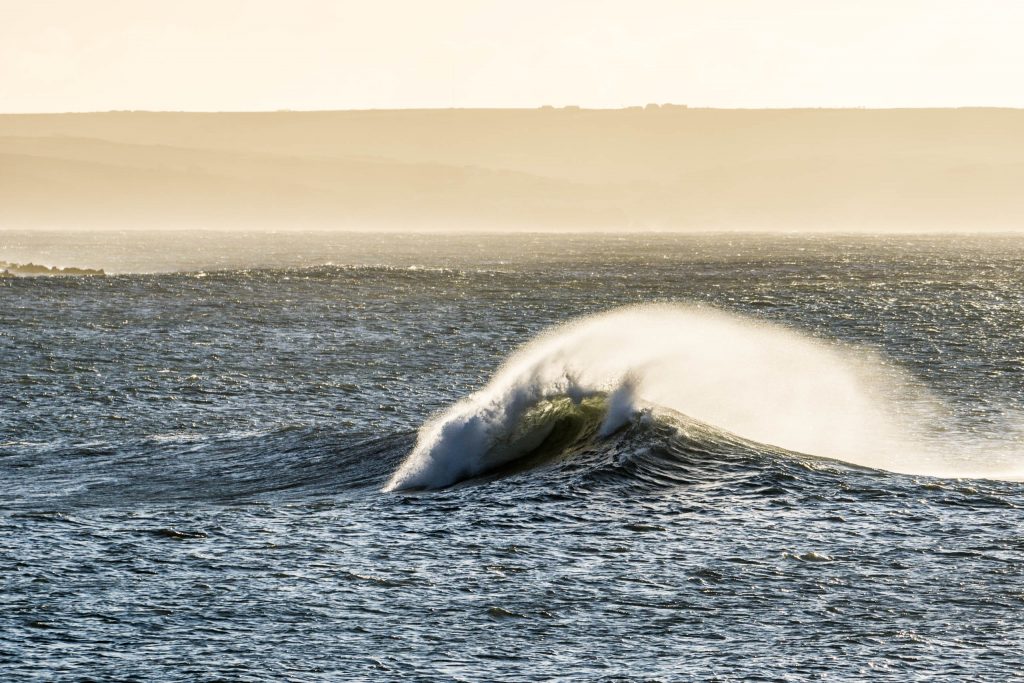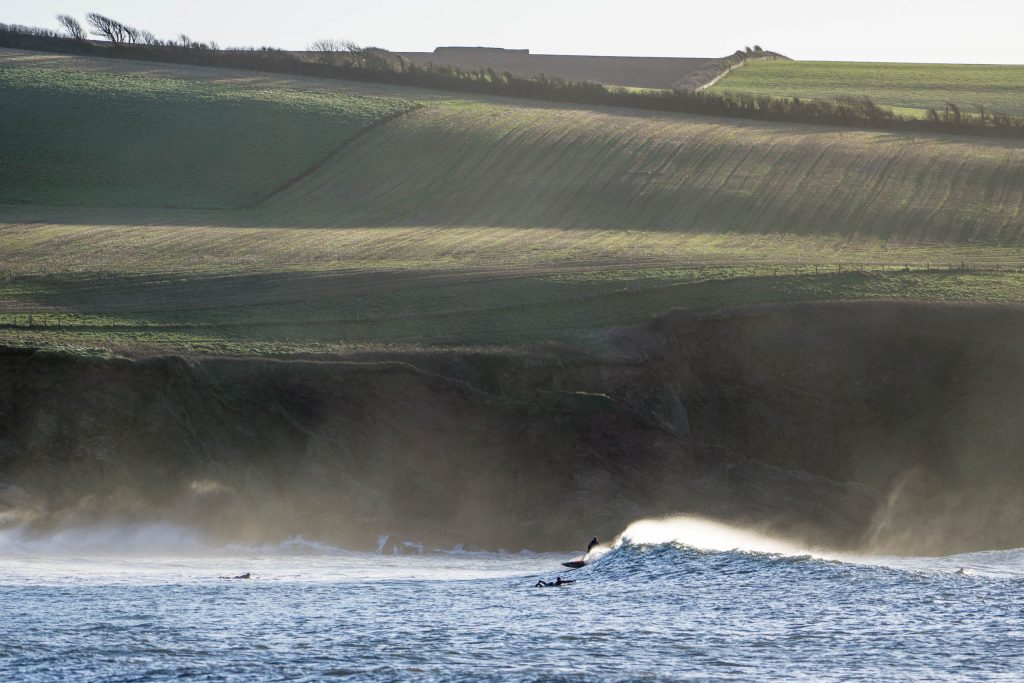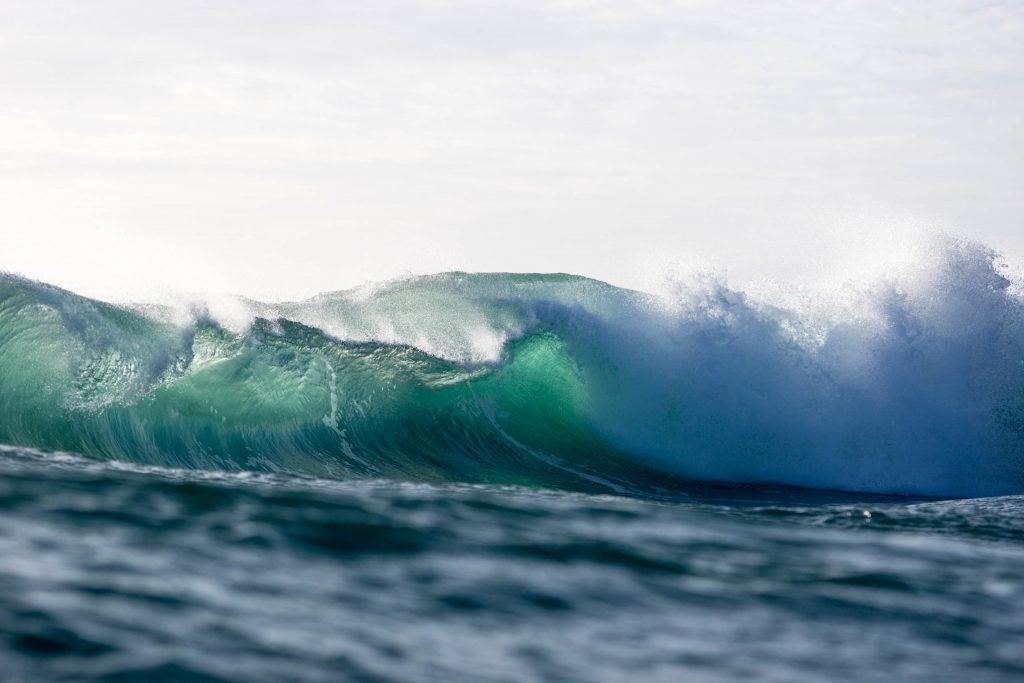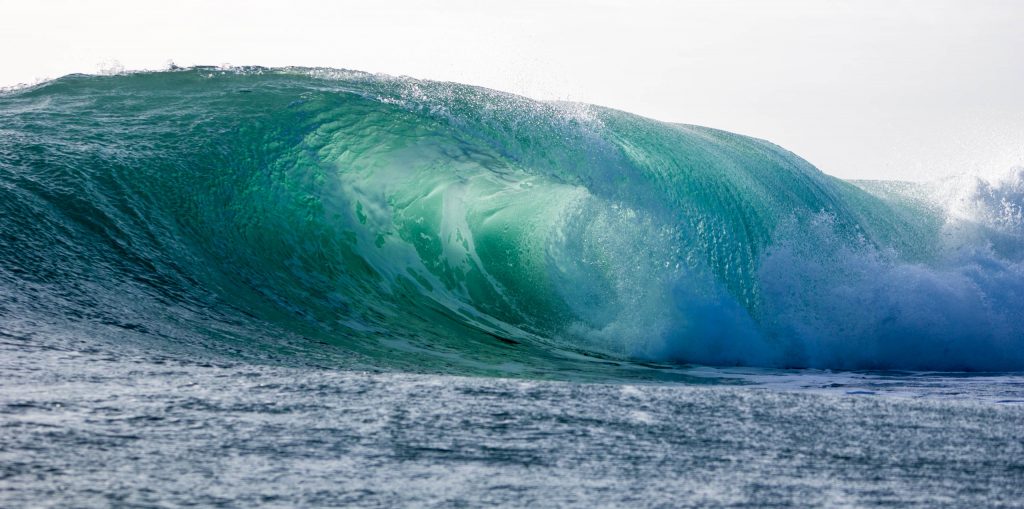 Full frame vs APSC sensor size for surf photography
The main disadvantage of the Sony 70-200 f4 G OSS lens for me is the size and weight. The Sony 70-200 f4 G OSS lens is bigger than the Sony 55-210mm because it's designed for a full frame sensor, rather thanan APSC sensor.
I use a Sony a6000 camera body at the moment, but I might upgrade to the a6300 or the a6500 in 2018 for the 4K video. The sensor size of all three of these cameras is APSC, it's smaller than the old 35mm film size. A 'full frame' camera body has a sensor that's the same size as the old 35mm film, which was the most popular format for cameras for a long time before Digital Single Lens Reflex (DSLR) and mirrorless cameras became popular.
I have no plans to move to full frame for the foreseeable future. There are no advantages to the larger sensor for the type of photos that I take. APSC cameras are relatively smaller, faster and cheaper than full frame cameras, and the lenses that are designed for them are usually smaller too.
The one area where a lens designed for APSC is not much smaller than a full frame lens is in long focal lengths. Once you get over 200mm or so the lenses start to become much bigger in general anyway, especially when you want a constant aperture and an internal zoom, which is the standard for high end telephoto zoom lenses.
If I want to buy a lens that's longer than 210mm, I need to buy one that's designed for a full frame sensor size. If I'm happy to stick to 210mm (with the option of adding the Olympus TCON17X for some extra reach), then I get a much smaller, cheaper, lighter lens with a bigger range of focal lengths.
Is the Sony 55-210mm f4.5-6.3 fast enough for surf photography?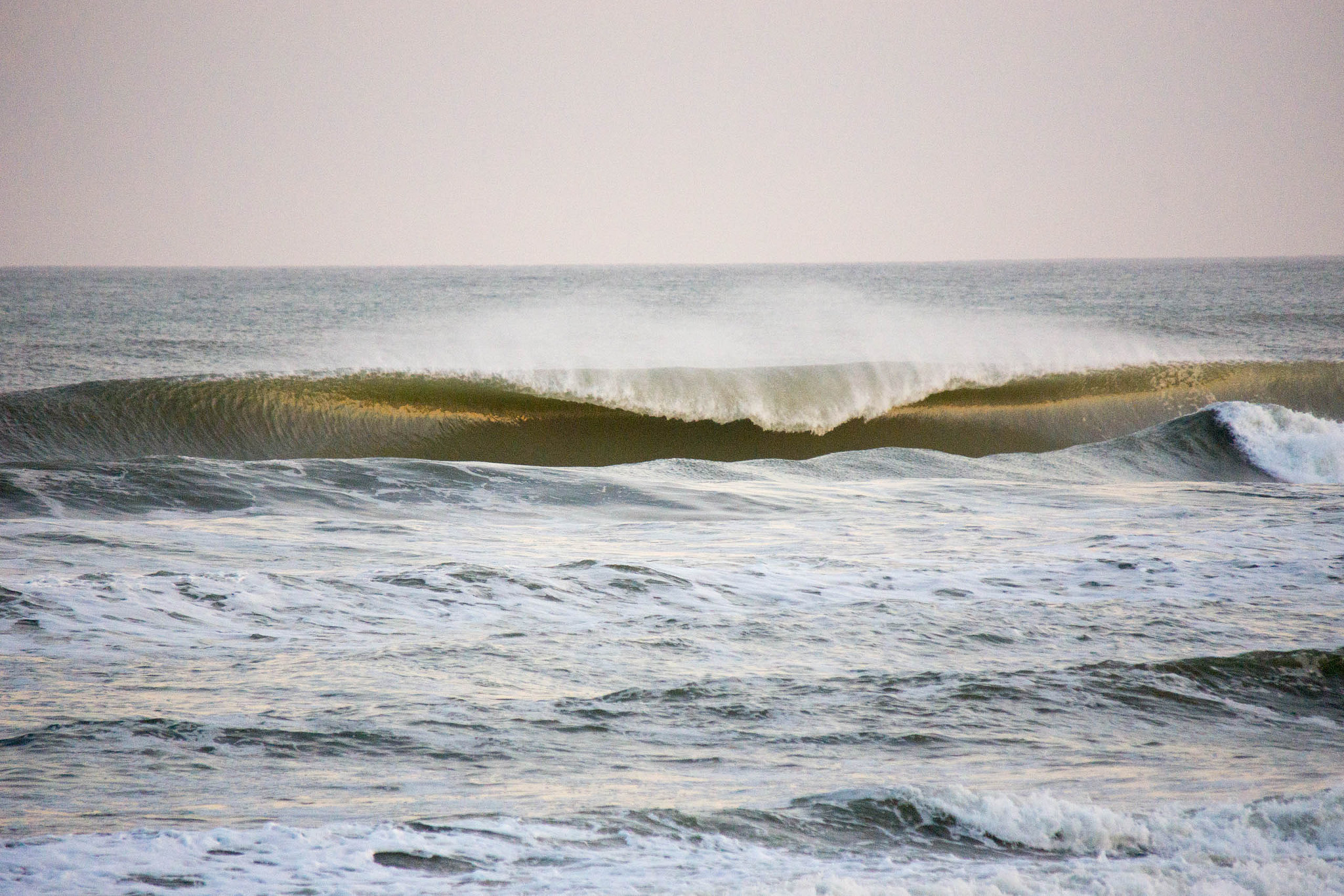 Here's a shot taken on the a6000 before the sun rose at f6.3, the ISO was 1600. If I'd had the 70-200mm, I could have shot this at f4, so I could have used the same fast shutter speed of 1/1000 of a second with an ISO of 640 and got the same exposure. I don't have any issue with the way this shot turned out, a lower ISO wouldn't have given me a less noisy image – but it doesn't really matter for what I do with my photos. This could be printed at A4 size easily and look fine for me.
To get this photo I walked down to the beach before dawn. My family was staying in a campsite a few hundred metres from the beach, it's a popular tourist spot in France, but this was right at the start of their summer season and there weren't many people around.
I took my a6000, with 55-210mm attached, in the pocket of my jacket. I went for a surf just after taking this photo, and left my clothes and photo gear in my bag at the top of the beach.
If I'd have had the $1,500 Sony 70-200 f4 G OSS lens with me – a big, white tube, that anyone familiar with Canon or Sony lenses would know is expensive – I wouldn't have felt comfortable leaving it on the beach wrapped up in my towel.
That's a big plus for my inconspicuous, cheap setup.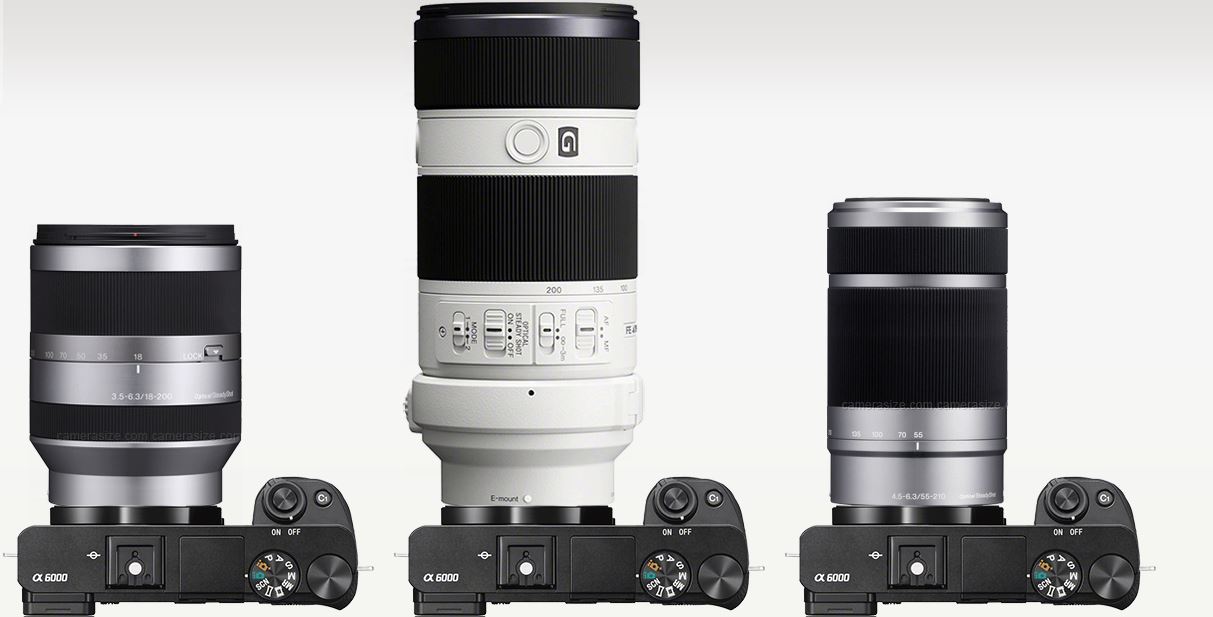 Advantages of the 70-200mm f4 for surf photography
There are some important advantages of this lens, whichever camera you're using it with:
Internal zoom: The lens doesn't change length when you zoom it, which makes it much easier to use inside a water housing
Focus lock buttons: Being able to lock the focus by holding one of the three focus lock buttons is really useful for shooting surfing from the land, it's a bit like back button focus but much more intuitive
Using it in a housing is the same as using the Canon 70-200mm f4 in a housing, in fact I used the same housing and port that I used with my Canon setup to test this lens. If you want to use this lens in a housing you've got a couple of options:
Salty Surf Housings mini port with zoom control
Aquatech TZ-$$ port with an ATB housing – you'll have to find a second hand $$$ port as Aquatech don't sell them any more for the ATB range
Full frame – Aquatech Elite or base housing with P190 port (check with Aquatech on the port)
Liquid EYE, SPL, CMT etc. could all make you a housing and port that would work with this lens too I expect, contact them directly to find out more.
The focus lock buttons are really great, they make it easy and intuitive to make sure you don't focus on things in the foreground like people, spray or rocks when shooting surf from the beach.
In the past I've used back button focusing to achieve the same benefits, but this defintely rtakes more getting used to than this 'press and hold to lock focus' way of doing things. Fortunately, you can very easily re-create this feature using the buttons on your a6000 (and most other camera bodies).
I've now setup my AEL button to activate the 'AF/MF Control Hold' feature, which does the same thing as the buttons on the barrel of the Sony 70-200 f4 G OSS lens. This option allows me to get that same benefit when using my 55-210mm lens, but it's definitely not as ergonomic as using buttons built into the lens.
Conclusion
I'm selling on the Sony 70-200 f4 G OSS, it's a fantastic lens but the other options suit my surf photography better.
When I'm travelling light I'll probably just take the Sony 55-210mm for land shots. If I know that I'll need the extra reach, the 55-210mm and the Olympus TCON 17X will be in my bag, or coat pocket.
I'm going to follow up with a post on the Sony 18-200mm as well when I've used it a bit more.
Read more about the other telephoto lens options for the Sony e mount here: Long telephoto with the Sony a6000, a6300 or a6500