Surf photographers at contests can sometimes be overlooked, the last time I remember writing a post about a competition photographer they might have cost Kelly Slater a world championship.
But now the media storm over Mick Fanning's shark encounter during the finals of the J-Bay event has died down a bit you're likely to have heard about Kelly Cestari, the water photographer who was shooting the event.
For the long story check out the coverage:
lots of other places too I guess
The short story is; they kind of forgot about him and left him in the line up whilst rushing to pick up Mick Fanning and Julian Wilson, the two competitors.
He swam in and was OK but understandably freaked out once the adrenalin wore off.
Kelly Cestari's story
This is the most interesting bit for me, I had a read of Kelly's about me page on his site and as well as featuring a prominent image of Kelly swimming with a very large black tip reef shark (read on for my experience with the same species) it details how he got into surf photography.
I've seen a lot of surf photographer's websites, there are currently 122 links on the learning surf photography surf photographer's websites page, and this about me page is probably the best one I've read so far. I won't ruin it for you, but if you're going to read one link from this post I'd choose that one.
So have a look at Kelly's site and his Instagram for some inspiration for your own surf photography.
Have I ever shot surf photos with sharks around?
I live in the UK, so my only experience with sharky waters comes on my more exotic surf trips.
Most recently I was in Samoa staying at Aganoa Beach, home to a sick right and left hander and a couple of small black tip reef sharks.
I was assured that they're harmless and if they ever did approach you they could be scared off pretty easily.
You can see them swimming around the lagoon behind the main reef when the tide's low, I snapped this photo from my seat at the breakfast table in the restaurant.
This shot was taken from the channel which you swim in and out through to get to the right hander, you can see the restaurant: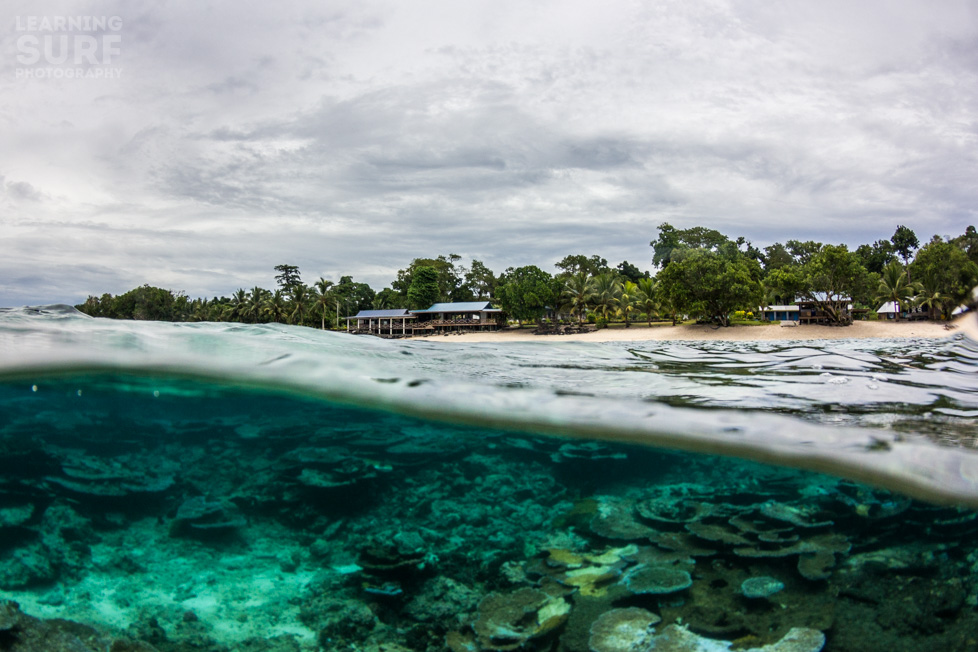 I wasn't really bothered by the little guy when I was swimming around taking photos in the line up, it gave me a nice story to tell when I got back to the UK and despite being constantly on the lookout for sea turtle activity, and spotting quite a few, I didn't see any signs of big fish when I was shooting or surfing.
I'm off now to go for a windy, cold, onshore surf. With no sharks.