Summary: The new aluminium pistol grip for Sea Frogs Salted Line housings is the best option for surf photographers with a Salted Line housing
If you want to shoot with a wide angle lens in the water, you will benefit from a pistol grip for your housing. A pistol grip allows you to shoot one handed whilst using the other hand to swim through a wave or stabilise yourself.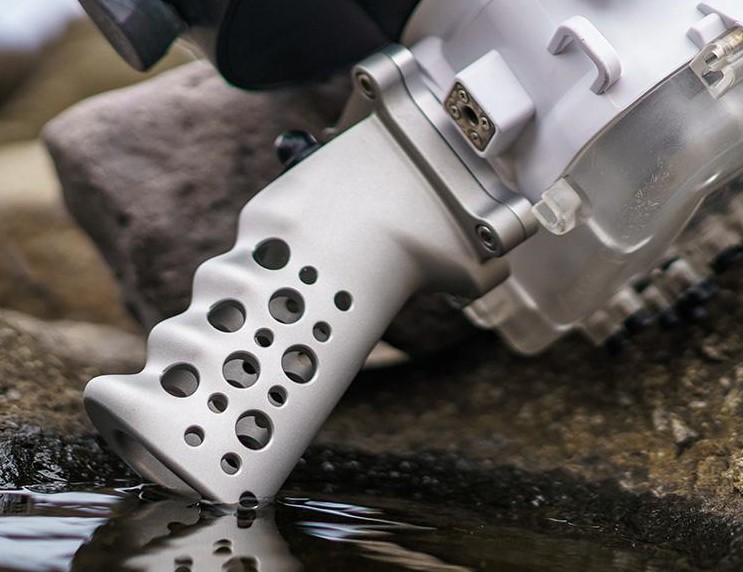 One of the big selling points of Sea Frogs' Salted Line housings for surf photographers is the optional pistol grip. Sea Frogs upgraded their housings with a stainless steel plate at the bottom of the housing to make the interface between pistol grip and housing stronger.
This change was welcome by itself, but it has also made it possible to attach a more substantial, re-designed pistol grip.
The New Sea Frogs Salted Line Pistol Grip
The re-designed pistol grip is made form aluminium, rather than plastic, and features a prominent rubberised two stage button, rather than a low profile metal button.
Main differences:
| | | |
| --- | --- | --- |
| | | |
| | Original | Redesigned |
| Price | N/A | US $180 |
| Material | Plastic | Aluminium |
| Button | Metal | Rubberised |
| Compatibility | Any Salted Line housing | See list below* |
| Weight | 380g approx. | 125g approx. |
| Availability | As part of a kit | As part of a kit, or on its own |
*The compatibility for the new version depends on the housing having the stainless steel base plate to mount to. Here's the list of housings which are compatible:
Salted Line A6xxx GEN3 only
Salted Line RX1xx
Sea Frogs A7II NG V.2 / RII NG V.2 / SII NG V.2
Sea Frogs A7III V.2 / RIII V.2
Sea Frogs A7RIV
Sea Frogs A6600
Sea Frogs A9
Should You Get The New Sea Frogs Slated Line Pistol Grip?
Want to shoot one handed with your Salted Line housing? Then I'd go for the new version over the old one for sure.
If you have the original plastic pistol grip and you want something more substantial: yes, this is the obvious choice.
Got the original plastic version and it works great? Stick with it. The big advantage will be for people who maybe have larger hands, or want something more substantial.
Whether you need a pistol grip at all is another question. If you're shooting with the RX100 series, then you might not need one at all.
I don't have one on my RX100 housing though, as the widest the lens goes is 24mm equivalent – which is hard to shoot without looking through the viewfinder or at the LCD (at least for me).
If you're going to be looking through the viewfinder when shooting, which you probably will if you're not shooting with an ultrawide or fisheye lens, then there's not much of an advantage to shooting with a pistol grip.
I tend to leave my pistol grip in place on my a6xxx and Liquid Eye C6000 housings, because I shoot fisheye as much as any other lens.
It does help a little for stability when shooting with a 35mm lens, but as I'm looking through the viewfinder, I'm usually using both hands, so it's pretty stable already.
How does the new Sea Frogs Salted Line Pistol Grip Work?
The grip works in the same way as the original once it's installed. There is a different installation process which involves attaching a bracket to the housing, then the grip to the bracket. There's a gasket, o-ring and plastic plate that fit in between the bracket and the housing. It's less complicated than it sounds.
Here's Sea Frogs' own video which goes into detail about installing the grip, and maintaining it going forwards.
Alternatives to the New Sea Frogs Salted Line Pistol Grip
If you've got the Salted Line housing already, then I don't think you can buy the original plastic pistol grip on it's own, so there's no alternative for you.
If you haven't got the housing and you're looking in to alternative housings which offer a pistol grip, then there's a few options.
Liquid Eye
Liquid Eye make a few housings for the Sony a6xxx and Rx100 series cameras, and they're all compatible with their excellent PGX range of pistol grips.
I reviewed the second version here, and there's a third one available now which offers more improvements.
In my opinion, this is the state of the art in pistol grips for surf housings. From the interface with the camera (no holes in the housing! no batteries! it's like magic), to the ergonomics, to the unique tactile response of the trigger, it's awesome.
Aquatech
I've used several generations of Aquatech Pistol Grips, but not their latest one. I have used the Axis Go pistol grip, which uses a similar mechanical lever to housing-button system, so I've got a good idea of how it works, if not how it feels.
Their latest design doesn't rely on wires going through the housing, but does require an extra electronic button on the outside of the housing. A mechanical lever presses the button for you.
It looks good, but I'm not sure the amount of travel required to go from a half press (focus) to full press (shutter release) will be as good as the Liquid Eye.
Salty Surf Housings
The Salty Surf housings pistol grip has been re-designed since I tested out their a6000 housing. The earliest example I can see on their Instagram account was in 2019.
The new Sea Frogs pistol grip (launched in 2021 I believe) looks very similar to V2 of the Salty Pistol Grip. I know there are only so many designs for an aluminium pistol grip, but if you compare Salty V1 with Salty V2 you can see how different they can look.
Salty Housings are very high quality, ultra durable, and the innovative designs are clearly inspiring for other brands. I'd definitely recommend checking them out if you want a thoughtfully designed housing that's built to last.
Dale Kobetich
The enigmatic Dale Kobetich makes custom housings from exotic materials that fit like a glove. I bought one second hand a few years ago and enjoyed using it before selling it on.
He's credited with inventing the pistol grip, and in doing so, helping revolutionise fisheye surf photography through the work of pioneers like Don King. Read the article linked above (US$3.99 from the Surfer's Journal Archive) for more details.
His pistol grips are simple and effective and most often permanently attached to the housing. This allows them to be uniquely strong and ergonomic.
I don't know if you'd be able to get a new Dale Kobetich housing these days. If you see one on the second hand market, know that you'll be getting the product of a master craftsman.
SPL housings
I haven't used an SPL housing for a long time, but their injection moulded pistol grip looks comfortable and effective.