I've been lucky enough to test out a couple of GPS tracking devices that are designed to be used whilst surfing, the Rip Curl GPS watch and the Trace, they're both user friendly designs and do a good job of tracking your waves with the speed and a few extra bits and pieces too.
Right now I'd probably recommend the Rip Curl watch as it's a better overall experience, but the Trace is only just out of the Kickstarter stage and it's already showing a lot of promise.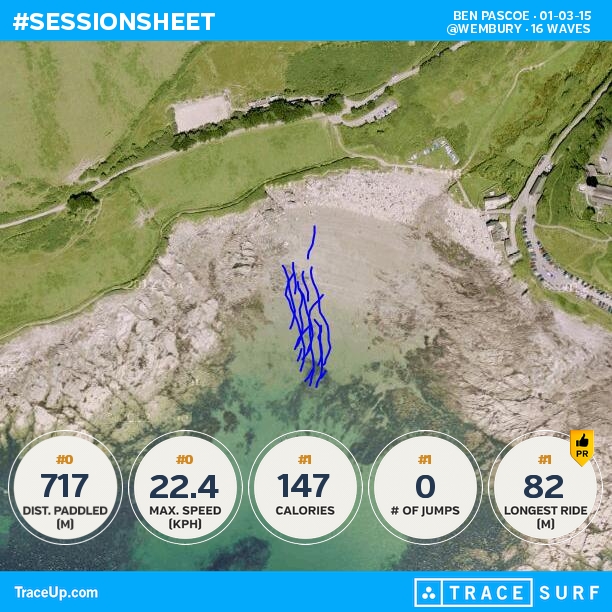 Session sheet for a recent surf session using the Trace GPS tracker, no jumps this time :(
As readers know I use my GoPro camera pretty much every time I go for a surf, I use the Pro Standard Grill Mount when I'm surfing or bodyboarding and I mount it on top of my water housing if I'm shooting photos.
Trace's unique selling point is that they offer a synchronisation service for your GoPro videos, they will overlay the data captured by the Trace onto the video of the wave, I've tried a couple of times but I can't get them to do it, I'm hoping I can get it working to see what it's capable of, right now I think it might be down to me being a bit of a kook and not doing any decent turns so I'll report back on my progress with it after I've used it more.
Data Overlay On Video Options
In my case it's GPS position data but the trace also collects information on turns and altitude, all this is displayed on the video as you can see:
As I'm not able to get it working just yet I looked into alternatives and discovered to my surprise that one of the most popular options Dashware is now available for free, when I downloaded it I noticed the splash screen listed GoPro as the copyright holder, so I dug a bit deeper and found that GoPro now list DashWare on their official support pages, suggesting that they have bought the software…
EDIT: since I started writing this I noticed the following message on the Dashware homepage:
Awesome news!
We're stoked to announce that the DashWare team is now working for GoPro to help build some killer future products.

Even more awesome news: from Feb 23rd onward, we'll be offering the current DashWare product for FREE. Enjoy!
This message definitely suggests there's some hardware on it's way which will leverage the video overlay capabilities of the Dashware app.
GoPro GPS: Best Case Scenario
For me it would involve this:
The hardware is available in the form of a BacPac, compatible with all Hero 3, 4 and future cameras
The hardware contains GoPro GPS tracking as well as gyroscope(s), accelerometer(s) and whatever else is in the Trace.
Data is recorded to the micro SD card and can be easily pulled off the device in a standard (GPX ideally) format, so it can be sent to services like Strava and backed up by the users
Dashware remains free as a stand alone application and a version is integrated into the GoPro Studio app
GoPro create a plugin for popular editing software enabling video producers to use the Dashware system within their existing workflow (this would be amazing)
Dashware, plugin and GoPro Studio retain compatibility with all the same GPS and other data formats as the current Dashware app
Price point of less than $100 for the hardware and a relatively swift roll out/update for iOS and Android companion apps
I don't like being a pessimist so I wont go through the worst case, but the thing that probably annoys me the most about the two surf specific GPS options I've tried is being forced to use the software provided.
The Rip Curl and Trace apps and websites are OK, but they each have limitations that mean I'd much rather use a third party service to view and store my data, and you can't use either system without their hardware (I understand this approach in a business sense, but the first people to offer a hardware and software solution that's easy and open will surely win out).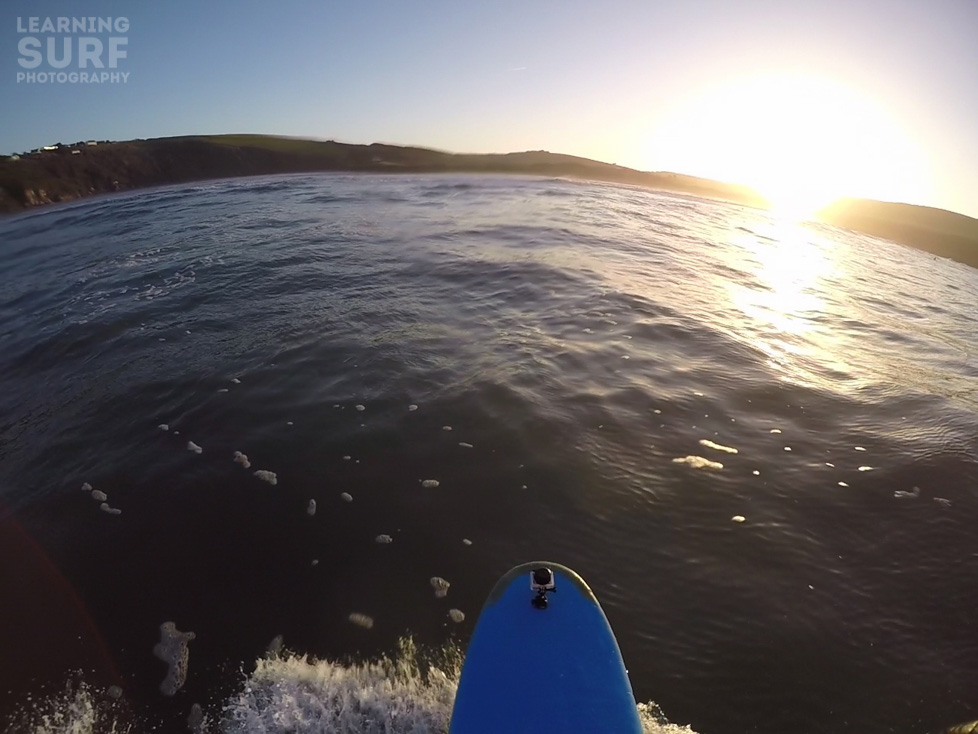 In this GoPro Hero 4 frame grab you can see the Trace GPS data logger mounted on the front of my board, I had to make my own Trace to Gopro mount adapter as the sticky Trace mounts themselves are hard to come by, so I effectively made my own Gopro GPS BacPac using an old housing I had spare.
Why Should You Care About This?
Since I tested out the now defunct Contour plus camera system in 2011 which included a GPS sensor, I've been saying that GoPro should have a GoPro GPS BacPac addon for their Hero cameras, I already have the mounts on my boards and about my person, and I already charge up a device and carry it with me whenever I surf, if it also had the option for capturing GPS data I'd jump at the opportunity.
My surf photography hobby is probably the thing that's most helped me to surf more and better waves over the last 5 years, combined with historical forecast data for my local spots I'm able to check what the conditions were like for any of the photos I've taken, then I can work out where to go for the upcoming chart.
Having a GPS enabled device is going to let me log these sessions more easily and accurately, so it's a no brainer for me personally, and I think it will become a part of a lot more surfers lives as soon as GoPro launch their Gopro GPS BacPac (or maybe the GoPro Hero 5 GPS in a slightly less ideal scenario).
Plus, it's fun to overlay your data onto your video, I'm looking forward to getting stuck into this type of thing, I think I'll start by making some Surf specific gauge sets for DashWare, once they're done I'll update you the readers and maybe try and make a comparison with Trace's service and the DIY DashWare based option.