Although I started out searching for backup camera, this post is useful for people wanting to get into surf photography who want to maximise their budget, as well as offering you an alternative option if you already have a more traditional DSLR set up.
I wanted a spare camera which I could use for everyday photos and for surf photography if my Canon 70D was unavailable, I bought a Canon SL1 (100D) as a spare and enjoyed using it but I had to return it as it had a fault.
Instead of going for another SL1 I decided to do some research into the alternatives and came up with the criteria below for choosing the a good camera for sports, and specifically surf photography.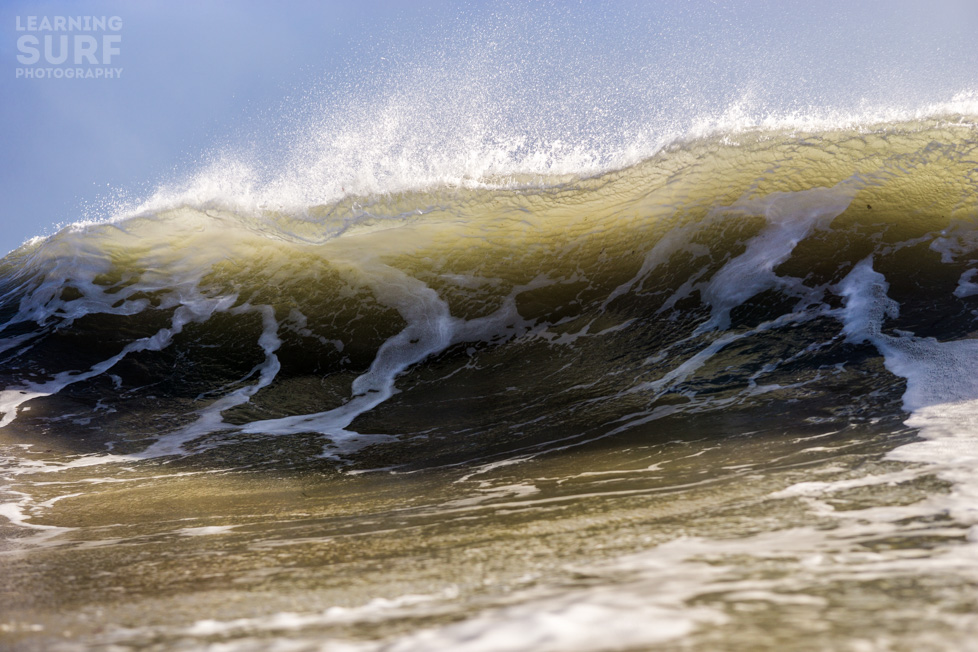 This photo was taken with the Sony a6000 and Sigma 30mm f2.8 lens, I have adapted my Aquatech CR-60 housing to hold the smaller Sony camera, ISO 125, 30mm, f4, 1/1000.
What Do I Need For Surf Photography?
I made a list of the features and lenses that I use most often for surf photography, Adobe Lightroom's catalogue filters helped when I was choosing the lenses I use most often, but it really just confirmed how much I enjoy using the three main lenses in my current kit. Here's my list of important features to consider in the new system:
Price – naturally it's a big concern, my budget didn't usually stretch to the top end cameras in each manufacturers line-up, so I chose the model most suited to what I need as a surf photographer.
Normal Lens – my favourite lens for water photography was the 28mm Canon, so I wanted to get a good value equivalent length, relatively fast prime lens for the new camera too.
Tele-zoom – I use my Canon 70-200 all the time for shooting from the land so I know I'll need something similar.
Fisheye – even with the improvements in stills modes on my new GoPro Hero 4 Silver edition and the KNEKT pistol grip making it easier to shoot with it I still love shooting fisheye surf photo's with a proper camera.
FPS – the maximum burst mode is important to me, the faster the better for most surfing situations, buffer size doesn't bother me but I need to be able to fire off a lot of shots at the peak of the action
Auto Focus – this is one of the main reasons sports photographers prefer to use big DSLR's, the autofocus has been average on mirrorless cameras in the past, I gave each camera a rating from good to excellent in this category because there's way too many stat's to quote and each manufacturer makes claims about their system being the best.
1080p video – they all shoot full HD 1080p video (my budget doesn't stretch to 4K at the moment), but some do it at a faster frame rate, which helps when playing back in slow motion.
Size – the smaller the better, but it has to be smaller than my Canon 70D in every dimension so it will fit inside my current housing.
MP – the resolution in Mega Pixels, often photographers will say it doesn't mater, but I'd still prefer to go for more if possible, it helps allow me to crop into a photo which is useful as I'm not likely to ever buy a really long lens.
Housing – the availability of a housing is pretty important, I already have a couple which I can adapt for the new camera so it;s not a huge concern for me, but if you're starting from scratch it's useful to be able to buy something off the shelf, even if it is only a dive housing and not a surf specific splash style housing.
Adapter – can I use my existing Canon EF lenses, this was originally going to be a back up camera so I wanted to be able to use my Canon glass on it.
Viewfinder – does it have a viewfinder built in? I like using the viewfinder and was annoyed that my Panasonic GF1 didn't have one built in.
WiFi – so I can control the camera when it's in the housing and transfer pic's to a smart phone or tablet for easy upload.
Crop Factor – I would have put sensor size, but this made more sense for a comparison because the manufacturers give the sensor sizes different names, I can't afford a full frame camera but I wanted as close to my 1.6 crop factor APS-C sensor as possible so I'm used to the focal lengths of lenses and I don't have to put up with extra noise in my images.
Remote – does it have a port for a wired remote? this is pretty important when adapting a surf housing for a new camera as the pistol grip uses this port.
Total Price without housing – the price of the body and the three lenses I need to replace my full surf photography kit.
Here's a table showing each camera and the relevant results in each category:
The Winner Is…
I've given them all a score out of 6 in each of the 11 categories, the maximum score is 66, as you can see the Sony a6000 came out on top with 56 with the Samsung NX300 coming in a fairly close second place with 49.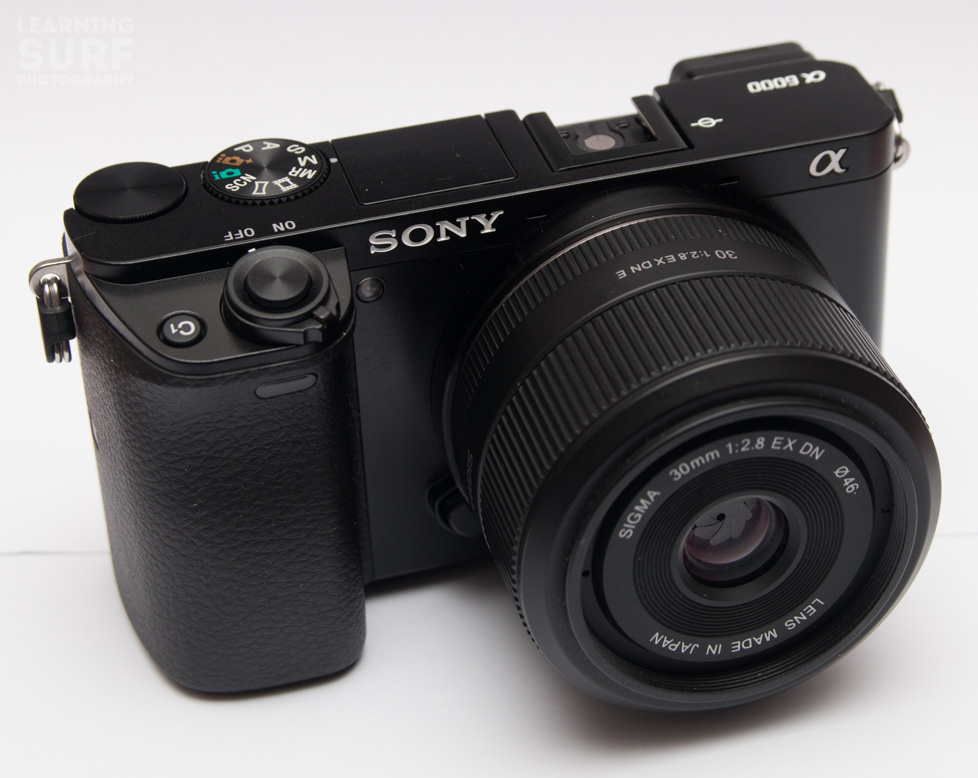 My new "backup" camera, a Sony a6000, which might end up being my primary camera…
The NX300 has a lot going for it, including some excellent native mount lenses which would work well for surf photography, and a custom function button on the side of the lens which could be very useful if housing manufacturers ever decide to offer a surf housing for the NX range.
I managed to find a good deal on a refurbished Sony a6000 body from the Sony outlet so I snapped it up, since then I've bought the Sigma 30mm lens, the Samyang (aka Rokinon) 8mm fisheye and I've just ordered the Sony 55-210mm tele-zoom too to complete the set, I now have everything I need to use the Sony a6000 for surf photography.
A frame grab from my GoPro Hero 4 Silver Edition, mounted on a Grill Mount, showing my Sony a6000 in an Aquatech housing with a GoPro Hero mounted on top.
In the next couple of weeks I will be writing more about my new set-up including my first impressions of using it for surf photography, how to convert an existing housing for use with the camera, the a6000 vs the Canon 70D, why you shouldn't bother with an adapter and go for the native lenses every time, and anything else that comes to mind as I get used to it's functionality.
If you've got any questions about the Sony a6000 or you'd like me to try and cover a particular aspect of how to use it for surf or sports photography let me know in the comments below.