Glassy Pro, Spanish surf forecast and gadget company, have announced a new type of wrist band which will give you more data than ever on how you're surfing.
Here's what Glassy Pro are saying about the Smartband:
Next month we'll be officially announcing a new device tailored to all your surfing needs. We believe this to be the dawn of a new surfing era! The launch of the new device will mean that the Glassy Pro One Smartwatch roll out will be delayed to a later date.

Thanks to you, we've secured a fresh round of investment to grow and move to a more spacious office. This will enable us to improve our work bettering all aspects of your surf.

As we told you in our last email we've been in constant collaboration with an expert team, Brinc, in Hong Kong where half of our workforce spent 2 months working on the secret project. The project was improving the original idea into something that wholly integrates into a surfer's lifestyle. We did this by holding secret focus groups, listening to customers and working with surfers.
What is the Glassy Pro Smartband?
There is limited information available at the moment but it's described as a:
Surfing & board sports tracker
It's given the following tags on Brincs site: wearable, connected device, health, wellness, sports, band, wrist
So we've got a good idea of what it's going to be like. What's clear from the e-mail is that it's going to be possible to track more than surfing on it, which is one of the downfalls of my current choice for surf tracking wearables, the Rip Curl Search GPS watch.
What Will the Glassy Pro Smartband do?
I've tried out most of the options out there for tracking surfing, the Rip Curl GPS search watch, Trace and my home made DIY GoPro GPS BacPac, but most recently I've beenn using the FitBit Surge GPS watch with heartrate monitor.
Here are a couple of photos showing all the various GPS devices I've used for surfing, as well as the FitBit Surge watch.
The Rip Curl GPS watch with the Trace and the iBlue 860E GPS tracker that I disassembled and put in side a GoPro extended backdoor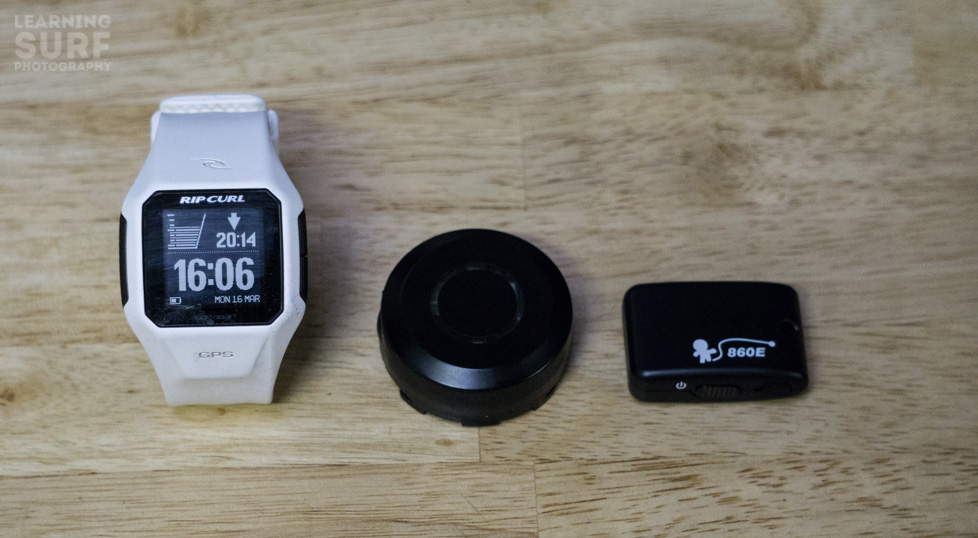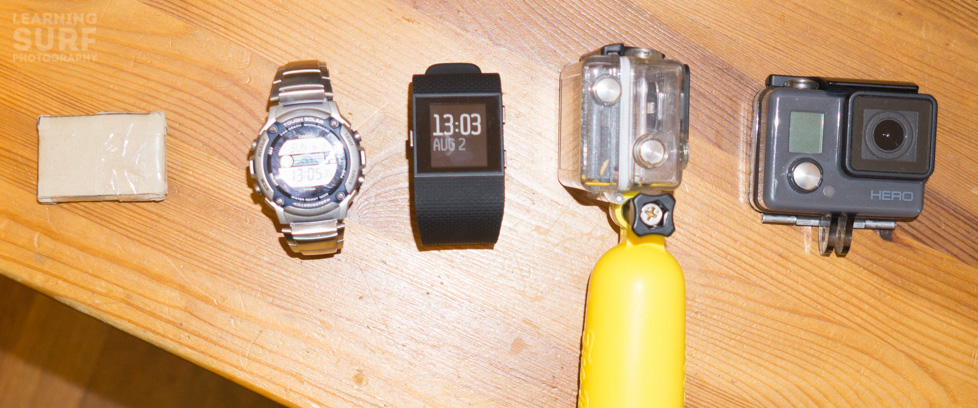 For comparison here's my Casio W S210-HD tide watch, the FitBit Surge fitness watch, the DIY GoPro GPS BacPac and my GoPro hero camera. The piece of cardboard on the left is the same size as the GPS tracker in the image above, it was my guide to make sure it fit into the case before I bought it,
So what they have in common is:
GPS data – track your location and use it to display how many waves you have caught, max speed, how far you've paddled etc.
Then you've got the unique features of each device:
There are other devices from Garmin, Suunto etc. that offer similar features, but there aren't any specifically designed for surfing like the trace and Rip Curl watch and they offer similar features to the FitBit Surge (only more specific for athletes who prefer a certain discipline).
Nixon also have the Ultratide watch available, which I haven't used, it doesn't have GPS or any wave tracking capabilities but instead allows you to see the Surfline forecast data on the watch.
I believe the Glassy Pro smartband will offer similar functionality to the FitBit Surge, or possibly the less expensive and lighter weight FitBit Charge HR, but with a surfing friendly waterproof design.
The FitBit surge is not designed to be used in the water, it's fine in rain but they specifically recommend not using it for swimming, although some reviewers have used it for swimming with no ill effects I expect surfing would be a bit much for it. I might try it out when the waters a bit colder and I'm wearing my well sealed Xcel Drylock wetsuit though.
What happened to the Glassy Pro One Smartwatch?
The launch will be delayed but will still be happening according to the e-mail I received, but it'll be interesting to see what the Glassy Pro Smartband actually has built in and whether that means surfers like us wont need the watch.
Here's a photo of the watch from an archived version of their site: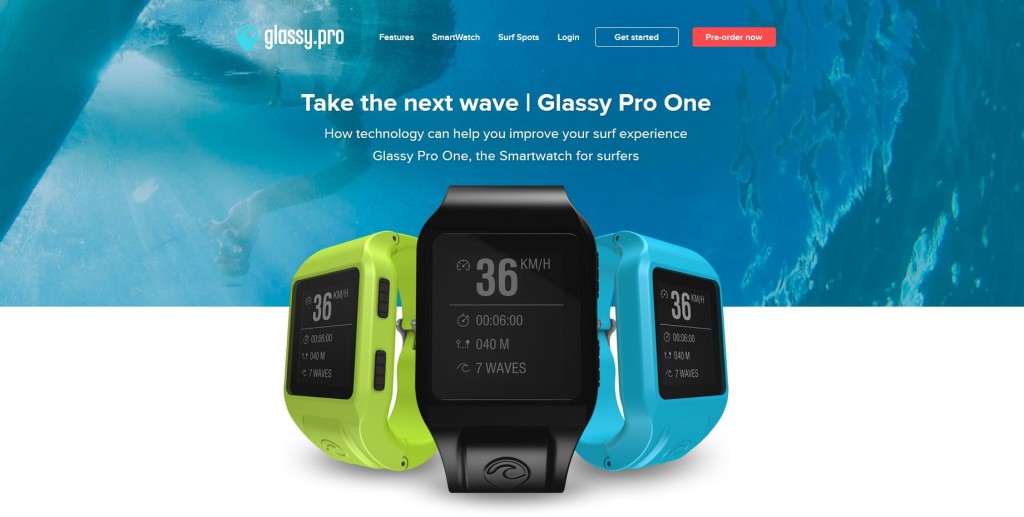 You could pre-order the Glassy Pro One Smartwatch for $279, but how much will the Glassy Pro Smartband cost?
It sounds like there's been a decision to scrap plans for the watch and concentrate on the Glassy Pro Smartband instead.
How much will the Glassy Pro Smartband cost?
The price hasn't been announced, but the Glassy Pro Smart Watch was available for pre-order for $279, so I'd expect it to be significantly less than that.
When will the Glassy Pro Smartband be available?
Based on the countdown image on their home page the release will be exactly 10am on the 15th of September (UK time).
I'm going to try and find out more about it so I can keep you up to date, it's definitely something that's interesting me since I started using the FitBit more and more, the only thing I don't like about it is that I can't wear it when I'm surfing, so this could be exactly what I want.
Links: