I don't often get excited by Olympus cameras, but the TG-Tracker action camera could be very interesting for many surf shooters.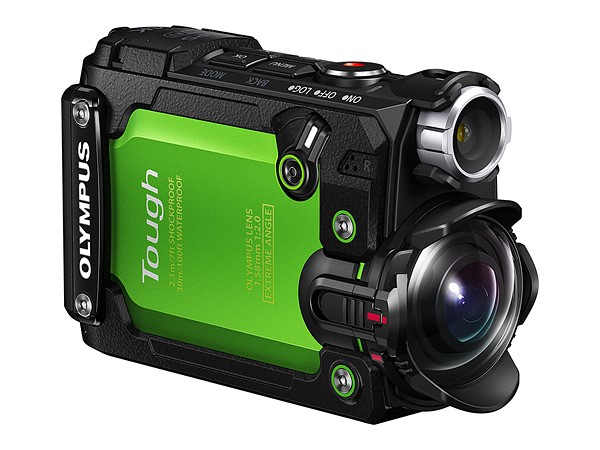 Here are the headline specifications:
$350 US – available in June 2016
8MP stills
4K video at 30fps
1080p video at 60fps
Waterproof to 30m with no case
204 degree field of view (!)
Flat port for shooting underwater included
Pistol grip included (!)
Electronic 5 axis stabilisation (with narrower field of view)
LCD screen
GPS
Accelerometer
There are other details available on the Olympus website.
Why is the Olympus TG-Tracker useful for surf photography?
There are a couple of ways I'd use the Olympus TG-Tracker for documenting my surfing and surf photography.
First – it shoots high-quality video which should be on a par with a decent GoPro camera and records GPS and accelerometer data at the same time.
It's a bit like the Garmin camera I discussed when I made my own DIY GPS BacPac for my GoPro. If you have the GPS and accelerometer data with the footage you can use tools like Dashware to overlay that information onto your video.
It could be a bit like Trace – but without the extra step of uploading your GoPro video and trace files, and give you a new dimension on your surf footage.
It definitely looks bulkier than a GoPro and the form factor doesn't lend itself to being held in your mouth, but it could be board mounted fairly easily.
The extra wide field of view appeals to me too. You're much more likely to get the barrel in the shot if it can see behind you, as I've found with my 360-degree camera experiments with the Ricoh Theta S.
Second – the GPS will help you track your location when you're taking photos.
I've been using a FitBit surge watch to track my GPS location during surf sessions, but it's not designed to be used in the water and I only use it when I'm actually surfing.
Having the Olympus TG-Tracker mounted on top of my water housing would allow me to tag all my photos with the GPS location automatically.
I'd prefer to have GPS built into the camera itself, but I'm pretty much settled on using my Sony a6000 for the foreseeable future and it doesn't have GPS so that's not happening soon.
Am I going to buy the Olympus TG-Tracker?
So hopefully that gives you something to think about, I don't think I'll be buying one (after all I just replaced my GoPro after losing it) but it's good to see some new companies challenging the likes of GoPro and bringing something new to the market.
I'd be surprised if the GoPro Hero 5 doesn't have GPS and accelerometers built in, they'd surely be missing a section of the market if they left it out.