There's been a flurry of activity in the Sony a6000 and a6300 surf water housing market.
At some point I will get to test a few more of these options out, when I do I'll produce a video and dedicated post for each one and a comparison video with all the options I've been able to get hold of. For now I'll show you everything I've found so far.
Here's the latest updates and some links below to my coverage so far.
SPL Sony a6000 water housing
I noticed SPL promoting their Sony a6000 water housing on the carousel on the SPL water housings website.
They've added some more information on the SPL Sony a6000 water housing page.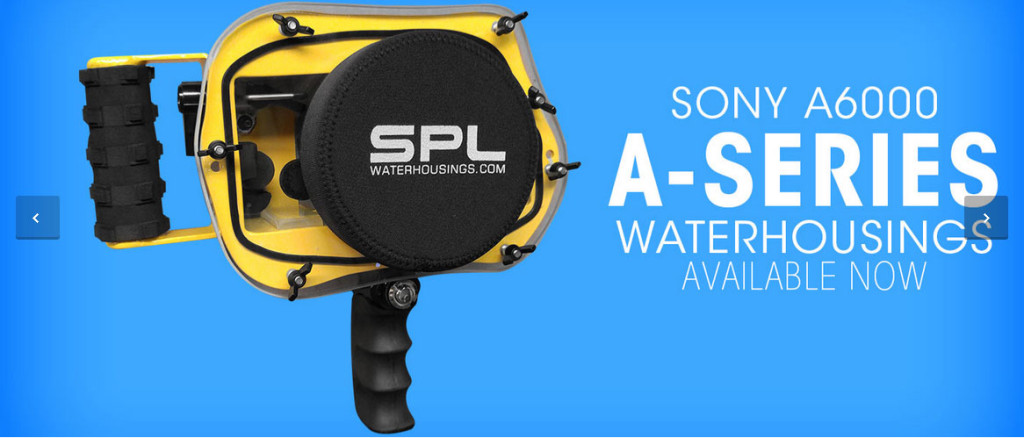 Key specifications:
Price: Not published – but the "base price for simple SPL housing" is $950 US so add a bit on top for the a6000 housing I expect.
Construction: Aluminium
Type: Surf housing, Front loading
Sealed with: 7 x plastic wingnuts
Interchangeable ports: Yes
Pistol Grip: yes, two stage, removable
Controls: shutter, pistol grip, probably anything you want on the back too for an extra fee
What's included in the standard package?
Water housing
Pistol grip
One port – wide angle, fisheye or short telephoto (so that's a dome or a small flat port).
SPL Sony a6300 water housing
SPL also have an option for the Sony a6300 which has identical details to their a-series a6000 housing, the photo they use to illustrate the two housings is the same: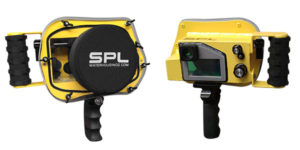 I noticed this one the other day when browsing Amazon. Since the Meikion aluminium Starbea housing doesn't seem to be in stock any more this might be the next best option for a budget friendly aluminium housing.
It's a dive housing so it's not ideal for surf photography with no pistol grip or sensible way to attach a wired shutter release, and it has pretty basic controls and a fixed port, but it's interesting nonetheless.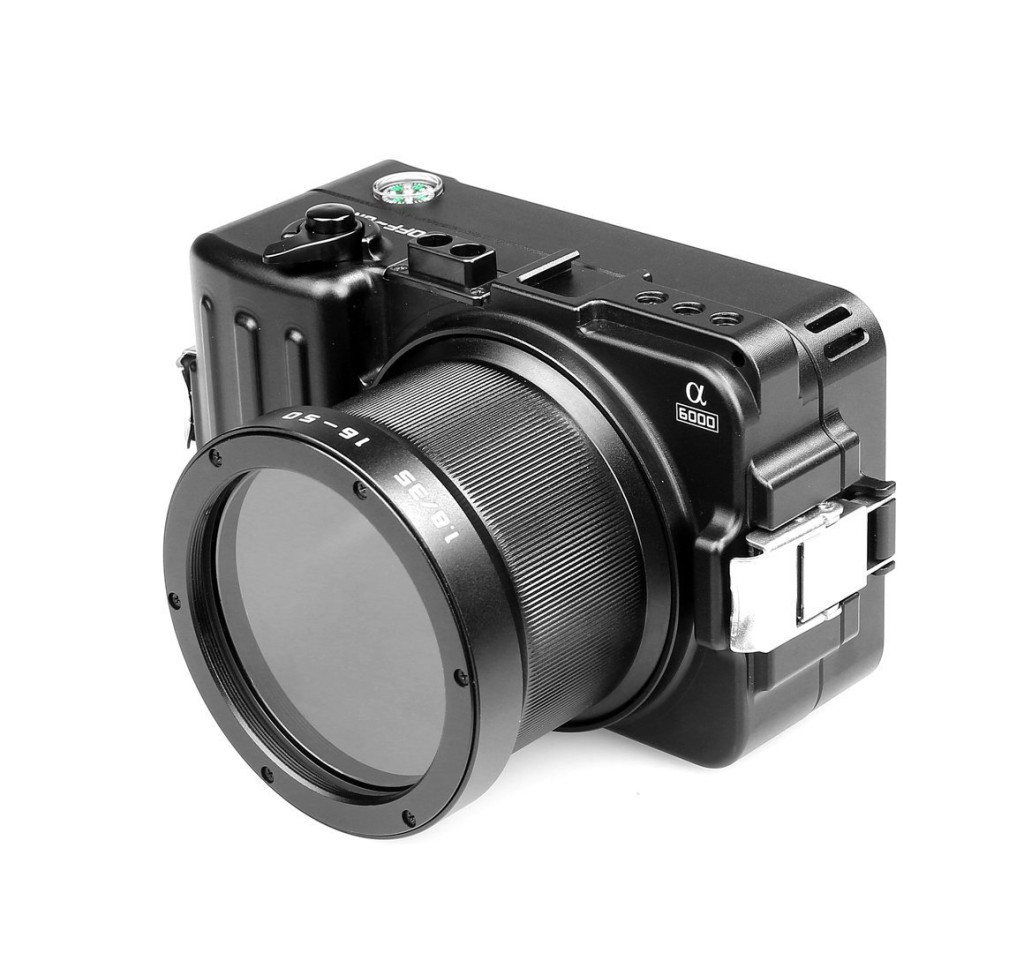 It's available from Amazon.com for $468 US.
When I searched for more information on Voking I couldn't find a lot and at first I thought they were just re branding Meikon housings after seeing some of their bigger plastic housings. I think they're completely separate though, and seeing another budget friendly housing manufacturer from the far east can only be good for the competition and prices in the market as a whole.
The port looks like it could be interchangeable but there's no mention of it in the information I can find, so I'd guess it's not. It says it's suitable for the 16-50mm kit lens but as you can see in the image above they've printed 1.8/35 on the port which suggests that it's also suitable for the Sony 35mm f1.8 which is a bonus.
Key specifications:
Price: $468 US
Construction: Aluminium
Type: Dive housing, rear loading
Sealed with: 2 x latches
Interchangeable ports: No
Pistol Grip: No
Controls: On/off, shutter, playback, video start/stop (I think)
Extras: compass!?
Voking Sony a6300 water housing
Same deal with this one, not much info out there, but it looks pretty nice, and at a great low price of $488 US.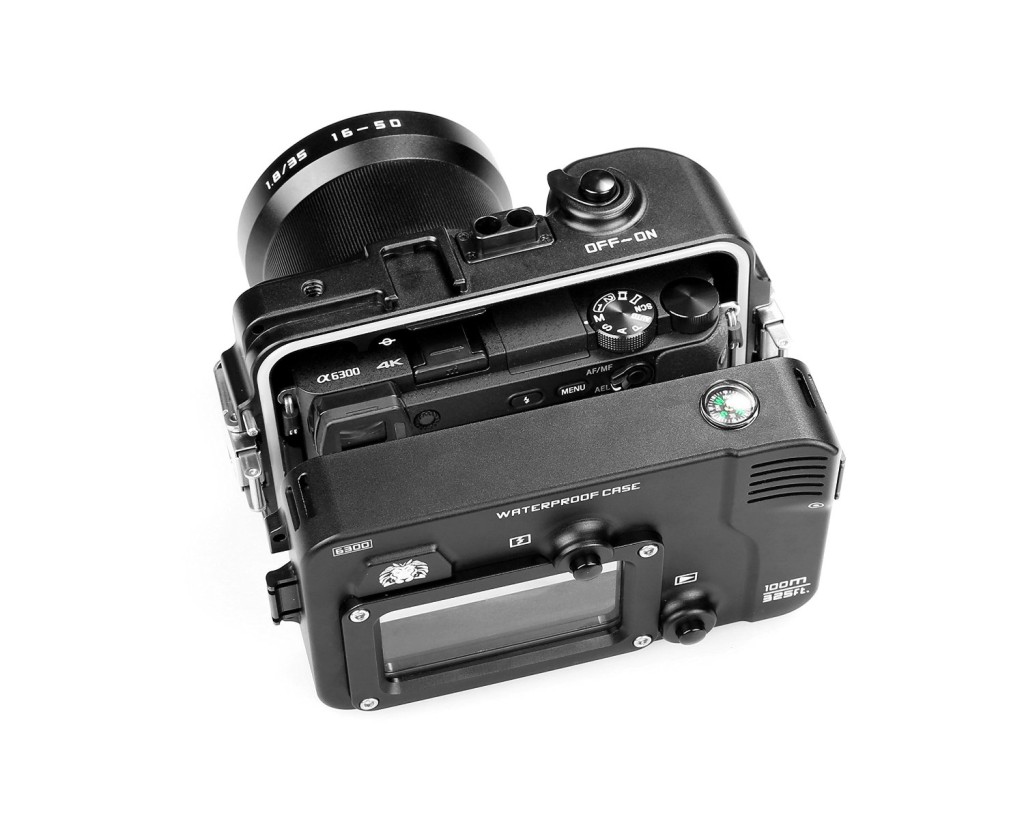 The only thing stopping these guys making a very budget friendly off the shelf surf housing is the fact that the market's pretty small. But with so many GoPro users outgrowing their action cameras it might only be a matter of time before Voking or Meikon make a big impact on surf and surface water photography.
Dale Kobetich Sony a6000 and a6300 water housing
Dale Kobetich is a legend in the water housing business, but he's got a reputation for hit and miss customer service. I've owned one of his housings, for a Canon 40D, and it was the lightest and most compact housing for a DSLR I've ever used.
If your priority is a light weight, ergonomic housing or if you need something custom built that you can't get off the shelf then I'd consider contacting Dale.
There's no website so you can contact him through his facebook page.
Here's a photo of the a6000 housing with a dome port designed for the Rokinon 8mm fisheye: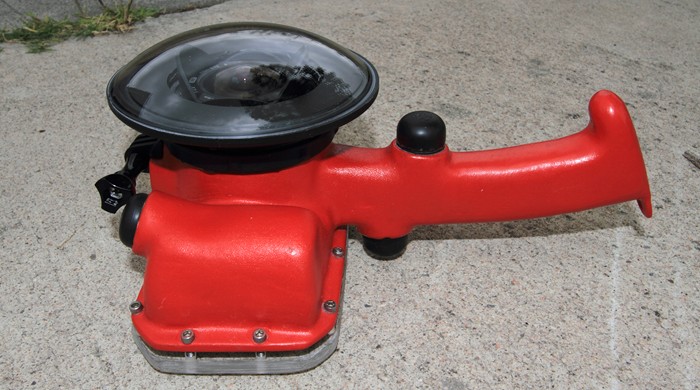 And here's an interesting flash housing for the Sony a6000 and Sony HVLF32M flash: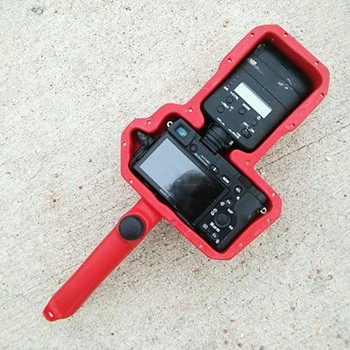 I haven't seen an a6000 surf housing with built in flash before.
You'll also notice that there's a button on the back of the pistol grip, that controls focus whilst the front button controls shutter. I haven't used a setup like that before but I can imagine you could get used to it and use it fairly effectively.
Key specifications:
Price: around $850 US for the standard housing with dome port
Construction: Carbon fibre
Type: Surf housing, rear loading
Sealed with: ~10 x nuts
Interchangeable ports: Yes
Pistol Grip: Yes, separate focus and shutter controls
Controls: shutter release, shutter speed , ISO, play back,
Extras: Built in GoPro mount
I'd already mentioned HCW custom fibreglass housings in my round-up of a6000 water housings, but now it looks like there's going to be another option in their line up.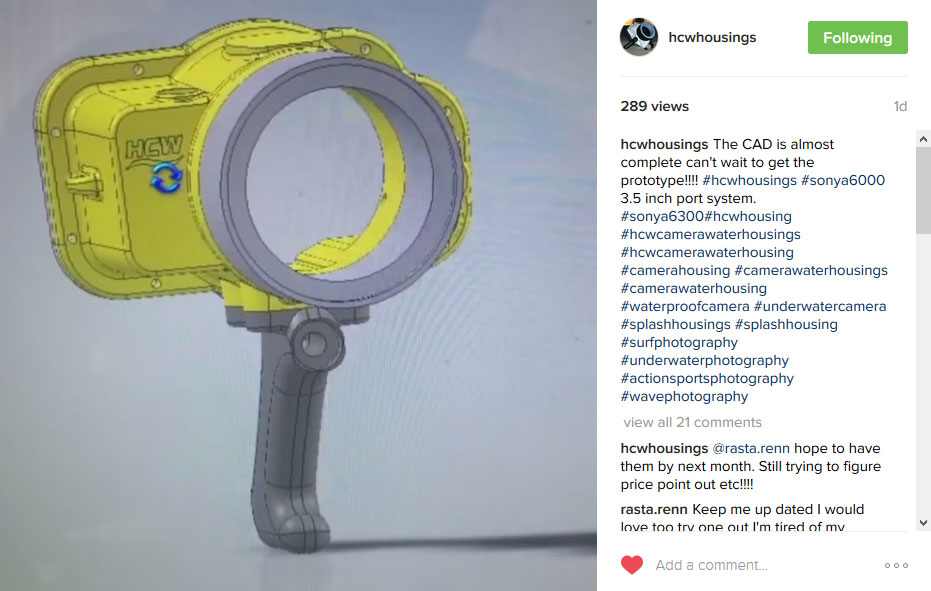 This one's made from cast urethane as far as I can tell, obviously it's early stages at the moment but it could turn out to be another affordable surf housing for the a6000 and a6300.
Interestingly it's going to be compatible with the a6000 and a6300, which isn't something that I've seen yet. Liquid Eye make the closest looking housing to this one for the a6000 and they've said that it won't fit the a6300 and they'll be making a different housing for the newer camera.
Salty surf housings say that the a6300 does fit inside their a6000 housing, but it requires some modifications to the foam padding to get the cable to fit properly, so they're also offering a separate housing for the new model.
Key specifications:
Price: Not announced
Construction: Urethane (plastic)
Type: Surf housing, rear loading
Sealed with: 8 x nuts
Interchangeable ports: Yes
Pistol Grip: Yes
Controls: shutter, pistol grip, optional rear controls
Sony a6000 water housing dome ports
As the housings get closer to being released, or enter their second wave of releases in the case of Salty Surf Housings, the dome ports are starting to become available.
Salty Surf Housings have posted this shot of a 6 inch and 4 inch dome for their a6000 housings: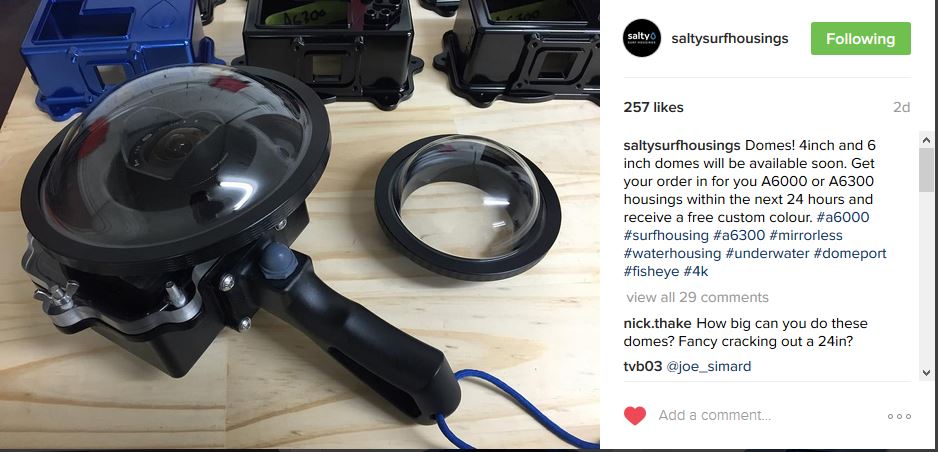 Why two different sizes?
The 6 inch port is designed for over/under style shots and underwater shooting and the 4 inch is for shooting above the water surface. You can read more about which one you should choose on my post: Water Housing Users Guide – Part 2 – Which Port Should I Use?
And Liquid Eye teased us with this shot of a small dome for theirs:
So it's not going to be long before there are some complete off the shelf options for Sony a6000 and a6300 surf photographers on the market.
I can't wait to get my hands on some of these options to put them through their paces properly, it's going to be so great to finally realise the potential of these tiny cameras. It's such an awesome time to be getting into surf photography.
More Sony a6000 water housing posts
I've written a lot about housings for the Sony a6000 since I started using it in October 2014, so here's a run down of the relevant posts on the site if you're interested:
If I ever get time I'm going to create a database of camera housings with a simple way to decide which one will be best for you, it'll be a quick and easy way to discover which housings work for you and which don't.
Until then I'll keep trying to keep up with Instagram and other places until I can give you all the information you need to get the right equipment for your surf photography.